Arts & Entertainment
Romantic comedy-drama based on the novel by Matthew Quick. Patrizio Solitano Jr., who has bipolar disorder, is released from a mental health facility into the care of his parents after eight months of treatment. Through a friend, he forms a close bond with Tiffany Maxwell, a recent widow who also just lost her job and encourages Pat to enter a dance contest with her. This Oscar nominated movie promises humor, raw emotion, dance and baseball: a combination of themes which will surely suit a wide audience. Director:  David O. Russell. Cast: Bradley Cooper, Jennifer Lawrence, Robert De Niro, Jacki Weaver, Chris Tucker.. Rated: R. Time: 2:02.
In the fifth installment of the popular Die Hard series, John McClane travels to Russia to help out his seemingly wayward son, Jack, only to discover that Jack is a CIA operative working to prevent a nuclear-weapons heist, causing the father and son to team up against underworld forces.The movie has received more positive reviews than its prequel. Director: John Moore. Cast: Bruce Willis, Sebastian Koch, Mary Elizabeth Winstead, Rasha Bukvic, Cole Hauser. Rated: R. Time: 1:37.
A handful of curious Brits become fish out of water when they get mixed up in the dream project of an eccentric sheikh in this satirical comedy. Harriet Chetwode-Talbot is a British businesswoman who manages the financial affairs of a wealthy but eccentric Arab named Sheikh Muhammed. Muhammed's latest proposition involves paying fifty million pounds to fully stock a Yemeni river with salmon, and thus engender sport fishing in the desert region. To better gauge the feasibility of this wild plan, Harriet contacts Dr. Alfred "Fred" Jones, a Scottish scientist who specializes in establishing fisheries. Jones shoots the plan down instantly, but soon Patricia Maxwell, the press secretary to the British prime minister, catches wind of it and sees it as the ideal way to promote better international relations between England and the Middle East, especially in light of the torrent of bad news concerning terrorism and general unrest in the Arabic countries. She does everything she can to turn Jones around. Though the scientist will have no part of it at first, he's threatened with job termination if he refuses, and then sets out to create a fully stocked lake in the middle of the desert. As Jones takes on a project that ranks somewhere between ridiculous and impossible, he also finds he's falling in love with Chetwode-Talbot, though the fact that he's married and she has a boyfriend fighting in the Middle East makes things sticky. Based on the best-selling novel by Paul Torday, Salmon Fishing in the Yemen received its world premiere at the 2011 Toronto International Film Festival. Director: Lasse Hallström. Cast: Ewan McGregor, Emily Blunt, Kristin Scott Thomas, Amr Waked, Tom Mison. Rated: PG-13. Time: 1:51.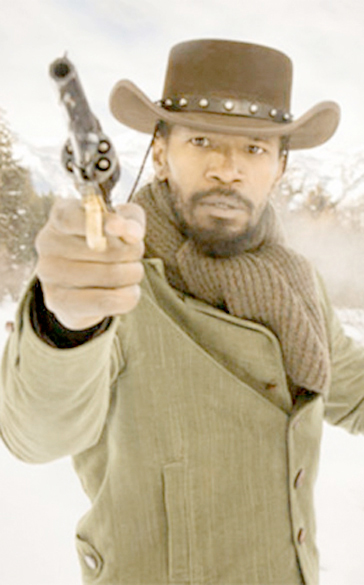 In a toung-in-cheek blaxploitation-style speghetti western — including music styles from both genres, — director Quentin Tarantino puts a former slave and a German bounty hunter together as unlikely allies in the battle against a tyrannical plantation owner.
Based on the bestseller by David Mitchell,  "Cloud Atlas" follows the stories of six people's "souls" across time.  The six interrelated and interwoven stories take the viewer from the South Pacific in the 19th century to a distant, post-apocalyptic future.  The ambitious film is directed by the triumvirate of Lana and Andy Wachowski and Tom Tykwer. It stars Tom Hanks, Halle Berry, Jim Broadbent, Susan Sarandon, Hugh Grant and others, playing multiple characters from the past, present and future. Each actor's characters, however, are all inhabited by the same soul. "Cloud Atlas" has divided critics, some of whom believe it to be a pretentious and manipulative exercise not worth its 103-million-dollar budget, while others have lauded the directors for their sincerity, sensitivity and ground-breaking creativity.  In years to come, "Cloud Atlas" may be talked about in the same breath as "Blade Runner" or "2001: A Space Odyssey." Running time: 172 minutes. Rated: R.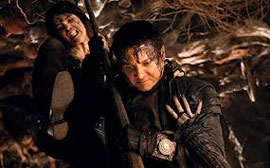 In this spin on the fairy tale, Hansel & Gretel are now bounty hunters who track and kill witches all over the world. As the fabled Blood Moon approaches, the siblings encounter a new form of evil that might hold a secret to their past.
The movie is the latest installment in Hollywood's newest trend of reimagining classic fairytales as mature cinematic fare. Hansel and Gretal is an attempt at a witty retelling of the old yarn, bread crumbs and candied houses tale largely fails to live up to its promising concept.
The movie establishes the familiar story within the first few minutes, with siblings Hansel and Gretel left in the woods by their father and nearly eaten by a witch living within a gingerbread house. In the original tale, the pair's story ends with them shoving the crone into her oven. Here, the opening credits quickly establish the basic idea of this retelling: the two, with no family to call their own, spend the years after their ordeal traveling the country and honing their professional witch hunting skills in the process. The remainder of the film finds the two, now fully grown, in the town of Augsburg, where they are hired by the mayor to save the local children who have been captured by a coven of powerful sorceresses, led by Muriel.
Unlike many recent productions of a similar nature, Hansel and Gretel stands out with its "R" rating, which results in plenty of over-the-top gore, nudity and swearing.
Director: Tommy Wirkola. Cast: Jeremy Renner, Gemma Arterton, Famke Janssen, Peter Stormare, Ingrid Bolsø Berdal. Rated: R. Time: 1:28.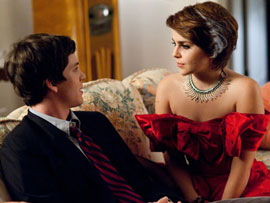 A coming-of-age film based on the 1999 novel of the same name, "The Perks of Being a Wallflower" is not your typical U.S. high-school movie. Charlie (Logan Lerman) starts out as the archetypal freshman loner, but when he meets Patrick (Ezra Miller) and Sam (Emma Watson) he begins to find himself. Avoiding genre cliches, director and author Stephen Chbosky employs a great alternative indie soundtrack and touches on serious issues ranging from love and friendship to suicide and sexual abuse. Watson gives a mature performance suggesting her post-Harry Potter career will be a bright one. 102 minutes.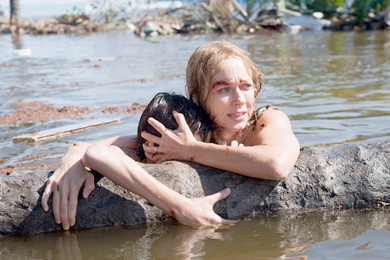 Set during the 2004 Thailand tsunami,this drama details one family's incredible fight for survival.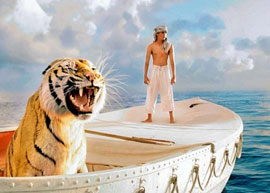 Yann Martel's ponderous adventure novel gets the big-screen treatment with this Fox 2000 adaptation. The coming-of-age story surrounds the son of a zookeeper who survives a shipwreck by stowing away on a lifeboat with a zebra, an orangutan, a hyena, and a Bengal tiger by the name of Richard Parker. Director: Ang Lee. Cast: Suraj Sharma, Irfan Khan, Tabu, Rafe Spall, Gérard Depardieu. Rated: PG. Time: 2:05.