Seniors Rock!
Two music events in La Manzanilla recently brought out the gray-hairs in force, and they rocked.  I love watching members of my generation dance to cover songs that were originals back in the day.  The moves may not be as elaborate, but we still have 'em.  With the right amount of tequila at these moments, I can see a crowd of sixty-somethings looking just as good as they did in the 60s.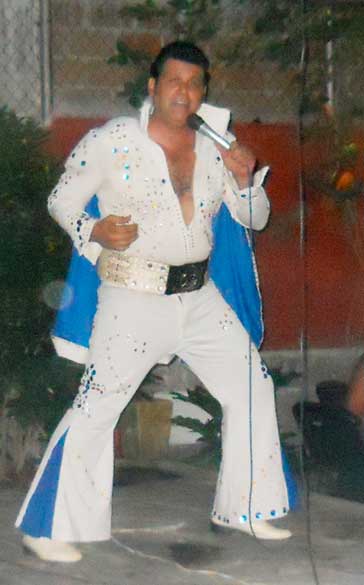 Elvis Was in the Building
Like a floor show in Las Vegas, Elvis packed Las Cabañas restaurant for his January 21 sold-out performance.  Impersonator David Weber nailed Presley, right down to his slicked-back pompadour, glitzy costume, Tupelo twang, and trademark "Thank you, thank you very much" mumble in response to thunderous applause.
Las Cabañas was the ideal venue for an Elvis dinner show.  Small and intimate, with a raised stage and ample room to dance, there's not a bad seat in the house.  The King crooned his old standard love songs among the diners, then sought refuge on the stage when the audience burst onto the dance floor.  Women swooned, reached out to touch their idol, and declared their undying devotion.  To my knowledge, no underwear was thrown, but the room was aglow with raised Bic lighters during some songs. (Try that in Vegas!)
Unlike her counterpart whose name appears on this column, the Lois Lane of La Manzanilla is a shameless Elvis groupie.  She got the scoop.  David Weber, 45 years old, has been impersonating Elvis for nine of the past 25 years that he's been singing in public.  Born in Guadalajara, he honed his English in Portland, Oregon, and currently lives with his wife and daughter in Cancún.  Weber says he does his Elvis gig all over Mexico, but the Costalegre is his favorite place to perform.   Apparently the Costalegre reciprocates that favoritism.   A repeat performance at Las Cabañas a week later also quickly sold out.
Scottie & Friends
Lois Lane wanted to go see Elvis again, but it was my 65th birthday and there's no way I'd miss seeing Scottie & Friends play.  My sentiments seemed widely shared.  Palapa Joe's was swarming  with the senior set who came to enjoy an evening of first-rate classic rock and R&B.;  One patron borrowed some chairs from a restaurant down the block to accommodate fans who wouldn't be turned away.  The January 28 show, with new material, was bigger than their premier performance earlier in the season.
Scottie & Friends evolved from Open Mic Nite musicians who started doing impromptu jams after the last scheduled act.  By that hour, only the hardiest music fans were left, but everyone agreed it was the best part of the night.  So regulars Scottie Turner and Rob Boyes, annual visitors from Canada  and Open Mic favorites since it started five years ago,  got together with some of the other players, jotted down and sort of rehearsed a play list, and put on an early  show.
Scotties friends keep evolving, too, depending on what musicians are in town.   Last week's lineup included:  Scottie and Roberino on guitar and vocals, Lounge Lizard Dan "the Harmonica Man" Crosby, Pablo on drums, the versatile Ian Manchester who totally rocks a mandolin and does guitar and percussion equally as well, new kid with a guitar in town Daniel Volj, and more.
All this fun was for a good cause, too.  Scottie, who also coaches the La Manzanilla kids' baseball team, said that 1700 pesos from the tip jar was donated to buy shoes for the players, some of whom show up to play in flip-flops or barefoot.
Artis Gallery
If crowds aren't your thing, try Artis Gallery on a Friday evening around 8.  Dylanesque troubadour Rabí Hernandez is there, singing rock and folk standards to his own guitar and/or harmonica accompaniment.
Artis Gallery is a cozy little sidewalk cafe on Playa Blanca, between the bookstore and Café Risa, with the feel of a New York coffee house.   You can't get a cup of coffee there, but owner Anaxazi mixes a mean Mojito and other potables from his impressively stocked bar.  Currently featured inside the gallery is local artist Patrizio with his new Mirar show.
Art Walk Mobbed
With the exception of Semana Santa, I have never seen La Manzanilla as crowded as it was for Art Walk on January 29.  No one has come up with an actual count yet, but the number of people who descended on our little pueblo for the event was jaw-dropping.  Apparently there were more lookers than buyers for the art, but all those visitors had to eat and drink, so restaurant owners were happy.
Extra busses, some of which looked older than the SRO passengers inside, were added to the Melaque/La Manzanilla run to handle the influx.  This was in response to last year's complaint from people in Melaque who couldn't come up because the busses were all packed.
New Ejido Officers
Congratulations are in order for the new leaders of La Manzanilla's ejido, the Mexicans who will determine our growth and development.   They are:  Nazario Suazo, President; Othon Salvador, Secretary; Hugo Brambila, Treasurer; and Pepe Martinez, Consego de Vigilancia, which roughly translates to the person in charge of measuring lots.
Ejido elections, open to members only, are held every three years, usually on the first Sunday in January.  This year's election was postponed for a few weeks due to the death of longtime member, "Beto" Verde, rumored to be 102 years old.
Flea Market Extravaganza
Another good reason to spend a lovely Sunday in beautiful downtown La Manazanilla is the upcoming flea market to benefit the church.   Scheduled for February 12, between 10 a.m. and 2 p.m. in the plaza, it will be a veritable bazaar of new, used, and original items.
Organizers are lining up musicians to play in the gazebo and local restaurants to sell food around the perimeter, as well.  This is one of several fund raisers that have been staged to pay for much needed repairs to our church of Maria Asunción.