Northern Lights
The Northern Lights Festival de Febrero continues with classical and jazz concerts by renowned international musicians almost daily through March 5.
These concerts are not to be missed and there are still tickets left for various concerts. See www.festivaldefebrero.com for more information on the festival, the visiting musicians, concerts and the focus on up-and-coming local musicians. See the ad on page 12.
Naked Stage
The Naked Stage Reader's Theatre presents "A Body of Water" by Lee Blessing, Friday, February 26 through Sunday, February 28.
Directed by Lynn Phelan and starring Debra Bowers, Ken Yakiwchuk and Tina Leonard, the play focuses on a man and a woman who wake up one day with matching cases of amnesia.
The box office opens 3:15 p.m.; the show starts 4 p.m. For reservations, email This email address is being protected from spambots. You need JavaScript enabled to view it..">This email address is being protected from spambots. You need JavaScript enabled to view it..
The Naked Stage has moved to a new location at Hidalgo 261 in Riberas del Pilar on the mountain side of the Carretera, across from the Catholic Church and in front of the Baptist Church.
Auditions
The Naked Stage holds auditions for five men and two women for "Broadway Bound" by Neil Simon. The auditions are Monday, March 7, 11 a.m. Phyllis Silverman directs. Production dates are April 1, 2 and 3. Contact: This email address is being protected from spambots. You need JavaScript enabled to view it. for more information and sides.
Sculptors show redux
The works of eight sculptors will be featured at the second monthly Jardin de la Escultura open-air exhibit set for Sunday, February 28, 10 a.m. to 6 p.m. at the Ajijic Plaza.
Guest artist Santiago Baeza, along with regular exhibitors Daniel Palma, Jesús "Katuza" Higuera, Isidro Xilonzochitl, Antonio López Vega, Rigoberto Navarro, Lázaro Luna and Noel González, will be showing pieces forged from stone, clay, wood, metal and other materials, displayed on the esplanade outside the Centro Cultural Ajijic.
Visitors will be invited to inscribe their favorite sayings or proverbs on a giant strip of paper hung up for the occasion. A cocktail reception starts at 4 p.m.
Russian Music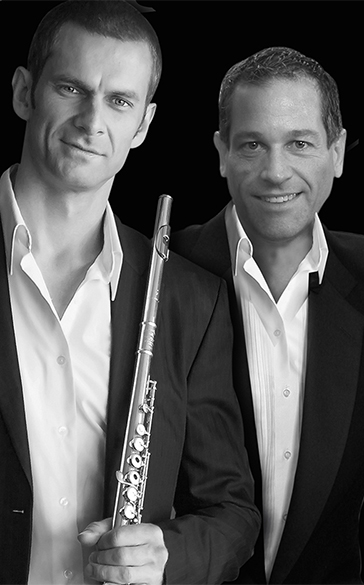 A concert of Russian music performed on flute and piano by Antonio Dubatovka and Timothy G. Ruff Welch will be held at St. Andrew's Anglican church, Saturday, March 5, 7 p.m. Tickets are 200 pesos and available at Diane Pearl and Mia's Boutique or by emailing This email address is being protected from spambots. You need JavaScript enabled to view it..">This email address is being protected from spambots. You need JavaScript enabled to view it..
Crafts show in Chapala
Around 200 exhibitors will set up shop at the Chapala waterfront for the Artesanias Regionales sales expo scheduled for Saturday, March 5 and Sunday, March 6. The itinerant fair will showcase handicrafts, culinary specialties and other goods displayed by families who operate cottage industries in 18 municipalities throughout the lakeshore region. The exhibition runs from noon on Saturday until after dark, Sunday from 9 a.m. to 5 p.m., with continuous live entertainment both days.
Sharing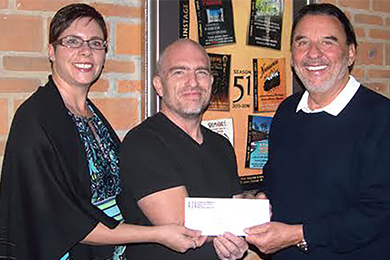 Lakeside Little Theatre (LLT) continues its practice of sharing a portion of each of its stage play's proceeds with a different local charity. At the opening night of "Nunsense," LLT President Peter Luciano presents a donation to Kina and Rodney Dutro, representing Hope House. Located just over the mountain in the town of Ixtlahuacan, Hope House provides a safe shelter and educational opportunities to abandoned, abused, orphaned and poverty-stricken boys aged 8 to 18. The Hope House vision is to develop character, provide love and impart tools so they may become a successful part of society.
Opera at LLT
Lakeside Little Theatre (LLT), in affiliation with London's National Theatre and the Royal Opera House/Royal Ballet, screens an HD version of Kenneth MacMillan's "Romeo and Juliet," Saturday, March 5, 7:30 p.m. and Sunday, March 6, 3 p.m. MacMillan's poignant setting of Sergey Prokofiev's classic score draws out the emotional and psychological intensity of this most famous love story. The run time is about three hours.
Reserved seat tickets for each performance are 200 pesos. Seats can be reserved at the time of purchase and tickets picked up at the LLT box office on a first-come, first-served basis, Wednesdays and Thursdays from 10 a.m. to noon or every day during the run of any show (except Sunday), 10 a.m. to noon and one hour before curtain. For more information, call 376-766-0954 or email This email address is being protected from spambots. You need JavaScript enabled to view it..">This email address is being protected from spambots. You need JavaScript enabled to view it..
Patrons are invited to socialize at LLT's Angel Terrace Bar starting one hour before show time and during intermission.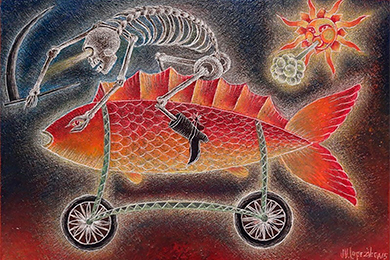 Collective art show
Next weekend, Galeria de Arte Axixic is presenting a collective show featuring Richard Stromberg's hand-made, one-of-a-kind art jewelry in silver, gold, bronze and brass, as well as mixed media works by well known lakeside artist Jesus Lopez Vega.
The show opens with a cocktail reception Saturday, March 5, 3-7 p.m.
Lopez Vega started painting at the Neill James children's Art Program back in the early 70's.
Galeria de Arte Axixic is located at Rio Zula 1 and Ocampo (West Ajijic) near Tabarka Restaurant. The reception will include botanas and live music.
That's Entertainment!
Former Red Piano owner Mark Rome presents three more over-the-top shows at the Auditorio de La Ribera.
March 5: Kevin Levesque in "Miss Conception Goes to the Movies" sings her heart out on famous flick tunes from yesteryear. See the ad on page 15.
March 12: California Dreamin' presents famous hits from the Mamas and the Papas.
March 19: Paul Aleman and Renee Armand cover the best of John Denver in "Rocky Mountain High."
All shows begin at 7 p.m. and tickets are available at Diane Pearl, Jose Melendrez, Kiss my Glass and LakesideTickets.com.
Folk Dances
Enjoy an imaginary journey through different regions of Mexico as the Ballet Folklorico Atequiza takes the stage of the Auditorio de la Ribera Sunday, March 6, noon. The dance troupe from Ixtlahuacán de los Membrillos will perform colorful routines accompanied by live mariachi and banda musicians. Tickets on sale at the auditorium box office are going for 100 and 130 pesos, according to seat selection.
Bravo! Theatre
"I, Claudia," a one-woman show about a girl on the cusp of teen-hood and her charming "take" on life and her ever changing world, will be presented Tuesday, March 8 through Friday, March 11 at Bravo! Theatre.
Using masks, Jayme Littlejohn plays four characters who shape Claudia's world. Directed by Lynn Phelan, the play is smart, funny, charming and will wrap its arms around you.
Evening performances are Tuesday, March 8, Thursday, March 10 and Friday, March 11, 7:30 p.m., with a matinee on Wednesday, March 9, 4 p.m. Tickets at 200 pesos are available at Diane Pearl, Mia's Boutique or by emailing This email address is being protected from spambots. You need JavaScript enabled to view it..">This email address is being protected from spambots. You need JavaScript enabled to view it..
Arts & Crafts Festival
The Lake Chapala Society (LCS) will host its Annual Arts and Crafts Festival Friday and Saturday, March 11 and 12, 10 a.m. to 3 p.m. Admission is free.
This event is traditionally held in the autumn, but was moved to the spring so that lakeside artists didn't have to compete with those showing at the Feria Maestros del Arte.
The festival features artists and craftspeople from all around Lake Chapala and includes local artists who worked with Neill James when they were children.
Young artists from the LCS Children's Art Program to be featured on Saturday will include Orlando Ibarra, Karina Gutierrez and Saul Garcia.
Representatives from San Luis Potosi will present a cultural exhibition of their food, dance and music. Locally made tamales, pozole and desserts will also be on sale.
There is limited space for Lakeside artists to still sign up for a booth. Contact Maria Huerta at the Wilkes Education Center at 766-2940 for more information.
Live from the Met
Viva la Musica continues with bus trips to Live from the Metropolitan Opera at the Teatro Diana in Guadalajara. Tickets are 350 pesos, (450 pesos for non-members), available at the LCS box office Thursdays and Friday 10 a.m.- noon. Buses depart from the Carretera, just east of Farmacia Guadalajara in Ajijic.
Saturday, March 19: "Manon Lescaut" by Puccini; a story of obsessive love, with sultry soprano Kristine Opolais and tenor Jonas Kaufman in the lead roles. Bus departs at 10:30 a.m.
Saturday, April 9: "Madame Butterfly" by Puccini; featuring soprano Kristine Opolais as the young geisha Butterfly, and Roberto Alagna as Pinkerton. Bus departs 9:30 a.m.
Saturday April 16: "Roberto Devereux" by Donizetti; featuring Soprano Sondra Radvanovsky as Queen Elizabeth I and tenor Matthew Polenzani as Robert Devereux. Bus departs at 10:30 a.m.
Saturday, April 30: "Elektra" by Strauss; soprano Nina Stemme, unmatched today in heroic female roles, portrays Elektra in a primal quest for vengeance, and legendary mezzo-soprano Waltraud Meier as Elektra's fearsome mother. Bus departs at 10.30 am.
For more information, call Rosemary at (376) 766-1801.