The Guadalajara Police Department has a pair of new recruits – two drones that will be deployed to bolster security in the historic center and other high-crime areas. Guadalajara Mayor Enrique Alfaro says the drones will be used to combat high rates of street robbery and car theft.
The drones are Phantom 3 models, costing 38,000 pesos (US$2,000) each. The devices can travel at up to 50 miles per hour and reach heights of 1,600 feet. They are currently authorized to fly at no more than 400 feet to avoid potential collisions with helicopters.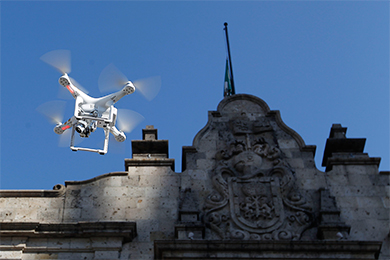 The drones will circle selected areas during hours of the day with the highest levels of crime.
Unmanned aerial vehicles (UAVs) or drones are now used widely by police departments in the United States and Canada. According to several sources, the first drone used to assist in an arrest was in North Dakota in 2011. Several lawsuits have resulted in the United States stemming from the use of drones for police surveillance in public spaces.
Similar concerns have yet to be raised in Guadalajara.