What the devil happened to the world's best climate?
Since the first of the year the weather at Lake Chapala has been dominated by overcast skies and a frosty nip in the air.
Not that it's been a particularly harsh winter season. I recall a few that were far worse. But this year's cold streak has seemed interminable. With a limited selection of warm duds in the closest, I've run out of creative ways to mix and match the same old outfits.
As far as seasonal fashions go around here, at least you can figure out who's who. See somebody gadding about in a tee-shirt, shorts and sandals, you can bet you're looking at a snowbird who's just arrived from the north. Natives and well-acclimated expats are the ones bundled up in vests, sweaters, jackets, scarves and boots.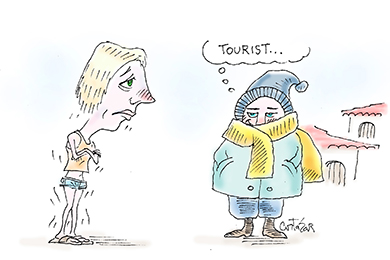 Happily, clear skies and sunshine have come back over the last few days, giving a welcome reprieve from the need to dress up in multiple layers and peel down as the thermometer creeps up hour to hour.
That's not to say we're home free from occasional bouts of gray clouds, rain and blustery winds that may crop up over the weeks to come. There's truth to the popular proverb febrero loco, y marzo otro poco, signifying radical shifts in weather conditions that commonly occur this time of year.
Etched in my memories of growing up at the foot of Pikes Peak are Mother Nature's first hints that winter's end was nearing. What ecstatic childhood joy came in exploring the backyard to discover furry catkin buds popping out in a fat stand of pussy willows. And from spotting crocuses, jonquils, Johnny jump-ups and fragrant lilies of the valley as they started to peak out the snow-sheathed earth.
Here at lakeside today, I delight in watching the natural landscape signal that Spring is just around the corner. As poinsettia bushes wither and fade, I notice the towering trees they call primaveras (yellow poui) now loaded with clusters of golden blossoms. By the first of March the jacarandas will burst into full bloom and dust the ground with carpets of tiny lavender-hued flowers.
It won't be long before we begin packing away the winter garb, stringing up hammocks and filling our pitchers with iced tea and frosty margaritas. Hooray!