Spayghetti
Attendees enjoyed the festivities at the 3rd "Spayghetti No Balls" dinner gala at the Raquet Club on February 19.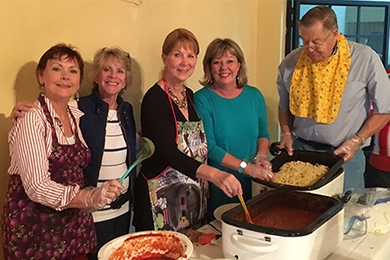 Dishing out a hearty meal at the event were (L-R) Bernadette Jones, Dee Mistrik (chairperson), Mina Powers, Lori White and Arnold Rossander.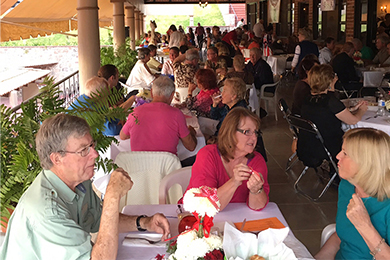 An estimated 250 people attended the third annual fundraiser for Operacion Compasion. This non-profit organization is dedicated providing free spay/neuter clinics in the Jocotepec municipality to reduce animal suffering. If you would like to be a volunteer or donor for this worthy cause, or help in any way, email This email address is being protected from spambots. You need JavaScript enabled to view it. or call (376)761-0041.
Support groups
Professional counselor Valerie Rhoda holds a variety of support group meetings each week. Rhoda has extensive group experience. There is no cost for any of these sessions.
The Cancer and Life-threatening Disease Support Group for Women meets the second and fourth Mondays from 11:30 a.m. to 1 p.m.
The Caregiver Support Group meets the second and fourth Wednesdays from 10:30 a.m. to 1 p.m.
The Divorce and Separation Group meets the first and third Wednesdays, from 2 to 3:30 p.m.
The Loss and Moving Forward (Grief) group meets the second and fourth Wednesdays from 2:30 to 4 (ish) p.m.
If you are interested in joining any of these groups, contact Rhoda at 766-4522 or This email address is being protected from spambots. You need JavaScript enabled to view it.
Open Circle
"Still Midnight in Mexico?," a journalistic view of the state of the country, will be presented by Alfredo Corchado and Angela Kocherga at the Open Cirlce meeting Sunday, February 28, 10:30 a.m. in the Lake Chapala Society garden. The public is invited.
Corchado was born in Mexico, grew-up as a migrant worker in California, and later moved to Texas, where he graduated in journalism from the University of Texas at El Paso. He has worked for the Dallas Morning News since 1994. As Mexico Bureau Chief, he covers U.S. policy in Latin America, specializing in Mexico. He is a leading reporter on immigration and national security issues. His nonfiction book, "Midnight in Mexico," was released in May 2013. He is currently the Walter Cronkite School of Journalism Director of the Borderlands Program at ASU.
Kocherga currently serves as a director of the borderlands bureau of Cronkite News at Arizona PBS. She started her career as a Public Radio reporter in El Paso and later served as a reporter and producer for the CBS affiliate in El Paso and the ABC-affiliate serving the Dallas-Fort Worth area, and was Mexico bureau chief for the CBS affiliate serving Houston. From her bureaus in El Paso-Ciudad Juarez and Mexico City she has reported on border security, drug smuggling, gun running and immigration issues as well as the economic, political and cultural influences of Latinos in the United States. She has won two Emmys for her work on escalating violence in Ciudad Juarez and traveled to Honduras in 2014 for a series of special reports on the mass migration of children from Mexico to the United States.
Genealogy Forum
"Finding the Women" is this month's topic at The Genealogy Forum meeting Monday, February 29, 2 p.m. in the LCS sala.
For a variety of reasons, finding our female ancestors can be particularly difficult. Sometimes we know their full names but not their parents – which Mary Allen? Sometimes we have a first name only – Elizabeth who? And sometimes we have birth records with only the father's name listed and no marriage record to be found. Or we have no name at all. The February meeting of the Genealogy Forum will discuss ideas about how to find our missing grandmothers. Research suggestions will be provided for attendees who bring information about especially difficult ancestors.
The Family History Center now has extended Thursday hours: 9:30 a.m. to 12:30 p.m.
LCS seminar
LCS members are invited to attend the Tuesday, March 1 learning seminar from noon to 1:15 p.m. featuring a Ted Talk by ecologist Carl Safina: "What are animals thinking and feeling?" Fred Harland is the moderator.
What's going on inside the brains of animals? Can we know what, or if, they're thinking and feeling? Safina thinks we can. Using discoveries and anecdotes that span ecology, biology and behavioral science, he weaves together stories of whales, wolves, elephants and albatrosses to argue that just as we think, feel, use tools and express emotions, so too do the other creatures – and minds – that share the Earth with us.
Neill James lecture.
Phil Rylett presents "Homeopathy: The cure that wants to rewrite science" on Tuesday, March 1, 2 p.m. in the LCS sala. After almost disappearing in the 1950s, homeopathy has enjoyed a recent resurgence. Homeopaths can be found everywhere (there's one on Ajijic's plaza) and homeopathic remedies sit on pharmacy shelves next to conventional medicines. What is homeopathy and does it work?
Phil Rylett graduated in the 1970s with a degree in pharmacology. After working in university drug research, he continued his healthcare career as a nurse and then as a systems manager for a U.S. federal cancer prevention program.
Spanish at LCS
The Lake Chapala Society has announced its next round of Introduction to Spanish-language classes for members. This is a casual class offered for the beginner that covers the Spanish alphabet, simple vocabulary and phrases to use about town for shopping, and other useful information about the area and Mexican culture.
Classes are held each month starting the first Tuesday of the month and continue for three weeks. March classes start Tuesday, March 1, and will be held at the LCS campus from noon to 1:30 p.m. Learning materials are provided and the cost is 175 pesos. Sign-up is available at the LCS office during regular office hours, Monday through Saturday. Or you can sign up at lakechapalasociety.com
LCS is located at 16 de Septiembre 16-A. Ajijic. Call (376) 766-1140 for information.
Heart of Awareness
The Heart of Awareness Community airs the first of five audio presentations, "Waking Up – What Does It Really Mean?" an interview with Jack Kornfield, at its meeting on Wednesday, March 2. Noble Silence begins at 4 p.m., followed by a formal meditation, dharma teachings and discussion at 4:30 p.m.
March 6 is the First Sunday Long Sit, from 9 a.m. to noon. Arrive by 8:50 a.m. to prepare for three rounds of 40 minutes and 20 minutes of walking meditation.
The sangha's location is at Guadalupe Victoria 101, suites A&B, in Ajijic. The Heart of Awareness is a non-sectarian community grounded in the teachings of the Buddha as preserved in the Theravada/Vipassana tradition. Prior experience or affiliation is not required. For further information on the community and scheduled activities, visit heartofawareness.org, or call Janet Reichert at (376) 766-6069.
Shriners pig out
The annual Shriner's Ribfest will be held Wednesday, March 2, 1-5 p.m. at Cumbres Jardin Eventos, high up in the hills above Chula Vista Norte with stunning views of the lake in a beautiful garden setting.
The Ajijic Jamm Band featuring Paul Brier, Sergio Casas, Chelo Gonzalez and a guest entertainer will fill in for Jay Shuffle, who passed away on February 14 (see obituary on page 16).
Enjoy great food (an all-new menu is offered this year) and entertainment while helping the Shriners transport children in need to the Shrine Children's Hospital in Mexico City.
Tickets are 400 pesos and available from any Shriner, at Diane Pearl, the Tuesday and Wednesday markets from 10 a.m. to noon, and at La Paz Liquor Store Fridays from 10 a.m. to noon. Contact This email address is being protected from spambots. You need JavaScript enabled to view it. or call (376) 106-1263 for more information.
A free shuttle from Black Coffee Gallery at Centro Laguna will be provided.
British Society
Carol Curtis from Operation Feed is the speaker at the next meeting/luncheon of the Lakeside British Society, Saturday, March 5, 1 p.m. at Manix Restaurant. Curtis will talk about the group's work. "Our mission is to provide food and improve the lives of the very poor and marginalized people of San Juan Cosala," she says.
Menu choices for the luncheon include chicken curry, fish florentine in white wine sauce with rice and vegetables or fettucini primavera. Each choice is served with leek and potato soup as a starter and chocolate cake for dessert. Please call Alicia McNiff at 765 4786 or Sue Morris at 766 0847 to reserve your meal choice. Visitors are always welcome.
Putting on the Ritz
Niños Incapacitados' annual Diamonds & Denim Ball fundraiser will be held Thursday, March 10, 5 p.m. at the Hotel Real de Chapala. Tickets for this event are selling fast. Contact Sue Williams at 766-0487 or This email address is being protected from spambots. You need JavaScript enabled to view it. to get yours now. See programaninos.com for more information.
American Legion
St. Patrick's Day will be celebrated at American Legion Post Seven on Thursday, March 17 with a dinner menu of corned beef and cabbage, potatoes and carrots and dessert. Noe and the Men in Black will entertain. The social hour begins 1 p.m. and dinner is served at 2 p.m. Post Seven is located at Morelos 116, Chapala. Call 765-2259 for more details. The cost is 150 pesos.
Villa Infantil luncheon
A luncheon fundraiser for the Villa Infantil orphanage will be held Saturday, March 19, 12:30 p.m. at Las Caballerizas in the Raquet Club. The theme will be "The Sound of Music … Climb Every Mountain." Judy Hendrick and Mac Morison will be featured along with the children of the Villa Infantil Orphanage. A gourmet luncheon will be served during a fashion show presented by Lois Cugini's Boutique. A silent auction will be open before and during the luncheon. A cash bar will be available.
Tickets, at 300 pesos, are available at Cuigini's Boutique, Yoly's & Mia's. Tables of ten can be reserved by emailing Beth Cathcart at This email address is being protected from spambots. You need JavaScript enabled to view it.
Guests are asked to bring a non-perishable food item as a donation to Villa Infantil.
Naked Stage
A reminder: The Naked Stage has moved to a new location at Hidalgo 261 in Riberas del Pilar on the mountain side of the Carretera across from the Catholic Church and in front of the Baptist Church.