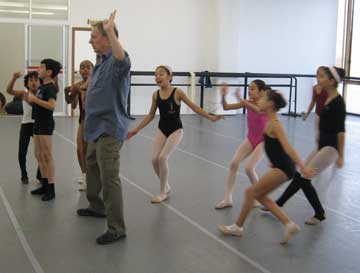 The 2013 performance in Teatro Degollado of Tchaikovsky's famous "El Cascanueces" marks a milestone in Guadalajara's artistic history, says Dariusz Blajer, the new director of the state's reconstituted professional dance company, the Joven Ballet de Jalisco (Young Ballet of Jalisco) .
Blajer, who has worked in dance for 31 years in Mexico, notes that "every year 'The Nutcracker' [El Cascanueces] has been done here in Guadalajara by [dance] schools, but this is the first time as far as I know that a professional company has done it in the Degollado." Blajer is currently hard at work with his 24 regular dancers along with seven additional girls and 40 children, practicing for the performances Friday, December 20 (8:30 p.m.), Saturday, December 21 (7:30 p.m.) and Sunday December 22 (12:30 p.m.). 
"Of course, the whole company is onstage at times. In the finale there are 40 people," he said, adding excitedly that special lighting effects have been designed for the production.
The additional dancers were brought in after auditions two weeks ago. 
"About 80 children auditioned from many different schools in the city and its suburbs, and we selected from them." ("Joven" in the company's name does not reflect the fact children are included in the "Cascanueces" lineup; the age range in the company proper is 18 to 28 years old.)
As if to prove Blajer's assertion that normally non-professional dancers stage "The Nutcracker," a check of Ticketmaster revealed that another, presumably private, production is indeed slated for the Degollado on December 15, and tickets for that event are not available. In addition, a check of previous years shows various professional dance groups, including two from Russia, doing "The Nutcracker" locally at such venues as Teatro Diana and Teatro Galerias, sometimes even accompanied by the Jalisco Symphony Orchestra, but none at the Degollado, world renowned for its acoustics and classic interior.
Another highlight of the Joven Ballet's 2013 production of "The Nutcracker" is that new choreography for some parts have been done by Blajer and two teachers who work with the Joven Ballet. 
"It is normal to do some new choreography," Blajer said, noting that the first choreographers, Lev Ivanov and Marius Petipa, who worked on the 1892 production for the Czar of Russia, have been upstaged by later choreographers such as Alexander Gorsky and George Balanchine.
"I wanted to show what we can do and I didn't want to repeat everything that was done before," he explained.
Blajer allowed that "El Cascanueces" plays very well to Mexican audiences, perhaps equalling its popularity in the United States, where since the 1960s it has become a rock solid part of the repertoire of major ballet companies, who may owe as much as 40 percent of their annual ticket sales to it. It doesn't hurt that Disney's classic animated film "Fantasia" used "The Nutcracker Suite," which Tchaikovsky extracted from the ballet. 
("Nutcracker" lovers should also note that the Jalisco Philharmonic Orchestra is scheduled to play part of "The Nutcracker Suite" — The March, The Dance of the Sugar Plum Fairies and the Russian Dance — in their "Concierto Navideño" this weekend, Friday December 13, 8:30 p.m. and Sunday, December 15, 12:30 p.m. — see http://www.ofj.com.mx — and that the orchestra does not play with the Joven Ballet in "The Nutcracker." The music for the ballet will be recorded.)
Tickets range from 55 pesos to 230 pesos at Teatro Degollado box office, (33) 3614-4773, open 10 a.m. to 10 p.m. or at Ticketmaster, www.ticketmaster.com.mx. While seating in some balconies offer an excellent view of the stage, some seats at frontmost areas of far upper balconies have almost totally obstructed views.