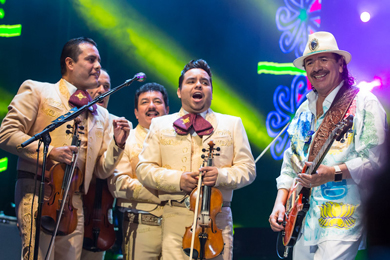 Carlos Santana is not only a household name in Jalisco, but also with the many expats who attended the sold-out performance at the VFG Arena on Saturday, December 14.
Now aged 66, Santana, who originally hails from Autlan, Jalisco, roughly 100 miles west of Guadalajara, brought a slew of guest performers, mostly of Latino origins, to his high energy concert, proving he has no problem sharing the spotlight with younger artists.  
Most concert goers would have expected an opening complementary act of 30 minutes followed by a blackout, then a single signature guitar note of Santana. Instead, revealing his roots, a 13-piece mariachi band caught the crowd by surprise, introducing the festive spirit that would burn throughout the night.
That was at 8:15 p.m. At 8:26 p.m., with this simple announcement, "damas y caballeros, Carlos Santana," the relaxed, smiling musician walked on the stage carrying his tiger-striped electric guitar. Clad in his popular white pants, white Panamanian-style hat, and custom floral type linen shirt, he immediately joined with the mariachis for a traditional Mexican tune.
By the end of that song, his band were in position to perform for a solid two hours 40 minutes behind the musical icon and his many talented guests: Gloria Estefan, Fher Olvera of Mana, Juanes, Miguel from the U.S., Samuel Rosa of Skank, Romeo Santos, Lila Downs, Diego Torres, Nina Pastori, Soledad and Chocquiltown.
Fher combined with Santana for an old favorite, "Corazon Espinado," while other much-loved songs included "Samba Pa Ti," "Oye Como Va," "Evil Ways" and the soulful "Europa."  "Maria Maria" sung by Miguel, and Estefan's "Beso de Lejos" also brought huge reactions from the crowd.
Both Juanes and Fher Olvera had joined Santana last week in Washington D.C. when he received his Kennedy Center Honors Award at a gala celebration marking his contribution as a national artistic treasure.
The encore finale brought everyone back onstage, including the mariachis, for a crowd pleasing rendition of the traditional song "Cielito Lindo." It was a fitting tribute for the musical icon who has influenced so many Latin recording artists.
Be on the lookout for Santana's forthcoming studio album entitled "CORAZON," which will be released in the spring of 2014 in conjunction with the documentary "Live it to Believe It" filmed in the Riviera Nayarit.
Check out more photos of the concert below!