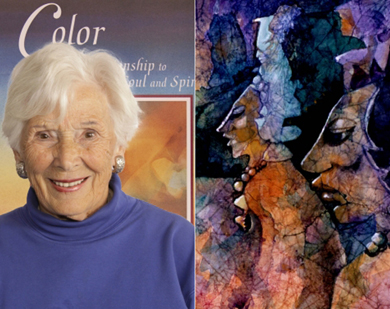 Naked Stage comedy
The Naked Stage Readers Theater presents "Here on the Flight Plan," by Norm Foster, for a three-day run Friday, September 27 through Sunday, September 29 in the events salon located behind Daniel's Restaurant, Rio Bravo 10 on Ajijic's west side.
The three-act play is a barbed comedy that explores the foibles of male-female relationships. Michael Warren directs cast members Kat Tetrault, Candace Luciano, Peter Luciano, Joan Cook, and Dick Yanko.
The box office opens at 3:15 p.m., with show time set at 4 p.m. Admission is 80 pesos per person. Drinks are available at the no-host bar. For reservations contact This email address is being protected from spambots. You need JavaScript enabled to view it. or phone Michelle at 765-6408.
Opening at CCA
The Centro Cultural de Ajijic (CCA) will hold the opening of a new exhibition on Saturday, September 28, 5 p.m. The exhibit will showcase contemporary sculptures by Oscar Espinosa and Jose Jorge Sanchez and portraits of local people by Myrna Shreve. 
Art Sundays
CCA director Efren Gonzalez is also launching Domingos de Arte, a two-month series of weekly outdoor art activities on the plaza, starting Sunday, September 29, 10 a.m. to 1 p.m. The program will include an exhibition of works by local artists as well as a hands-on workshops in painting, papier mache masks and ceramics. The classes will be open to interested people of all ages and abilities.   
Lights up at LLT
The Lakeside Little Theater box office opens for business on Wednesday, October 2, offering available seats for "Local Hero," the first show of the 2013-2014 season. Hours are 10 a.m. to Noon daily except Sunday, and one hour before curtain time on all performance dates. (See separate story for more details about the opening play.) The ticket price is 200 pesos per person.
Auditions
Auditions for "Over the River and Through the Woods" will be held Friday, October 4 and Saturday, October 5, with registration at 9:30 a.m. Director Ann Swiston is looking for three women and three men to play in the comedic drama revolving around family ties scripted by Joe DiPietro. The show will be staged December 6 through 15.
The play is a poignant and witty story about family, faith, food and what we go through to keep them close.
The LLT playhouse is located in just off Calle Allen W. Lloyd, next door to Instituto Loyola, a block up from the highway in San Antonio Tlayacapan.
ASA
The Ajijic Society of the Arts (ASA) will meet Monday, October 7, 10 a.m. at La Bodega Restaurant (Calle 16 de Septiembre 124, Ajijic).
Lois Schroff,  a signature member of the Virginia Watercolor Society whose paintings have been exhibited mostly in the Washington, D.C. area, will give a demonstration of watercolor glazing.
Schroff has published three books and a how-to video on color, with an emphasis on spiritually-based painting.  She received "Best of Show" in the 2012 ASA judged show, and "First in Watercolor" in this year's event.
ASA is a group of about 100 artists, foreign and Mexican, that meets the first Monday of each month to exchange ideas and promote art in the Lakeside area. All are welcome.
Storytellers
Scary stories are on the agenda for October's Storytellers, springing from the lively imaginations of five clever Lakeside writers.
There's a voice coming from the kitchen sink? Is that a vampire competition going on? Who's that ghost-like thing sitting in the back of the closet? Why is the beautiful señora floating around the casa like that?
Writers Mel Goldberg, Allen McGill, Bonnie Phillips, Bob Tennison and Jim Tipton will horrify, scare, frighten and make you laugh. Come and enjoy.
Storytellers "Totally Awesome" presentation tales place Tuesday, October 8, 4 p.m. on Lake Chapala Society's gazebo. The bar opens at 3:30 p.m. You might want a drink to steady your nerves.
The event is free, but donations are welcome. All proceeds go to the Jim Collums Education Fund, which raises money to help local Mexican kids stay in school. Funds are distributed by LCS.
Broadway show tunes
Vocalist Ryan Ragazzi will be in the spotlight this weekend at El Piano Rojo, belting out a repertoire of hit songs from Broadway.  Back to back shows are booked nightly Friday, Saturday and Sunday, 8 p.m.  The cover charge is 100 pesos per person.  The box office opens two hours before show time.  For advance reservations call 766-2876. The musical hot spot is located at Morelos 14, a block above the Ajijic pier. 
Best Kept Secret, a New Orleans style rhythm and blues band featuring Ray Bushbaum on piano, will be appearing at El Piano Rojo on consecutive Thursdays from October 3 through November 7, 8 p.m. Let the good times roll!
Boogie at Number Four
Reopening this weekend after a 10-day vacation break, Number Four Restaurant has booked lakeside's popular hard-rocking Tall Boys Band for a one-night gig Saturday, September 28 from 8 p.m., with a 50 pesos cover charge.
Noe and the Classics are on the bill for September 27, 30 peso cover, and September 30, no cover.
In addition to Number Four's regular menu offerings, Jimmy Christensen will be putting on a guest apron over the next couple of weeks to prepare Smoking Southern BBQ.
To make reservations stop in at Donato Guerra 4, Ajijic, or call 766-1360.