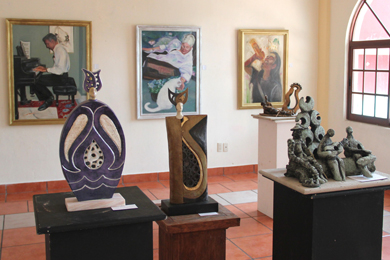 Storytellers
Unfortunately, the Storytellers event scheduled for Tuesday, October 8 at the Lake Chapala Society has been cancelled.
Jocotepec art show
Jocotepec's Casa de la Cultura, situated just off the town square, will host a double art show opening on Friday, October 4, 7 p.m. "Infancia Wixarika" showcases photographs of children of the Wixarika (Huichol) Indian tribe captured by María del Refugio Reynoso Mendoza. "Estoy Haciendo lo que Quiero" (I'm Doing What I Like) features children's paintings and drawings created in the art workshop guided by Jesus Tadeo Vega. Both of the exhibits will remain on display through the end of the month.
Gallery opening in San Juan
Artist Eduardo Xilonzochitl will celebrate the grand opening of his own studio-gallery with an inaugural bash on Saturday, October 5, 8 p.m. The location is Carretera Chapala-Jocotepec 43B in San Juan Cosala. Live music, poetry readings, the raffle of an art piece and cocktails are being offered to attract guests. 
ASA
The Ajijic Society of the Arts (ASA) will meet Monday, October 7, 10 a.m. at La Bodega Restaurant (Calle 16 de Septiembre 124, Ajijic).  Lois Schroff, a signature member of the Virginia Watercolor Society whose paintings have been exhibited mostly in the Washington, D.C. area, will give a demonstration of watercolor glazing.
ASA will open the show "Cycles of Nature" at the Ajijic Cultural Center on Saturday, October 12.  A reception will run from 5-7 p.m. The exhibit will be up through October 24 and reopen at the Jocotepec Cultural Center on November 5.
Art on the block
Smooth-tongued bilingual Centro Cultural de Ajijic (CCA) director Efren Gonzalez will wield the gavel at the auction of a varied lot of oils, watercolors, pastels, etchings, sculptures and photographs by various artists, scheduled for Friday, October 11, 4 p.m. on the north side of the Ajijic plaza. Drinks and refreshments will be served to get customers in the mood to pick up great bargains. A 30-percent cut on the final price goes towards funding for CCA, with the remainder pocketed by the artist.
Sol Mexicano
The first show of the new season at Sol Mexicano, Galeria Del Arte – "Divine Reflections – Jewelry for your Wall" – opens on October 12 and features the work of two of lakeside's abstract artists: Julie Elizabeth Mignard and Monica Petrowitsch.
Although both work with different mediums – Mignard works with oil on canvas and Petrowitsch uses glass – they share a commonality of vision that can be seen in the works through the play of light, the depth of colors and a structural intensity that the layering of their medium permits.
Each artist has developed their style through years of applied knowledge, practical skill and the manipulation of a variety of treatments in their chosen medium.
Petrowitsch, who enjoyed a career as an interior designer, arrived at Lakeside from Canada three years ago. Once she decides on a design, glass pieces are cut to specification offsite, after which she sets to the task of layering. For this she uses inks from France, applying different techniques and other media to achieve the desired effect, sometimes enhanced by the use of chemicals depending on the design. The art pieces in the show will be a mixture of her wall hangings and other glass creations, decorated in a similar vein that could adorn your home like jewelry.
The works Mignard creates are clear-cut examples of abstract expressionism, which she partially defines as "an art technique used by animals, and by very small children before they even draw stick figures; it's scribbling and smearing."
She says the inkblot effect produced allows the viewer "to see random designs, and our minds want to process them into a picture."
An artists' reception will be held on Saturday, October 12 from 4-7 p.m. The show continues until the end of the month. Sol Mexicano is located at Colon 13, Ajijic.
Coming soon
Now's the time to mark your calendar for two stellar events later in October at the Auditorio de la Ribera in La Floresta.
The Coro del Estado de Jalisco (State Choir) is slated for an appearance Sunday, October 20, noon.  Advance tickets, priced at 100 pesos per person, are available at the auditorium, Centro Cultural de Ajijic, Yoly's Unisex Salon and Chapala's Historical Archives office.
Founded in 1981 under the auspices of the state's Ministry of Culture, the state choir performs on its own, as well as providing choral backup in all kinds of musical events. The group has appeared regularly on Jalisco's annual opera bill for more than 15 seasons, performing on occasion with such famed singing stars as Placido Domingo, Winifred Faix-Brown, Rolando Villazon, Gilda Cruz, Luis Giron and Ramon Vargas.
The Russian State Ballet Mari El will take the stage on Thursday, October 24, 7:30 p.m., as part of its nationwide tour with "Don Quijote," the lively classic set to music by Ludwig Minkus.
The production, under the artistic direction of former Bolshoi solist Konstantin Ivanov, has received critical acclaim for stunning costuming and scenery. 
Tickets, going for 380 pesos each, may be purchased at Diane Pearl Colecciones and Salvador's Restaurant in Ajijic and Tony's Restaurant in San Antonio.  
Israeli dancers
Israeli dance group Anajnu Veatem (translated as "You and Us" in Hebrew) return to Ajijic in November for two performances at the Auditorio de la Ribera in La Floresta to raise funds for the Lake Chapala Shrine Club.
This traditional Jewish dance group from Mexico City was formed by a group of university students in 1971. Over the years, Anajnu Veatem has participated in important international festivals, including the International Cervantino Festival and the Havana Ballet Festival.  The group played in Ajijic in 2003 and 2005.
Anajnu Veatem will give two performances on November 9, 7 p.m. and November 10, 1 p.m.
Tickets cost 200 pesos and can be obtained from Noble Denny Strole at 766-0485, Noble Perry King at 763-5126, or from any Shriner.  Funds generated from this event will benefit Lake Chapala Shrine Club activities.
Number Four
Number Four Restaurant has booked some top acts over the upcoming four-day Friday to Monday period. Jean Pierre and his Friends play Dixieland and jazz standards on Friday, October 4, from 8 p.m. (no cover), and Zona Cuba bring the flavors of the Caribbean isle to Ajijic on Saturday, October 5 (50 pesos cover).  Sunday, October 6 sees "soft and sexy" Jamaican jams on the sound system, with Jamaican food on offer from chef Glenroy.  Noe and the Classics (good old rock and roll) play on Monday, October 7, from 7 p.m. (no cover).
To make reservations stop in at Donato Guerra 4, Ajijic, or call 766-1360. 
Piano Rojo
Award-winning soprano soloist Alma Rico Jimenez performs at El Piano Rojo on Friday, October 4, 8 p.m. and Saturday, October 5, 7 and 9 p.m.  The cost is 150 pesos. 
El Piano Rojo is at Morelos 14, Ajijic. Call (376) 766-2876 or visit www.pianorojo.com.