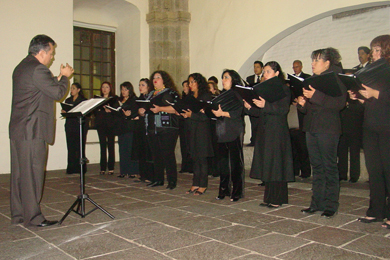 Niñeras
This Saturday, Galeria Di Paola de Ajijic opens a fascinating photo exhibit focusing on the lives of niñeras or nanas (nannies or women who care for the small children of affluent parents) as seen through the eyes of renowned documentary  photographer Patrica Aridjis.
Aridjis has won many accolades and honors since devoting her life to photography 21 years ago.  She has taken part in more than 50 individual and collective shows, and her work has appeared in dozens of newspapers and magazines.
Aridjis says nannies in Mexico have always interested her because "they move in two diametrically opposite worlds: their place of work, usually middle to upper class homes, and their places of origins, generally rural or working-class zones."
She says niñeras work in a microcosm that represents the "abysmal contrasts that prevail in Mexico." On the surface "the (women) appear to have a place in the family and are present at their most private and significant moments," but in reality "they have no place."
Aridjis describes Mexico as "an intense country" where something interesting is always happening that can be photographed.  She says she is not a slave to equipment – great images are today being taken on iphones, she notes – but what is most important is "what you say in your images and how you say it."
"Arrullos para otro" (To lull another), featuring photos by Patrica Aridjis, opens at Galeria Di Paola (Colon 11, Ajijic) on Saturday, October 12, with a reception from 4 to 8 p.m. All are invited. Call 376-766-1010 for more information.
Wonder Woman 
Two stars of Mexican heritage have been chosen by Hollywood to represent America's Wonder Woman: Gaby Ramirez in 2013 and Linda Carter in 1975.  Serendipity?  The original Wonder Woman created by Harvard professor William Marston in 1941 continues to be a symbol of female courage at age 72.  Not only is she still going strong, she has become the "grandparent" heroine of five year olds around the world. 
Although Wonder Woman has entered the "prime of life," although her face and body have undergone changes, certain elements remain consistent.  She boldly confronts corruption and cruelty wielding the famous Lasso of Truth like a fearless vaquera.  At age 72 she elevates sexual power and spiritual femininity while questioning the purpose of our lives.
The Wonder Woman musical at El Piano Rojo is aptly entitled "More Than Meets The Eye."  Proceeds of these three performances go directly to sponsor Mexican artists from all corners of Mexico who are invited to attend the 2013 Feria Maestros del Arte event, to be held November 15–17 on the beautiful grounds of the Chapala Yacht Club.
Tickets for the three benefit performances should be purchased in advance at El Piano Rojo, (Morales 14, Ajijic) for 150 pesos each.  Performances are on Sundays, October 20, October 27 and November 3, all at 5 p.m. Doors open 4:30 p.m.
Portrait photography class
Noted photographer Jill Flyer is inaugurating a new class of portrait photography, never given before at Lakeside.  You can learn how to take portraits, formal and informal, of friends and family, that are flattering and artistically shot.  Learn how to best get the effects that you want with your camera, whether it is manual or automatic operations.   Learn also how to pose your subjects, what kinds of camera settings to use, where to shoot the photos and so much more.
The class will go a step further, teaching the basic tools of Photoshop that will further enhance these portraits.
The class will be held in Mirasol at 3 p.m. on Wednesdays, October 30, November 6, 13, 20 and December 4.  The classes are 600 pesos for five classes, 90 minutes each.  If you can't make all of these dates, call Flyer and she can schedule make-up classes.
For more information, call or write: 766-3025, This email address is being protected from spambots. You need JavaScript enabled to view it. .
Jalisco State Choir
The Coro del Estado de Jalisco (State Choir) is slated for an appearance Sunday, October 20, noon at the Auditorio de la Ribera in La Floresta. 
Advance tickets, priced at 100 pesos per person, are available at the auditorium, Centro Cultural de Ajijic, Yoly's Unisex Salon and the Chapala's Historical Archives office.
Founded in 1981, the choir performs on its own, as well as providing choral backup at all kinds of musical events. The group has appeared regularly on Jalisco's annual opera bill for more than 15 seasons, performing on occasion with such famed singing stars as Placido Domingo, Winifred Faix-Brown, Rolando Villazon, Gilda Cruz, Luis Giron and Ramon Vargas.
State Ballet Mari El
The famous Russian State Ballet Mari El will take the stage of the Auditorio on Thursday, October 24, 7:30 p.m., as part of its nationwide tour with "Don Quijote," the lively classic set to music by Ludwig Minkus.
The production, under the artistic direction of former Bolshoi solist Konstantin Ivanov,  has received critical acclaim for stunning costuming and scenery, along with solos by Olga Chelpanova, Konstantin Korotkov, Kiril Parschin, Dmitri Kogan. 
Formed 45 years ago, Russian State Ballet Mari El is part of Opera and Ballet Sapaev, one of the oldest and most important theaters in Russia. Its young cast exudes professionalism, impeccable technique and high artistic level.
Frequently invited to Mexico, the troupe has been nominated three times for the prestigious Lunas del Auditorio award for the best live ballet performance of the year.
Tickets, going for 380 pesos each, may be purchased at Diane Pearl Gallery and Salvador's Restaurant in Ajijic and Tony's Restaurant in San Antonio.  
Lady Death on parade
In celebration of Mexico's Day of the Dead, the Chapala municipal government and Jalisco's Ministry of Education are co-sponsoring a community-wide exhibition of giant Lady Death dolls. The education agency's department of culture fomentation donated  54 metal frames that have been distributed to local schools, independent artists, businesses and organizations signed up to build and dress up papier mache models of the traditional Catrina skeleton figure. 
The finished statues will be put up on public display at the Ajijic, Chapala and San Antonio Tlayacapan waterfront Malecon boardwalks for approximately two weeks, beginning on October 24.
Number Four
Texas' sweetheart Mac Bynum is back at the piano bar at Number Four restaurant for two weeks in October.  He is booked to play on Friday, October 11; Saturday, October 12; Sunday, October 13; Thursday, October 17; Friday, October 18; Saturday, October 19 and Sunday, October 20. Cover is 50 pesos (downstairs only).
To make reservations stop in at Donato Guerra 4, Ajijic, or call 766-1360.