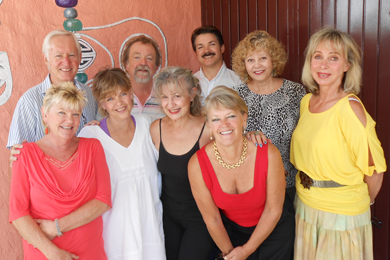 Wonder Woman
There's still time to catch the final two Wonder Woman shows at El Piano Rojo, both fund-raisers for November's Feria Maestros del Arte. 
This inspiring and uplifting one-woman show is produced and performed by Sydney Gay and includes storytelling, music and singing about the trials and tribulations of life and our courage to overcome them.  
The shows are on Sunday, October 27 and Sunday, November 3, both at 5 p.m. (doors open at 4:30 p.m.) at El Piano Rojo (Morelos 14, Ajijic).  Call 766-2876 to reserve tickets.
All proceeds benefit the artisans who are attending the 2013 Feria Maestros del Arte, to be held November 15 -17 at the Chapala Yacht Club.
Israeli dancers
Israeli dance group Anajnu Veatem (translated as "You and Us" in Hebrew) return to Ajijic in November for two performances at the Auditorio de la Ribera in La Floresta to raise funds for the Lake Chapala Shrine Club.
This traditional Jewish dance group from Mexico City was formed by a group of university students in 1971. Over the years, Anajnu Veatem has participated in important international festivals, including the International Cervantino Festival and the Havana Ballet Festival.  The group played in Ajijic in 2003 and 2005.
Anajnu Veatem will give two performances on November 9, 7 p.m. and November 10, 1 p.m.
Tickets cost 200 pesos and can be obtained from Noble Denny Strole at 766-0485, Noble Perry King at 763-5126, or from any Shriner.   Funds generated from this event will benefit Lake Chapala Shrine Club activities.
'The Heiress'
The upcoming production at the Lakeside Little Theatre (LLT) is a classic period drama. Now in rehearsal, "The Heiress" runs from November 8-17.
The play by U.S. playwrights Ruth and Augustus Goetz is set in 1850 and adapted from the Henry James novel "Washington Square," which was based on a true story. In the 1800s in New York, a handsome, charming but only moderately successful actor wooed the homely daughter of a very wealthy man. It was a much talked-about item ... and the inspiration for the story. In the hands of a master writer, it becomes an intense drama of human emotion, romance, money, lies and manipulation.
"The Heiress" opened on Broadway in 1947, and the screen version, directed by William Wyler, starred Olivia de Havilland, Ralph Richardson and Montgomery Clift. It was nominated for eight Academy Awards, winning four, including Best Actress. Subsequently it has been revived four times on Broadway, and the 1995 production won the Tony Award for Best Revival of a Play.
This extraordinary drama is directed by Roseann Wilshere. Tickets are 200 pesos and can be obtained at the LLT box office from 10 a.m. to noon on the Wednesday and Thursday before opening and every day during the run of the show – or one hour before curtain time for each performance.
Danzon trip
This is a call to all aficionados of danzon, the Cuban dance genre that is also much loved and practiced in Mexico. Joyce Lawrence has reserved a bus to take Lakeside folks to the big danzon event of the year, to be held at the Teatro Diana in Guadalajara on Friday, November 8, 8 p.m.
The gala is the highlight event of the Third National Danzon Congress, which Guadalajara will host next month.  It will feature some of the finest danzon performers in the country and music from the Orquesta Sinfónica Juvenil de Guadalajara, as well as pay homage to Mexican composer Arturo Marquez.  
Good discount seats and the round-trip bus trip can be obtained for 330 pesos. Sign ups and payment can be made with Lawrence at the Lake Chapala Society from 10 a.m. to noon on Thursdays, or by contacting her on 766-1804 or at This email address is being protected from spambots. You need JavaScript enabled to view it. .
ASA
The Ajijic Society of the Arts (ASA) meets on Monday, November 4, at La Bodega Restaurant (16 de Septiembre 124, Ajijic). This month's demonstration will be by Javier Ramos, known for his portraits, who teaches at Villa del Arte on Rio Bravo. The meeting starts at 10 a.m. and the presentation at 10:30 a.m.
ASA's show "Cycles of Nature" opens at the Jocotepec Cultural Center with a reception on Saturday, November 2, from 5-7 p.m.  The center is planning  to have dancers, music and food on hand for the opening.
Art month-by-month
The 2014 edition of the Artistas del Lago calendar goes on the market Saturday, October 26 at a roll-out event to be held at the Centro Cultural de Ajijic, from 7 p.m., with live entertainment by the Latin American musical group Los Cachicamos.
The month-by-month planner showcases full color prints of works by Jesus Lopez Vega, Luz Preciado, Cathy Chalvignac, Maria Di Paola Blum, Isidro  Xilonzochitl, Lori Truly, Antonio Lopez Vega, Miguel Mora, Veronica Cardoso, Kiki Kaye, XIll Fessenden and Estela Hidalgo. It also contains a listing of local emergency telephone numbers and a business directory.
Band reforms
Jerry Forman's band El Mundo Natural will be reuniting on Sunday, November 3 at El Piano Rojo in Ajijic.  Forman lived in Ajijic for 3 1/2 years prior to moving to the beach two years ago.
While living at lakeside, he played with several local bands, including Bryan James and crew and Los Requestos with Paul Brier of the Lucky Dogs. He then formed his own band with Mexican musicians Chelo the Magnificent and Jonny X from Guadalajara. He describes the band's sound as "soul jazz."
Quilt and fabric art
A one-day show of handiwork created by award-winning quilters and fabric artists will be held Saturday, November 9, 10 a.m. to 4 p.m., at Paseo de las Canoas 29 in Lower La Floresta. Visitors will be able to observe the artists at work and discover how far the craft of quilting has evolved since grandma's days. 
Collective show
The third annual Exposicion de la Ribera collective show by lakeside area artists is set to open November 9, 4-8 p.m., at Galeria de Arte Axixic, Rio Zula 1 at Ocampo. There will be a cocktail reception and music to welcome guests to the display of selected works by Mayor Benton, Paul Durham, Judy Dyskstra-Brown, Gloria Palazzo, Pat Apt, Cathy Chalvignac, Kiki Kaye, Jesus Lopez Vega, Antonio Lopez Vega, Isidro Xilonzochitl, Gabriel Mariscal,  Polo Gutierrez and Francisco Gonzalez.