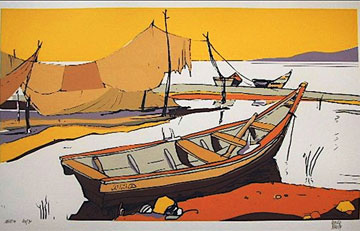 A selection of serigraphs and oils by the late Georg Rauch, one of Lakeside's most prominent resident expat artists, is currently on display at Ajijic's Galeria Cuatro, located at Colon 9.
The gallery's proprietor Luis Mancera McCormick has teamed up with Rauch's widow Phyllis to offer art lovers a new opportunity to explore his lifework through a retrospective series of thematic shows that will change month by month.
The first exhibit, set to run through January 21, features framed silk screen prints, some showing historic lakeshore landscapes and village scenes, as well as a few large oil paintings. With the purchase of any matted and framed serigraph, buyers will receive the bonus of an additional print at no charge.
Future shows will showcase pieces categorized as erotica, harlequins, posters.
Sows will showcase Rauch pieces from different eras tied together by topical threads such as nudes and harlequins, and examples of the artist's personal collection of posters.
Born in Salzburg, Austria on February 14, 1924, Rauch began painting while recovering from the physical ravages of being held as Russian prisoner-of-war at the tail end of World War II.  His career as a professional artist began in 1952 with a one-man show in Vienna.
In subsequent years – including his three decades of residence in Jocotepec – Rauch exhibited his prolific output of oils, watercolors, prints, sketches and kinetic sculptures in galleries spread all across Europe and the Americas. Recognizing a master of color and the graphic line, canny art buffs scooped up his works for private, corporate and museum collections.
Folks unfamiliar with Rauch's distinctive style and fascinating biography can gain insights with a visit to www.georgrauch.com.
Centro Cultural openings
Two new art exhibits are opening simultaneously on Saturday, January 4, 4 p.m., at the Centro Cultural de Ajijic. 
On the ground floor the Lake Chapala Painting Guild presents New Work, a juried show putting the limelight on the talents of Anita Lee, Betty Petersen, Carol Ann Owers, Cynthia deBois, Geraldine Classen, Helen Marie Krustev, Ina Gleysztor, Lois Schroff, Maryann Linhart, Nancy Gray, Steve Achs, Varn, and Winnie Hunt.
Upstairs in Sala II,  Jesús López Vega will showcase oils, acrylics and etchings put together under the title "Atavismos Oníricos" (Dream Atavisms), hanging side by side with "Expresiones Graficas," a display of mixed media works by his son Jesús Eduardo López García.
Film Festival
The fifth annual Jewish Film Festival at Lakeside begins on Sunday, January 5 at Cinemas del Lago in Plaza Bugambilias, Ajijic.
Presented by the Lake Chapala Jewish congregation, the festival runs each Sunday at 1:30 p.m. through February 23.
All the films have a Jewish context and come from several countries, not just Israel.
The opening movie on Sunday, January 5 will be "The Attack"  (Lebanon 2012), a thriller that follows a talented Palestinian doctor from Tel Aviv who learns to his horror that his wife may be a suicide bomber.
The screening on Sunday, January 12 is "The Band's Visit" (Israel 2007), an award-winning comedy about an Egyptian police band that gets lost in Israel.
Tickets for the screenings cost 50 pesos.  A portion of the proceeds will benefit Villa Infantil.
ASA
The Ajijic Society of the Arts meets Monday, January 6, 10  a.m. at La Bodega Restaurant in Ajijic (16 de Septiembre 124). The presentation will be given by Nancy Greenheart, who will discuss research for regional and cultural subjects, and demonstrate a painting in progress.
El Piano Rojo
Renowned Mexican singer Jaramar Soto will grace the stage of Ajijic's El Piano Rojo on Friday, January 10, and Saturday, January 11, presenting her show "Caida Libre."
Born in Mexico City, Jaramar studied music from the age of 10, both here and in the United States.  A resident of Guadalajara since 1978, she has released 11 albums and her song repertoire runs the gamut from anonymous medieval music to her own compositions.
Digging deep into her obsessions and shaping and transforming her songs like clay, Jaramar is always exploring new sounds, and opening her voice to new colors and textures.
Jaramar is also a painter, sculptor and book illustrator - labors that reflect her approach to artistic creation. She says she conceives her songs as "sound paintings" and when she paints she is creating "visual songs," telling stories through images, melodies.
Jaramar has performed on many major Mexican stages, including the Sala Nezahualcoyotl, National Arts Center and National Auditorium in Mexico City; the Degollado Theater in Guadalajara and the Teatro Juarez in Guanajuato. She has traveled to perform in Ecuador, the United States, Canada, France, Portugal, Switzerland, Belgium, Holland, Germany and, most recently, India.
Jaramar's shows at Piano Rojo on January 10 and 11 both start at 8 p.m.  Reservations are highly recommended. Call 376-766-2876.  Piano Rojo is at Morelos 14, Ajijic.
Last chance for Jazz Greats
The Guido Basso Quartet and vocalist Molly Johnson go on stage Saturday, January 11, 7:30 p.m.,and Sunday, January 12, 2:30 p.m., at the Auditorio de La Ribera for the gangbusters Canadian Jazz Greats concert series. To grab the few remaining seats, last-minute ticket buyers should hustle over to the auditorium box office, open January 6 through 10, 10:30 a.m. to 1 p.m.
'Blood Relations'
The fourth play of the Lakeside Little Theatre (LLT) season opens on Friday, January 17 and runs through January 26.
"Blood Relations" is a suspenseful psycho-drama based on the story of Lizzie Borden, who in 1892 was acquitted of the brutal murders of her father and stepmother. "Lizzie Borden took an axe … Did she or didn't she?"
The cast includes Debra Bowers, Collette Clavadetscher, Greg Clarke, Fred Koesling, Russell Mack, Dave McIntosh, Patteye Simpson and Liz White.
Directed by Lynn Phelan, "Blood Relations" was written in 1980 by Canadian playwright Sharon Pollock, and was honored with the Governor General's Award for Drama in 1981. Pollock is planning to come to Ajijic to see this production, and it is hoped that she will give a talk or workshop about play writing while she is here. More details will follow in January.
Tickets for the play are 200 pesos and can be obtained at the LLT box office from 10 a.m. to noon on the Wednesday and Thursday prior to opening of the show and every day during the run – or one hour before curtain time for each performance.
Viva la Música
Viva la Música Viva  opens its 2014 calendar of events with the annual general meeting and membership gala scheduled for Sunday, January 19 at the Ajijic home of Tony and Roseann Wilshere. The meeting starts at 3 p.m., followed by the party, with guitarist Ernesto Carrasco, a brilliant Viva scholarship winner, providing the musical entertainment for the champagne and hors d'oeuvres affair.
The first public event will be Three Sopranos, a performance featuring the outstanding voices of Dolores Moreno, Berenice Barragan and Viviana Baez, all from Guadalajara, to be presented Thursday, January 23, 6 p.m. at the Auditorio de la Ribera. The program Ethereal Sounds will incorporate selections from religious music, opera, zarzuela and Mexican classics. Tickets priced at 200 pesos per person are available at Diane Pearl Colecciones and the auditorium box office, as well as the Lake Chapala Society on Thursdays and Fridays only, 10 a.m. to noon.