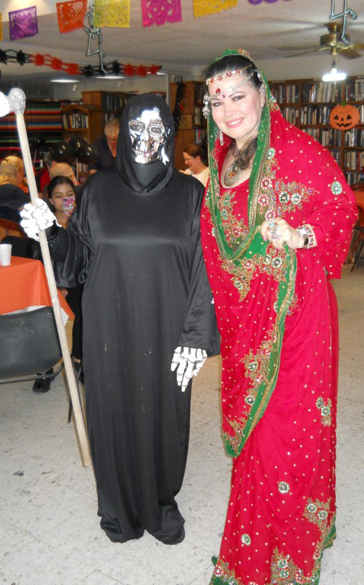 Pilgrims beware!
It's now or never to get your tickets to the American Society of Jalisco (Amsoc)  Thanksgiving Day Dinner  on Thursday, November 28.
Only 110 people will be served and tickets are quickly being snatched up. This is Amsoc's biggest celebration of the year. Lots of snowbird friends are arriving, so it's a good time to catch up. 
The menu is baked turkey, dressing, sweet potatoes, salad, cranberry sauce and pumpkin pie with whipped cream. The cost for members is 180 pesos. Guests: 200 pesos.  A 50/50 raffle with some fantastic prizes will be held.
Art fest
The American School of Guadalajara holds its 25th annual Festival de Arte this weekend, with an auction on the evening of Friday, November 8 and an all-day celebration featuring 41 artists on Saturday, November 9.
Up for auction will be 51 works by local, national and foreign artists, including the likes of Andy Warhol, Tapatio artist Alejandro Colunga and photojournalist Jose Hernandez Claire, while on the following day Colunga, who is this year's guest of honor, will paint three collaborative pieces with pupils and perform live music with reformed rock band The Spiders. There will also be creative workshops for kids and a range of international food on offer, plus a theatrical performance by American School students based on Colunga's colorful life. In honor of the festival, Colunga's surreal "Tortupulpo" sculpture has been temporarily relocated to the school, affording children the chance to not only view the metallic tortoise/octopus hybrid from up close, but also touch and even climb upon it.
The auction takes place at the Club de Industriales (Francisco Javier Gamboa 2, Colonia Ladron de Guevara) on Friday from 7 p.m. until midnight, and the Art Fest follows at the school grounds (Colomos 2100, Italia Providencia) on Saturday from 11 a.m. until 9 p.m. Both events are free to the public.
Rugby tournament
The first Rugby Festival of Jalisco takes place at the University of Guadalajara's Club Deportivo La Primavera on Saturday, November 9, starting at 11 a.m. Some 500 male and female rugby players from 35 teams in different age categories will compete in a series of 36 games across four pitches throughout the day.
The Guadalajara Rhinos men's tema, the premier team in Jalisco, face Queretero at 2 p.m. in the sixth round of the Torneo Nacional de Primera Fuerza (Bajio-Occidente zone), while the women's Rhinos play in a sevens tournament begining at 11 a.m.
The UdeG Club Deportivo is located on the edge of the Primavera forest at kilometer 24 on the Carretera Libre to Nogales to the west of Guadalajara.
First state arts fest
Some 1,600 artists and performers from across Jalisco will take part in 89 events during the first State Arts Festival (FESTA), a showcase for local art, music, dance, theater and literature, which runs from November 14 to 24 in 12 municipalities, including Chapala (see story on page 19).
Staged by the state government at a cost of five million pesos, the festival unites artistic groups from 33 of Jalisco's 125 municipalities, although organizers hope that more regions will be represented in future editions.
FESTA opens with a multidisciplinary performance titled "Emiliano y el Tren al Inframundo," which combines puppetry, theater, visual arts and music, at the city's Teatro Degollado on Thursday, November 14, 8 p.m. There is free admission.
The performances, which range from electronic music to folk concerts, are mostly free to the public and in the Guadalajara metropolitan area will be spread across the Cabañas Cultural Institute, the Teatro Degollado, the Ex Convento del Carmen, the Foro de Arte y Cultura, the Teatro Alarife Martin Casillas, the Plaza Fundadores and the Laboratorio de Artes Variedades (LArVa).
For a full schedule go to www.cultura.jalisco.gob.mx.
Upcoming pro soccer
Estudiantes vs. Delfines del Carmen (Tres de Marzo) Friday, November 8, 7:30 p.m.
Atlas vs. Tigres (Estadio Jalisco) Saturday, November 9, 9 p.m.