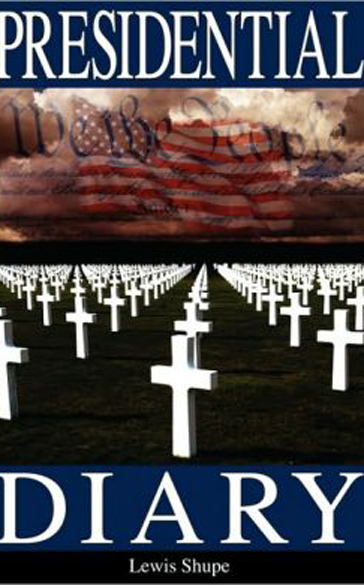 Conservatives
The October meeting of the Lakeside Conservatives will be on Tuesday, October 8, 4 p.m. at the Club Exotica, upstairs in the El Jardin Restaurant on the north-east corner of the Ajijic plaza.  
This month's speaker is Lewis Shupe, a Vietnam veteran, business owner and entrepreneur who has written two fictional works titled "Presidential Diary" and "Presidential Diary II."  
The books reveal the personal diary of Morton M. Monroe, who was elected president of the United States in November 2020 and who is fighting to save the country from socialism and the destruction of the Constitution.
A graduate of Stanford University and the University of Southern California, Shupe lives in Las Vegas.
The topic of his talk to the Conservatives group will be "Freedom and the U.S. Constitution." Like some others, Shupe believes socialism is creeping its way into the U.S. political system and advocates a return to the "Founding Fathers Constitutional Republic" as a solution.
At this meeting Co-Chairman Bernie Metcalf will discuss why he believes U.S. citizens living full time in Mexico should opt out of Medicare.
Lady of the Rosary
Although festivities honoring Ajijic's official religious patron, Saint Andrew the Apostle, won't begin until late November, villagers will manifest their devotion to a more cherished spiritual figure – the Virgin Mary – throughout October.
Traditional observances dedicated to La Virgen del Rosario started on September 28, when the antique image normally housed at the tiny stone chapel set on the north side of the plaza was toted across town for a three-day visit at the Guadalupe Sanctuary.  She was transferred to the San Andres parish on Monday evening, to remain in a place of honor next to the altar until October 31. 
Brace yourselves for abrupt awakenings over the next four weeks as cohetes de trueno (sky rockets) blast off at the crack of dawn to call the faithful to the customary "Mañanitas" rosary processions that precede the 6 a.m. services held at the main church.  Starting points will rotate on a weekly basis to each of the town's main barrios.
The final day of the celebration will be marked by a dazzling late afternoon parade winding all around the town, followed by celebration of the mass in the San Andres atrium, the Virgin's return trip to her home chapel and a lively evening fiesta at the plaza. 
Monday Market relocates
After two years at the parking lot underneath San Antonio's Hole-in-One restaurant and driving range, the popular Monday Market outlet for independent food and craft vendors will move  to the Tobolandia water park as of October 7. 
The new spot, situated on the north side of the main highway just west of the Libramiento junction, offers greater space for sales stands, as well as ample parking for customers.
Monday Market vendors specialize in a wide array of homemade heat-and-eat dishes, fresh food products and handmade arts and crafts. Operating hours are 10 a.m. to 12:30 p.m. 
Singles
The Lake Chapala Society (LCS) Singles group will host a social on Thursday, October 17, starting at 5 p.m. at La Bodega in Aiijic.
The event will feature DJ music from the 1950's to the 70's  between 5:30 p.m. and 8:30 p.m., specials and a two-for-one drink special with the meal.  There is no admission or cover charge.
Dinner  specials, which all come with side dishes, feature a choice of BBQ ribs (85 pesos), Arrachera fajitas (85 pesos), ginger chicken (85 pesos), pesto shrimp risotto (85 pesos), spaghetti pomodoro (65 pesos). Reservations with choice of entrée must be made by noon on Monday, October 14.  Email This email address is being protected from spambots. You need JavaScript enabled to view it. or call 331-531-1464 for reservations.
Canadian Thanksgiving
American Legion Post Seven will celebrate Canadian Thanksgiving on Monday, October 14 with a traditional dinner of roast turkey, stuffing, mashed potatoes, gravy and candied sweet potatoes, as well as its famous broccoli salad. Pumpkin pie will round out the meal.
There will be a 50/50 draw and a meat draw. The price remains at last year's low of just 150 pesos. But seats are limited, so patrons had better buy soon. No tickets will be sold at the door.
There are tickets available at the post and with some members. Call (376) 765-5752 for more information.
Cocktails are served at 1 p.m. and dinner at 2 p.m.  There is no need to be Canadian or even show a passport!  
American Legion Post Seven is located at Morelos 114 in Chapala. Telephone: (376) 765-2259.
Food-lovers feast
Calling all foodies! You won't want to miss a sumptuous gourmet luncheon and the opportunity to get know all about the Culinary Arts Society of Ajijic at CASAFEST, slated for Sunday, October 20, 2 to 5 p.m., at the Villa Encantada event center.
Taste treats on the buffet menu catered by Manix Restaurant will include fruit skewers, meatballs in hoisin sauce, quiche, roast pork, curry chicken salad,  and chocolate cake. Drinks will be served at the cash bar.
The entertainment program will feature live music for dancing by the Doo Wops, a 55/50 raffle, food trivia contest and CASA cookbook prizes. 
The price of admission is 200 pesos per person. Tickets are available at Diane Pearl Gallery and by contacting Mary Ann Waite, 766-1436, or Annie Green, 766-5243.
Book launch
Luna and Winston, the famous pooches from their Mom's book, invite everyone to a launch paw-ty of the sequel, "Who Rescued Who: More Tales of Street Dogs and the People Who Love Them," on the back patio of the Lake Chapala Society on Tuesday, October 22, from 2:30-4:30 p.m.
All four-legged friends welcome, and there will be refreshments for canines and humans and a prize draw.
Those wishing to attend should RSVP  to This email address is being protected from spambots. You need JavaScript enabled to view it. or call  Luna's mom at 766-4960 before October 18.
Dine with the Shrine
The Lake Chapala Shrine Club's next Dine With The Shrine event will be held on Tuesday, October 22, from noon to 8 p.m. at La Nueva Posada in Ajijic.
The club's thanks go to hotel owner Michael Eager, who unhesitatingly offered to host the event.
Fashion Show
Lois Cugini's Opus Boutique is hosting a "Textile Art in Clothing" fashion show on Wednesday, October 30, 3 p.m. featuring Lynn Gilbank's fabulous one-of-a-kind clothing, including versatile tops, jackets, skirts and accessories. 
Gilbank's textile art will also be displayed on easels.  Her artist's palette includes denim, tweed, velvet, leather, cotton, satin, chiffon and brocade in all the colors of the rainbow.
The show will be held in Gilbank's beautiful home. She can seat 150 people, so 150 tickets will be available at 150 pesos each. There will be a cash bar, and all proceeds will go to benefit the children in the Niños Incapacitados program.
Purchases can be made before and after the fashion show.
Location:  Aldama 31 in Ajijic.  There's a blue trim around the entrance.
Tickets can be picked up at Cugini's Opus Boutique, Colecciones Diane Pearl, Mostly Chocolate, call 766-3651 or email This email address is being protected from spambots. You need JavaScript enabled to view it. . For information on Niños Incapacitados, go to www.programaninos.org.
Health Day
If you are careful with your health you won't want to forget the Lake Chapala Society (LCS) Health Day on Wednesday, October 9, from 10 a.m. to noon, which is open to members and non-members alike.
The following shots are available at these prices:
- Flu: 280 pesos
- Pneumonia: 350 pesos (shots are for five years and may be taken together with the flu shot)
- Hepatitis A/B Combo, series of three: 700 pesos each, 2,100 pesos in total (it is very important to complete the entire series. The second shot must be applied one month later and the booster after another six months)
- Typhoid: 500 pesos (a three-year shot)
- Tetanus: 100 pesos
- Yellow Fever: 700 pesos
Payment for these shots can be made on the day they are administered at the nurse's station.
There is also is a pneumonia for life shot at cost of 1,500 pesos.
Arrangements for this shot must be made by contacting Lidia and making a deposit. There is no sign up needed.
Additional services offered:
- Skin Cancer Screening in the Clinic (sign up is required in LCS office)
- Blood Sugar Screening in the Insurance Room (eat a high carbohydrate meal two hours before test, such as pancakes, oatmeal, granola, fruit, juice)
- Blood Pressure checks in the Ken Gosh Pavilion
Heart attack advice
Although you may have done your very best at prevention and would certainly obey your doctor's orders after intervention ... do you know what you should do at the first sign that you are having a heart attack?  What you do in the first few minutes could save a life.
Dr. Sam Thelin, Chapala Cruz Roja's medical director, will tell you exactly what to do at the monthly meeting of the Cruz Roja International Volunteers Chapala (CRIVC ) on Wednesday, October 9, 2 p.m. on the LCS gazebo.
Everyone is welcome to come and find out why it's exciting and informative to be part of the CRIVC community.  Questions?  Contact Margy Kassier, CRIVC President at This email address is being protected from spambots. You need JavaScript enabled to view it. .  For details about Cruz Roja events, health information, volunteering and much more, visit www.cruzrojalakeside.com.
McAllen trip
Details for the LCS trip to McAllen, Texas from Sunday, November 3 to Thursday, November 7 have been finalized and there are still a few more spaces available.
Shopping is planned for Monday, Tuesday and Wednesday.  The bus will transport participants to each shopping area.  The return trip is scheduled late Wednesday afternoon, arriving back in Ajijic early Thursday morning.  
The price per person is 6,000 pesos for double occupancy and 7,500 pesos for single occupancy.  It includes round-trip transportation, tips for the driver, a three-night stay at the Hampton Inn with breakfast included.  There is a 1,500-peso non-refundable deposit with the balance due on October 18.  
For information email This email address is being protected from spambots. You need JavaScript enabled to view it. , call 766-4939, or come by the LCS table, Monday to Friday, from 10 a.m.-1 p.m.  
Niños Incapacitados
The families of the children helped by Niños Incapacitados will say thank you with a kermés (similar to a fete) on Sunday, November 10 in Cristianía Park in Chapala, starting at 11 a.m.  The mothers will be cooking up a storm of delicious tacos, pozole, ceviche and other dishes, costing between five and 20 pesos.  There'll also be a bazaar with clothes, books and music.  Entrance to the park is five pesos for adults and two pesos for children. 
Chapala City Hall is donating the park, bathroom and swimming pool entrance fees to the kermés.  This is a really fun, heartwarming event and everyone is welcome.
For information on Niños Incapacitados see www.programaninos.org.
Unitarians
The Lake Chapala Unitarian Universalist Fellowship meets each Sunday, 10:30 a.m. at Santa Margarita 113 in Riberas del Pilar.
On Sunday, October 6, Fred Harland will speak on "Happiness and the Meaning of Life." The talk is based on insights gleaned from major world religions, particularly Christianity, Buddhism and stoicism, and on supporting evidence from neuroscience. The service leader is Doug Mattoon. There will be discussion and a coffee hour afterward. For more information call 765-3753 or e-mail This email address is being protected from spambots. You need JavaScript enabled to view it. .
St. Andrew's Anglican
What are you most uncomfortable saying to God?  What questions, what pains, what angers, are so deeply buried, or so obviously insolvable, that they cannot be named, even in prayer?  That's what Habakkuk wants to know.  Who's Habakkuk?  Well, even if you have difficulty finding this "minor" prophet in the Bible, his anguish and his expression of that anguish to God will sound quite familiar to us in our most honest moments.  It's Habakkuk's voice we hear in this week's reading from the Hebrew Scriptures, and it's God's voice we hear in response, giving the sermon its title, "The Greatest Promise of All." 
Worship at St. Andrew's begins at 10 a.m., followed by fellowship in the garden.  This week, the men of St. Andrew's will gather for breakfast at Min Wah Restaurant in Ajijic on on Wednesday, October 9, 8:30 a.m.   St. Andrew's is located at Calle San Lucas 19, just a block south of the Carretera in Riberas del Pilar.
Center for Spiritual Living
The theme for October at the Center for Spiritual Living is "Harvest" and the Friday celebrations are reflecting this.  On October 11, from 5-6 p.m., the Reverend Tim Schubert presents "Making the Next Step." A social hour will follow. 
"The Four Agreements" class continues on Wednesdays from 10:30 a.m. to noon.  The Thursday discussion group is "The Unfettered Soul" at the same time, with an optional meditation from 10-10:20 p.m. The screening at the Sacred Cinema on Sunday, October 20, 4 p.m. will be "Defending Your Life" with Meryl Streep and Albert Brooks.  Popcorn is provided but bring your own drinks.
The Center for Spiritual Living is located at Nicolas Bravo 17.  For more information contact This email address is being protected from spambots. You need JavaScript enabled to view it. , call 766-0920, or check out www.cslchapala.com.