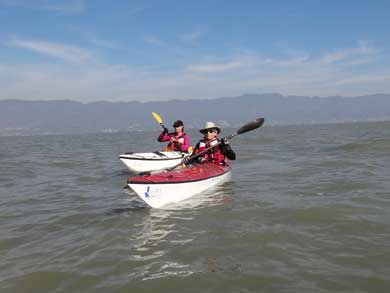 On Friday, November 29, nine members of the Lake Chapala Kayaking Club set forth from the parking lot of La Tasca in Ajijic to paddle their way across the lake to San Luis Soyatlan.
All made it across in about two hours, joining friends and family on the other side for a well-deserved picnic. Six of the paddlers turned down offers of a car ride home and made the return journey by kayak to the north shore.
Group commodore Wayne Renz, Luzma Grande and Leti Romero made the one-way paddle, while Ian and Ellie Baker, Douglas Burnside, Chick Twyman, Tony Tomasic and Anne Kilory decided for the round-trip.
Wayne Renz and 16 kayak enthusiast buddies launched the Lake Chapala Kayaking Club in July 2011. Its 24 members range in age from 52 into the 70s. They get together on Mondays to paddle and watch the sunset on the lake, and on Thursdays the morning is spent with a paddle in hand followed by lunch. Another kayak excursion is scheduled on Saturdays.
Renz has volunteered many hours to the club, and has called on expertise garnered from kayaking experiences in New York to help with many safety training sessions that ensure everyone has a pleasant and safe experience.
Diversity parade
A diversity parade presented by Comusida Chapala (Municipal Commission for the Prevention of HIV/AIDS) takes place on Chapala's Avenida Madero on Saturday, December 7, starting at 11 a.m. and ending at the Vela on the west end of the Chapala Malecon. At noon, the contest to crown Miss Gay Chapala will be held.
Kiki and Geoffrey Kaye were honored guests at the recent breakfast gathering and status report organized by the Lucky Dog Adoption and Rescue Center. Help support the cause by getting a holiday portrait of your canine posed "Santa Paws" at photo sessions scheduled for December 9 at the Chapala Country Club, Vista del Lago and December 12 in Ajijic. For appointments and full details call Barbara at 763-5038 or e-mail This email address is being protected from spambots. You need JavaScript enabled to view it. .
Spreading holiday cheer
Ajijic's business community ushers in the holiday season with a Fiesta de Navidad program on Saturday, December 7, centered at the central plaza from 11 a.m. Highlights on the bill include a cookie decorating party for kids, music and dancing and a BBQ dinner.  Heart of Ajijic merchants located along Calle Colon-Morelos and the immediate vicinity will be offering refreshments and special deals for Christmas shoppers. Stop by Diane Pearl Colecciones, Ocampo at Colon, for a detailed list of activities.
Pot party
The Tarahumara Project's Libby Townsend will host a holiday pot party at the project's new headquarters in Riberas del Pilar on December 22, 3 p.m.
Townsend will be selling large pots and baskets made by the Tarahumara to help them make ends meet. She will also have donated art and jewelry for sale at the party. Tickets are only 100 pesos and include beverages and munchies. Tickets are available at the Guadalajara Reporter office in Plaza Bugambilias, Ajijic, Monday to Friday, 10 a.m. to 3 p.m.; at Jose Melendrez, Adicciones on the Ajijic plaza; or by calling (376) 766-3338, or cellphone 333-495-7263.
To get to Pescadores 2 in Riberas from Ajijic, head toward Chapala on the highway. Pass Maskaras clinic, take the next right, then turn left, go to the end of the street and go right. Number 2 is the fourth door on the left, and is painted yellow with green trim and blue doors.
All proceeds go to help the traditional Tarahumara of the Copper Canyon region.
Canadian Club
Everyone is invited to celebrate the holiday season on Wednesday, December 11 at La Nueva Posada in Ajijic. Judy King, editor of the Lake Chapala Review and author of "Living at Lake Chapala," will talk on the history of Mexican December holidays.
The Canadian Club's social hour begins at 3 p.m. and the program at 4 p.m. All those attending are asked to bring their favorite holiday treats to share during the program.
Wanted: house tour drivers
The Thursday, December 12 Behind the Walls house tour and Christmas party is completely sold out and Lakeside School for Children with Special Needs is now urgently seeking extra volunteers to pitch in as drivers. If you can help out, call CeCe Girling at 766.3964 or email This email address is being protected from spambots. You need JavaScript enabled to view it. . Note that the tour caravan will depart from the Ajijic pier at 5:15 p.m., not in the morning as erroneously reported here last week.
Singles holiday bash
The second annual Lake Chapala Society (LCS) Singles "Holiday Bash" takes place Tuesday, December 17 on the society's grounds. The action starts with cocktails at 4 p.m., followed by a festive dinner with all the trimmings at 5 p.m.
Ricardo and Blanca provide music for dancing at 6 p.m.
Tickets are 180 pesos in advance, and are available at LCS from 10 a.m. to 1 p.m., at Diane Pearl's and from committee members Sue Hurst at 331-405-4911 and Tinker Lafata at 331-531-1464.  Tickets at the door are 220 pesos.
A String Thing
A String Thing's Thursday 10 a.m. to 1 p.m. knit, crochet, conversation sessions will take a break on December 26 and January 2 but will be open for business December 12 and December 19.
Last Chance
To get a personalized copy of "Who Rescued Who 2: MORE Tales of Street Dogs and The People Who Love Them," join Luna and Barbara at the Friday Artisans Market in La Huerta on December 13, from 10 a.m. to 12:30 p.m. Luna will sign books that are purchased and there will be a drawing for prizes.
Barbara will also be at Black Coffee (corner of the Libramiento and the Carretera, opposite Walmart) on Saturday, December 14, from 9:30 to 11:30 a.m.  The book makes a great stocking stuffer – or the perfect gift for that hard-to-buy-for person on your list.
All purchases benefit two local charities for animals.
Carols & celebration
Lake Chapala Baptist Church invites everyone to be part of an evening of carols and celebration on Sunday, December 15, at 6 p.m.
Following the music hour, the church serves its traditional Soup Buffet.  There is no charge, and everyone is welcome.  Lake Chapala Baptist Church is located in Riberas del Pilar on the mountain side, Santa Margarita 147.  For more information, phone 765-2925.
Open Circle
At the Open Circle on Sunday, December 8, Dr. Donald Aitken presents a PowerPoint slide talk entitled "8th Annual Update on Global Warming, Climate Change, the Transition of Mexico to Renewable Energy, and Ajijic Solar Update."
Aitken will focus his lecture on how entire nations can convert to 100-percent fossil-free renewable energy, on what important international steps have already started in this direction, and how these lessons can be applied to Mexico.
Aitken and his wife Pia have lived in Ajijic for seven years. The conversion of their home to all solar energy in 2007 was the first at Lakeside.
Note that this event will not take place at Open Circle's regular LCS location but at the Club Exotica auditorium (behind the El Jardin restaurant on the Ajijic plaza)
Little Chapel
The interdenominational congregation of the Little Chapel by the Lake will hold its regular services on Sunday, December 8. 
At 10:30 a.m. they will share a fellowship with Christ Church Anglican fellowship and the regular worship service will begin at 11:15 a.m. when the Rev. Gene Raymer's message will be "Get Ready." 
After the service, members of the congregation will gather at La Nueva Posada for a fellowship meal honoring Tony Rojas, who will be leaving next week to return to his mission post in Norway.
The Little Chapel is located on the Carretera in Chula Vista, just east of the golf club.  All Christian believers are welcomed.
Spiritual Living
The Reverend Tim Schubert will "Prepare for Wonder" at the Center for Spiritual Living on Friday, December 13, from 5-6 p.m. After the celebration there will be an ornament contest, cookie decorating and a potluck of favorite holiday foods.
On Wednesdays, Schubert leads a class on "Conscious Living" from 10:30 a.m. to noon.  The Thursday discussion group, "The Unfettered Soul," begins with an optional meditation from 10 to 10:20 a.m., followed by the group from 10:30 a.m. to noon.  The Thursday evening Spanish Group continues from 6:30-9 p.m. in the online course, Fundamentals of Science of Mind.
For information contact This email address is being protected from spambots. You need JavaScript enabled to view it. , call 766-0920 or check the website at www.cslchapala.com.
Christ Church Anglican
Christ Church Anglican fellowship will celebrate the second Sunday of Advent on December 8 by celebrating the holy Communion right II at 9:30 a.m. in the Little Chapel by the Lake in Chula Vista. The Rev. Sandy Olson's sermon topic is" Love in Action" based on Matthew 3:1 to 12. Christ Church and the Little Chapel will celebrate their joint fellowship time in the Fellowship Hall between their two services from 10:30 a.m. to 11:15 a.m.
There will not be a Bible study on December 10 because congregation members will be taking a young girl from Mazamitla for her final checkup with the surgeon who recently removed a tumor from her lip. On their return, lunch will be enjoyed at Tony's at 1 p.m. This is an opportunity to meet Ximena and her family, and see the wonderful results of her surgery.
Unitarians
The Lake Chapala Unitarian Universalist Fellowship meets every Sunday at 10:30 a.m. at the Plaza de la Ribera, Rio Bravo 10A.  This Sunday, Trudy Crippen will deliver the talk, "Fifty Shades of Gray," which looks at moral guidelines.  We will have a coffee hour following the service.  For more information please call 766-1119 or 765-7231, or email  This email address is being protected from spambots. You need JavaScript enabled to view it. .
St. Andrew's Anglican
Last week Jesus compared God to a thief in the night, and warned us to prepare for God's invasion of our spiritual space.  This week the prophet Isaiah and the Gospel of Matthew give us another challenge to our understanding of God, and ask us some important questions.  Can a God of justice also be a God of love, or are there times when those two aspects of God are in conflict?  All on the same Sunday, Isaiah shows us a God who comes to us in gentleness and mercy and healing, while John the Baptizer shows us a God who comes to us in anger, compares us to the offspring of serpents, and to barren fruit trees that deserve only to be cut down.  Who's right?  Fr. Winston Welty's sermon, "Holy Snakes!", compares those two radically different visions of how God comes to us, puts them both alongside of Jesus, the One who actually did come to us, and looks for ways in which both Isaiah and the Baptizer got it right. 
St. Andrew's has returned to its two-service Sunday schedule, with worship at 9 a.m. and 11 a.m., with fellowship time at 10 a.m. between services, and Sunday School for children at 10:45 a.m. 
This Wednesday the men of St. Andrew's meet for breakfast at the church at 8:30 a.m. Meanwhile, children are busily practicing for the Christmas pageant and Carol Sing on Friday, December 13 and hope everyone will come to see them. 
St. Andrew's is located at Calle San Lucas 19, just a block south of the Carretera in Riberas del Pilar.