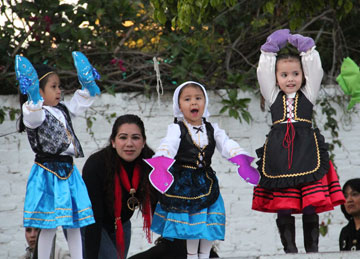 Monthly visits to the Lake Chapala area by staff of the U.S.  Consulate General will take place on the second Wednesday of the month until further notice.  The first 2014 date for the local consular outreach program is Wednesday January 8.
Consulate reps are scheduled to stop in at American Legion Post 7, Morelos 114, Chapala, from 9:15 to 10 a.m., followed by a stint at the Lake Chapala Society headquarters, 10:30 a.m. to noon. (Hours are approximate depending upon commuting  time.)  Limited consular services are available to general public; membership with the host organizations is not required.  For more complete details log on to http://guadalajara.usconsulate.gov/service/reference-lists2.html.
Tepehua holiday cheer
Chapala's Tepehua Community Center threw a huge Christmas party on Friday, December 20, brightening the holidays for families living in one of the town's most poverty-stricken neighborhoods.
The facility's crew of volunteers dished out a hot chicken and vegetable dinner for more than 500 women and children who showed up for the event.  The crowd of guests also enjoyed music, dancing and games.
Santa Claus made an appearance to hand out gifts to one and all, as well as vouchers redeemable for clothing and toys dispensed the following day at the center's seasonal Christmas shop.
The Tepehua Center board extends sincere thanks to everyone who contributed to making the party such a happy occasion.
LCS Volunteer Fair
If you're a newcomer to the Lakeside area or a seasoned resident keen on taking up a new pastime that makes a positive contribution to the community, take a spin by the Volunteer Fair scheduled for Friday, January 10, 10 a.m. to 2 p.m., at Lake Chapala Society headquarters, 16 de Septiembre 16-A, Ajijic.
The purpose of the fair is to introduce interested persons to the wide array of charity organizations and non-profit groups that sponsor programs benefiting Mexican students, children with disabilities, abandoned animals, protection of the environment and promotion of culture and the arts. Representatives of participating groups will be on hand, eager to outline their aims and activities and recruit new volunteers and patrons. What better way is there to start the new year than commit yourself to altruistic pursuits?
LCS seminar  
The Tuesday, January 7, noon seminar, available for Lake Chapala Society (LCS) members, will be chaired by Ron Mullenaux.  It features Leslie Hazleton, a psychologist, Middle East journalist, and the author of "The First Muslim," a new biography of Muhammad.  Through her study of the life of Muhammad, she has developed a new appreciation of doubt and questioning as the foundation of faith – and an end to fundamentalism of all kinds.
Conservatives
The Lakeside Conservatives Group will meet on Wednesday, January 8, 4 p.m.  The new meeting location is located at the Sol y Luna complex at Rio Bravo 10A in Ajijic.
This meeting will feature guest speaker Bob Nipper, who will talk on past, present, and future events in the United States  that effect living conditions for all U.S. citizens.  Nipper's presentation will be complemented by videos and slides.  All are welcome to attend.
Lakeside Conservatives believe that an educated and informed voter is the best voter.  For more information about the group contact This email address is being protected from spambots. You need JavaScript enabled to view it. or call (387) 761-0484.
Democrats
The Lake Chapala Chapter of Democrats Abroad will kick off the new year with a membership meeting featuring a guest speaker focusing on a controversial political figure from the past.
In his talk at the Monday, January 13 meeting, well known lakeside writer and retired educator Mel Goldberg will highlight the life and times of Eugene V. Debs, America's best known Socialist in the early 20th century.
Debs, who started his political life as a member of the Democratic Party, ran unsuccessfully for president five times on the Socialist ticket, including one time from his prison cell.  He was arrested and charged with violating the Espionage Act while leading public opposition to the U.S. involvement in World War I.
Goldberg, who says he has become more "radical" rather than conservative as he has aged, taught literature and writing in the United States and England.  In addition to other writings and poetry he has published two novels, "Choices" and "Catch a Killer, Save the World," and is scheduled to have another published this month.
The Democrats Abroad meeting on January 13 will be held at La Bodega Restaurant in Ajijic.  Starting time is 4 p.m.
Membership in the organization is free.  Those interested are invited to attend the meeting and Goldberg's presentation.  More information may be acquired by contacting Francis Reidelberger, executive chairman, at 763-5271 or via email at This email address is being protected from spambots. You need JavaScript enabled to view it. .
Funds for women's clinic

Ajijic resident Harry Bublin, representing the Ajijic Masonic Lodge #31, delivers a check for 16,500 pesos to Sylvia Flores, director of the Centro de Desarrollo Jocotepec (CEDEJO).  Bublin offered to match individual donations of 5,000 pesos or more through December 15, 2013, in order to help raise funds needed to keep the women's health clinic open for another year. CEDEJO is a non-profit clinic that has provided care to area indigenous and low-income women and families of the Chapala region for more than 30 years.
Canadian Club
Residents of the Lake Chapala area are eagerly awaiting the Wednesday, January 15 program of the Canadian Club, when well-known travel editor and publisher Robert Reid  will speak and answer questions about his experiences around the world.
Reid has been in the travel publishing world for nearly 20 years. He's written a couple dozen guidebooks (covering Mexico for Lonely Planet's Central America guide), articles for the the New York Times and ESPN, appeared regularly on television to talk travel as the spokesperson for Lonely Planet, and hosted the "76-Second Travel Show."
Reid has been to most Canadian cities – he's still not seen Halifax however – and says  Montreal is easily his favorite: "It has literary tradition, takes biking seriously, and has better bagels than New York," he says.
Reid first joined Lonely Planet in 1998 and has worked in the Oakland, London and Melbourne offices and retired from the company in 2012. He lives, without apology, in Jackson Heights, Queens.
This entertaining Canadian Club program will take place in the lower garden of La Nueva Posada, Ajijic on Wednesday, January 15. The social hour begins at 3 p.m. with Reid speaking at 4 p.m. Everyone is welcome. Guests pay 50 pesos each. Yearly club membership is 200 pesos and includes four 25-peso drink tickets. Come early, seating is limited.
LCS bus trips
The lake Chapala Society has scheduled three bus trips to metro Guadalajara in January. On The destination on Wednesday, January 8 is the plush Galerias Mall, with its multitude of stores (Liverpool, Sears, Best Buy, Costco, Sams, Walmart, etc.) and fine restaurants.  The bus leaves at 9:30 a.m. and returns at 4 p.m.
The trip on Wednesday, January 15 is to the crafts centers of Tonala and Tlaquepaque.  The bus leaves at 9 a.m. and returns from Tlaquepaque at 4 p.m.  Tlaquepaque's Forum Mall may also be visited.
The price for these two trips is 200 pesos each.
On Thursday, January 30, the bus heads to the Guadalajara Zoo.  The price for the trip – 350 pesos – includes entrance to the aquarium and the safari park, as well as a train and sky lift. Without the sky lift ride the price is 320 pesos.  The bus leaves at 9 a.m. and returns at 3:30 p.m.  
All trips leave from the sculpture area in La Floresta.  Sign up at the Lake Chapala Society table Monday to Friday, from 10 a.m. to 1 p.m.
Big check for firefighters
"Let's Do it Again," Mac Morison's holiday show featuring romantic songs and stand-up comedy, raised more than 35,000 pesos for Ajijic's Fire Department.
Mac crooned the night away and sang some special duets with guest vocalist Judy Hendrick, while the audience rolled in the aisles at comic Jeff Capri's quips.
The firefighters received the money on December 24. The money will go toward the purchase of urgently needed equipment at the firehouse.
Open Circle
Patricia Guy will talk at the Open Circle on Sunday, January 5, 10:30 a.m. at the Lake Chapala Society.
The author of "A Connoisseur's Field Guide to Happiness" and "Love Notes from Self to Self," Guy currently teaches "Moving Meditation" at the Center for Creative Being in Ajijic.
She says: "We are living through times of great change, and have received an overwhelming amount of information on the global issues we are all faced with. Having received enough information on what is not working, a few years ago I became interested in watching for the 'green shoots' of new ideas, new paradigms, human-scale experiments in living, and watering them with my attention. I became curious about bottom-up creative development, the new ideas that ordinary citizens were exploring and sharing with each other on the web. I watched for which experiments I can try myself at home, and began to report on the results. In this talk I will share what I have learned so far from this process, and where I am finding hope in this exploration of the field of possibilities."
Weekly Open Circle gatherings start with coffee, tea and sandwich bites for socializing at 10 a.m., followed by the program at 10:30 a.m. sharp.
Center for Spiritual Living
The Reverend Maureen Jones presents "Beginning Anew" at the Center for Spiritual Living (Nicolas Bravo 17, Ajijic) on Friday, January 10.  A social hour will follow.    Wednesday classes resume on January 8 from 10:30 a.m. to noon, with "This Thing Called You" by Ernest Holmes. The Thursday discussion group has selected a new book, "A Thousand Names for Joy" by Byron Katie. The program begins with an optional meditation from 10 to 10:20 a.m. followed by the group from 10:30 a.m. to noon. The next Sacred Cinema gathering will be on Sunday, January 19.  
For information contact This email address is being protected from spambots. You need JavaScript enabled to view it. , call 766-0920 or check the website at www.cslchapala.com.
Unitarians
The Lake Chapala Unitarian Universalist Fellowship (LCUU) meets every Sunday at 10:30 a.m. at the Plaza de la Ribera, Rio Bravo 10A, Ajijic.  This Sunday, Mary Helen Montgomery will give the talk "The Coming Golden Age," a discussion about leaders who have a positive influence on people's thought processes. There will be a coffee hour after the service.  For more information call 766-1119 or 765-7231, or email  This email address is being protected from spambots. You need JavaScript enabled to view it. .
St. Andrew's Anglican
Christmas continues at St. Andrew's this Sunday, as the congregation hears of the visit of the Magi, the mysterious Persian astrologers, bearing symbolic gifts for the Christ Child, along with intimations of mortal danger.  But the truth for most people is that Christmas is probably already in our rear-view mirrors, as we return to our everyday, post-holiday lives.  Fr. Winston Welty's sermon – "Well, So That Is That" – reflects on that reality, but also on the continuing Christmas vision that haunts even our most ordinary days.  It was, after all, exactly into those kind of days that Jesus was born, and continues to be born. 
Sunday worship services at St. Andrew's take place at 9 and 11 a.m., with a time of fellowship, refreshment and welcome in the garden between the two services. Children's Sunday School start at 10:45 a.m.  St. Andrew's is located at Calle San Lucas 19, just a block south of the Carretera in Riberas del Pilar.
Little Chapel
The Little Chapel by the Lake concluded its Christmas for kids theme with a special presentation by the children's Bell Choir on Sunday, December 29.  Prior to that presentation, members of the church had collected money to purchase necessities for the children at Love in Action shelter.  Other members of the congregation bought toys for the children. Additional funds were given to Operation Compassion to help buy gifts for the needy children of San Antonio.
The service on Sunday, January 5 will begin with refreshments shared with the members of the Christ Church Anglican Fellowship. The regular worship service will begin at 11:15 a.m. and include a message from Rev. Gene Raymer: "What Made Them Wise?" The service will be followed by "Souper Sunday,"a pot luck lunch featuring soups provided by different members. 
The Little Chapel by the Lake is an interdenominational congregation welcoming all Christian believers.  The church is located on the Carretera just east of the Chula Vista Golf Club.    
Presbyterians
At Lakeside Presbyterian Church, on Sunday, January 5, Pastor Ross Arnold will deliver his sermon entitled "We Three Kings," based on text from Matthew 2:1-12. 
On this Sunday, the congregation celebrates the "Epiphany," the revelation of Jesus the Messiah to the Gentiles, as represented in the Magi, who visited Jesus from the East to worship him, and to bring him gifts. 
Sunday worship begins at 10 a.m.  Following the service, there is a time of fellowship and refreshments.  Lakeside Presbyterian Church is in Riberas del Pilar, on the mountain side of the carretera, between S&S Auto and Vigolari. All are welcome.