Adios
Believe it or not, the end of another season in the northshore, also known as paradise, is breathing down our necks. Not to worry, because there's still one party left: the Farewell Fiesta Concert on Sunday, March 25 at Los Arroyos Verdes.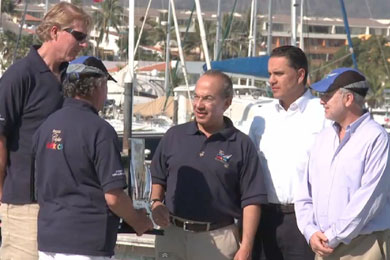 "This is going to be a great party to say thank you and hasta la vista to all our friends from the North," says Christie Beguesse, one of the party's organizers.
She says it's going to be one last big pool party, with four hours of live entertainment featuring Smooth Jazz Legend Brian Savage.
Also appearing will be the Mango Duo, Latin Dance Pro, with additional special appearances planned, Beguesse says.
"If you haven't yet been to this lavish resort, you are in for a big surprise," says Beguesse.
Los Arroyos Verdes is located three miles east of Hwy. 200 on the extension of Av. Estaciones.
Free shuttle vans from Bucerias will be provided for those without cars.
The price is 300 pesos, which includes a picnic lunch, non-alcoholic beverage of your choice, full resort access and a no host bar.  If you mention that you saw the story in the Guadalajara Reporter, the ticket price drops to 250 pesos.
The doors open at noon and the live music starts at 1 p.m. No minors, coolers or beach chairs will be permitted.
For more info contact Beguesse at This email address is being protected from spambots. You need JavaScript enabled to view it. .
After taste
As a follow-up to the very successful Taste of La Cruz (held January 14), the Amigos de La Cruz, in cooperation with the Marina Riviera Nayarit, presents "After Taste," a special evening of videos and music on Tuesday March 2, 6:30 p.m. at the Marina Riviera Nayarit Amphitheater.
A feature presentation will be the world premiere of the Canadian television program Travel Secrets-Mexico and the first episode, "La Cruz de Huanacaxtle." Also to be shown will be selections from six videos of local musicians: Willie & Lobo, Los Ambienteros, Bryan Savage, Philo, Geo solo and "Tribute to Hock" (featuring Rock of Ages, Deep River Band and Rusty & Friends).
As a special treat, the video from "A Taste of La Cruz" will be shown, followed by live performances by Bryan Savage, violinist Geo, Philo & Friends with more acts soon to be announced.
Marina Restaurant Ikuai will have a full service bar and snacks at the Amphitheater. Tickets for this event are 100 pesos, and can be pre-purchased online at http://amigosdelacruz.org or by contacting  This email address is being protected from spambots. You need JavaScript enabled to view it. .
For more information email This email address is being protected from spambots. You need JavaScript enabled to view it. .  Ticket sales will also be available at the Amphitheater on the evening of the event.
This is a benefit for the Amigos de La Cruz community programs including Computers & Supplies for Schools, Street Cleaning/Garbage Cans, Books for Bibioteca al Aire Libre and Arroyo & Beach Clean Ups.
Volunteer opportunity
As Semana Santa is fast approaching and some of our most cherished and accomplished volunteer English teachers are getting ready to depart, there is a wonderful opportunity to avail yourself of their expertise and share their passion.
Each year it is the same. These wonderful teachers hate to have to leave their students and it gives them great comfort to know that someone will continue the classes, but it gives them even greater comfort to be able to share their knowledge, materials, and the classroom gestalt with an incoming teacher. The classes will be suspended during the Easter holidays (April 1-13) but will resume April 16.
So if you have even the slightest interest in teaching, please call the center 329-298-3527 or come Monday around 6 p.m. to visit with Mike Simpson and his class. Simpson teaches a Level 2 beginners class for adults Monday and Wednesday evenings from 6:30 to 7:30 pm. He has been doing this for three years. A retired university coach, Simpson brings a wonderful love of humanity to all that he does. He doesn't speak much Spanish, but the language of love and caring.
Janet Coleman also is leaving this month. Coleman worked as an assistant to Brus Westby last year and this year she took the class all on her own. She has taken to teaching like a duck to water and her class has grown each month this year as the word got out.
Coleman is another lovely soul who exudes caring and a generous spirit that is infectious.  Her class will be taken over again by Westby for a short time before he leaves in April, so there is a brief window of time when a new volunteer could train. This class is for adolescents and meets Monday and Wednesday mornings from 10:30 to 11:30 am.
Egg hunt
Easter comes early this year, on April 8, and plans are being made for the Manos de Amor Egg Hunt. The backpacks were a big hit last year and will be repeated this year.
Here's how you can help. Needed are toiletries to stuff the backpacks with, specifically 25-30 "sets". A set consists of shampoo, soap, toothpaste and toothbrush, hair gel, talc, body cream and deodorant. The more sets donated the more fun stuff (crayons, coloring books, candy, etc.) can be purchased. Drop sets off at the Bucerias Art Walk Plaza before March 30, so they can be packaged up for the Easter Bunny to hide. The kids will also be served a hot breakfast and help is needed with that. For more information email This email address is being protected from spambots. You need JavaScript enabled to view it. .
PEACE Mexico
PEACE Mexico, based in Punta de Mita, will hold its Arte Vida Fundraising Gala at at Casa Corona in Puerto Vallarta on Friday, March 30.  The event features the work of international artists and takes place from 6 to10 p.m.
The line-up includes both silent and live auctions, live entertainment and food and beverages.
All proceeds from the event will go to benefit PEACE (Protection, Education, Animals, Culture, and Environment), a nonprofit organization with a variety of programs serving residents throughout the Bay of Banderas.
Tickets are available for 750 pesos and can be purchased in Puerto Vallarta at the PEACE Boutique, 231 Lazaro Cardenas in Plaza Romy, or by contacting Gaby Roman of PEACE at This email address is being protected from spambots. You need JavaScript enabled to view it. .
For more information contact Beth Brennan at This email address is being protected from spambots. You need JavaScript enabled to view it. .