As the highlight of this year's Northern Lights Festival de Febrero, renowned Australian-born pianist David Fung will perform Saturday, February 27, at Ajijic's acoustically remodeled Auditorio de la Ribera, joining distinguished conductor Mark Skazinetsky and a 19-member orchestra for Dimitri Shostakovich's lush, technically demanding Piano Concerto No. 1 with Strings and Trumpet.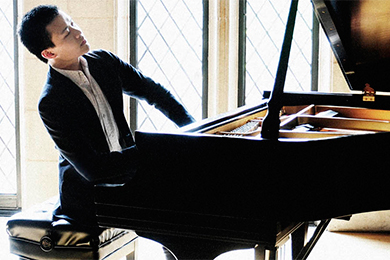 "We're so privileged to have David as pianist here this year," says Chris Wilshere, artistic director of the festival. "He's an up-and-coming superstar. He was a top prize winner in both the Queen Elizabeth and Arthur Rubenstein competitions and he recently got a great review in the Washington Post."
Wilshere continues: "This Shostakovich work that David is doing Saturday is very virtuosic. And it's technically demanding for the orchestra too — it's not a typical accompaniment. The orchestra plays a large part."
Wilshere says everyone is enthusiastic about the concerto. "It will blow people away. It has rich, lush harmonies and great melodies. There's some dissonance too, but that's normal."
He adds that he is delighted that many musicians in the Festival Orchestra are from the Manhattan Chamber Players, a New York City group of which pianist Fung is a member.
Wilshere also notes that the Shostakovich piece is unusual because, while the festival in the main has always focused on strings, this work features a trumpet. At times, especially in the last movement, Shostakovich made the trumpet command prominence equal to the piano.
"The festival, in its past 13 seasons, hasn't normally had brass or woodwinds," Wilshere points out. "But now we're bringing in Jean Laurenz, a fine trumpet player, to do justice to the Shostakovich."
The gala concert, entitled "From Russia With Love," also includes as its second half Skazinetsky and the orchestra performing what Pyotr Tchaikovsky dubbed his "piece from the heart" — the Serenade for Strings. The composer stated that he wrote the serenade "from inner compulsion." Described as introspective, sublime, elegantly classical, and reminiscent of Tchaikovsky's idol Mozart, the piece has four movements.
Wilshere emphasizes that he is thrilled to have Skazinetsky directing Saturday.
"Mark has been coming to the festival for years. We love him. He's associate concert master of the Toronto Symphony and also a conductor. Since we're a string orchestra and Mark is a violinist, when he directs he knows what works and what doesn't. He's good with us."
"From Russia with Love" (gala concert of Northern Lights Festival de Febrero), Saturday, February 27, 7:30 p.m., Auditorio de la Ribera, Boulevard De Jin XI 110, Ajijic. Tickets (300 and 400 pesos) available at La Nueva Posada, Calle Donato Guerra 9, Monday to Friday, 10 a.m. to 1 p.m. and at the auditorium door; cash only. See www.festivaldefebrero.com for more details.