Author John Pint has been regaling readers of this newspaper with tales of outdoor adventure ever since he moved to Mexico with his wife Susy in 1985.
Two collections of the best of these articles appear in "Outdoors in Western Mexico, Volumes 1 and 2," offering readers a choice of 65 places to hike, camp or picnic inside what the Pints call the "Magic Circle" around Guadalajara.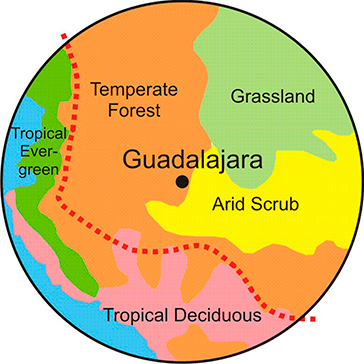 At a recent "Meet the Pints" party organized by Margo and Gerard McCutcheon of Ajijic, John Pint delved further into his "Magic Circle" phenomenon.
"This circle is extraordinary because it includes portions of all of the five ecosystems found in Mexico," he said. "A Tapatio can literally drive into a different ecosystem every day of the work week, always encountering new flora, fauna and geology. Inside the Magic Circle there are mountains, jungles, lakes, waterfalls, pine forests, volcanoes, geysers, sandy beaches, dramatically deep canyons and much more. How many big cities in the world can boast this kind of biodiversity and geodiversity?"
The Pints recalled that their first experience camping in Mexico in 1971 was not a great success.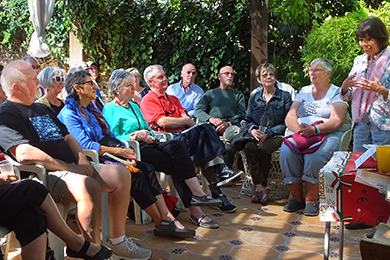 "We were traveling on one of those typical Mexican mountain roads," Pint said. "The kind with a sheer wall on one side and a thousand-foot drop on the other. When we reached the highest point, the driver announced that we were low on fuel and he was going to save gas by turning off the engine so we could coast down the other side. In those days, self-locking steering wheels had just come into the market and our friend didn't realize what was going to happen when he dramatically pulled the key out of the lock. Of course, a second later, as the first curve came into view, we all heard the ominous 'click' of the steering wheel locking. It was a moment of sheer terror and the driver's hand shook as if he had the world's worst case of Parkinson's as he frantically tried to get that key back into that little slot. Obviously, he succeeded or we wouldn't be here with you today."
That night – having safely reached Mazatlan – the Pints spread their sleeping bags out under a palm tree, John attempting to convince Susy that sleeping under the stars would be an experience she would never forget.
"I think I was succeeding, right up to the moment when a big tarantula fell out of that tall palm tree and landed right smack on Susy's face. I had to swear there and then that I would buy a tent and now we can only gaze at the stars through a mesh roof."
For more anecdotes of hikes and camping trips, usually with happier endings, peruse the pages of the Pints' books, available from Sandi Bookstore in Guadalajara and Diane Pearl Colecciones and Sol Mexicano Gallery in Ajijic. Have a question about the great outdoors in Western Mexico? Write to This email address is being protected from spambots. You need JavaScript enabled to view it..">This email address is being protected from spambots. You need JavaScript enabled to view it..