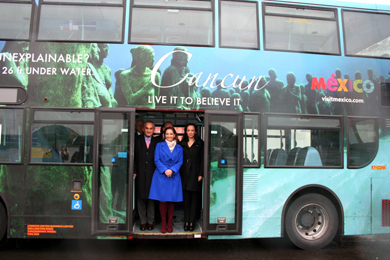 Mexican Tourism Secretary Claudia Ruiz-Massieu hopped aboard a typical London "double-decker" bus this week as she visited the capital of Great Britain for World Travel Market 2013, one of the leading global travel industry events of the year.
Business leaders and politicians accompanied Ruiz-Massieu on the bus, which was splashed with advertising promoting Mexico's wealth of tourism options and its current "Live It to Believe It" campaign.
Representatives of more than 70 Mexican tourism businesses traveled to London to participate in the trade show. The Jalisco Tourism Department and Hotel and Conventions Bureau joined several regional companies looking to promote their attractions.
British tourism to Mexico has increased by 22 percent in 2013, according to Sectur, the federal tourism agancy.
The London show comes on the heels of the 25th International Tourism and Travel Show held in Montreal, Canada from October 25 to 27.  During a gala evening, Mexico received the UNIVERS prize for Best Tourist Destination of 2013, awarded by the Association of Travel Agents of Quebec and the trade magazine Tourisme Plus. An estimated 350,000 Canadians travel from Quebec to Mexico each year.
According to its own publicity, the worldwide "Live It to Believe It" tourism promotional campaign showcases Mexico's "wide diversity, culture, nature, flavors, history, innovation and state-of-the-art destinations." With an initial investment of 36 million dollars, the campaign incorporates all media platforms including public relations, with a strong emphasis on digital channels.