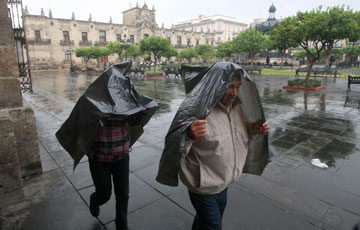 December went out with a dreary streak of wicked winter weather marked by a straight week of sunshine-robbing cloudy skies and intermittent rain and drizzle.
Temperatures in the Guadalajara and the Lake Chapala region plummeted over the holidays, with a bone-chilling low point of 6° Celsius (43°F) recorded in one zone of the metro area on December 28.
What the heck happened to the so-called World's Best Climate?
Meteorologists attribute the persistence of the frosty wet spell to a stationary air mass coming out the Pacific Ocean that has been trapped between by a cold front pressing down from the north and a low pressure system that has prevailed along the Yucatan Peninsula and the Gulf of Mexico since the first of December.  
Early this week the National Meteorological Service reported that Mexico's 22nd cold front of the fall-winter season was centered in the state of Tamaulipis, spanning the entire width of the nation and extending towards the eastern seaboard of the United States. A December 30 satellite map showed a band of precipitation provoked by the system that stretched north to south from Mazatlán, Sinaloa to Lázaro Cardenas, Michoacan.
In its wake, the summit of the extinct volcano located on the Jalisco's western border  got dusted the with a cap of snow measuring up to 15 centimeters deep, prompting the state's Civil Protection Unit to temporary shutdown vehicle access to the Nevado de Colima National Park last weekend. 
While Tapatios and lakesiders shivered and moaned, folks up in Temósachic, Chihuahua were literally freezing at year's end as thermometers there registered a brutal nationwide low of minus 6.6°C.
Good news for Chapala
Looking on the upside, the winter scourge comes as a blessing for Lake Chapala.  Recent low temperatures and heavy cloud cover, combined with occasional precipitation throughout November and December has helped put a check on the normal rate of evaporation and steady the lake's water level. 
According to data registered at www.chapalaweather.com, from 2008 to 2012 the amount of rainfall registered on the north shore during December ranged from zero to 8.63 millimeters. The figure for the final month of 2013 was a whopping 55.1 mm.
The National Water Commission (Conagua) reports that after recovering 97 centimeters in the elevation during the rainy season, Chapala's water surface has dropped just 11 centimeters since November 27, remaining unchanged from Christmas Day to the end of the year. In contrast, by the close of 2012 the lake had lost all but seven of the 49 centimeters gained during the previous cycle.
Current Conagua statistics show the lake starting off the new year with a storage volume of 3.6 billion cubic meters of water (3,639 Mm3), equivalent to 46 percent of its total holding capacity. During the 2012-2013 dry season Chapala lost 1,449 Mm3, dropping 1.45 meters in elevation to hit  a low of 35.47 percent capacity on June 13.

Weather forecast
For people wondering how much longer they should expect to keep bundled up and close to the hearth, weathermen are predicting that brisk temperatures and chances of rain will persist through the middle of next week until familiar clear and sunny skies return.
But to keep everything in perspective, keep in mind that winter in these parts typically brings short bouts of inclement weather – known in the common vernacular as cabañuelas. Let's look back to the first week of January 2013, when Conagua measured 22.2 mm of rainfall in Chapala and 40 mm recorded at Guadalajara's Colomos weather station. 
Long-time resident expats will recall a steady rash of foul weather during January 1992 when total rainfall surpassed 106 mm. And not to be forgotten was the historic snow storm of December 13, 1997 that dropped a scattering of icy flakes over lakeside and left the metro area blanketed in white.
Confession: This reporter for one has not exactly been a happy camper, banging away at the keyboard while wrapped up in three layers of clothing, leg warmers, and a double pair of thick ski socks from my Colorado days, regretting that typing with mittens on is a hopeless task. The sole consolation has been the nostalgia of pulling out the wool sweater my mother brought home from a trip to Scotland back in the 70's, a cozy bit of heirloom apparel that has languished in my closet to be worn only a half dozen times over four decades of basking in Ajijic's nearly idyllic climate. If the las cabañuelas continue I might have reason to just slip it on twice this year.