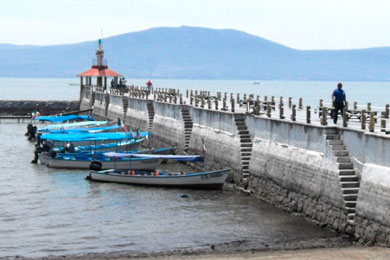 Bus trips
The next bus trips to benefit Cruz Roja (Red Cross) Chapala are to Tonala/Tlaquepaque on Wednesday, April 25 and to Guadalajara's Galerias Mall on Thursday, May 3. The round trips cost 200 pesos per person. Tickets can be purchased at the Cruz Roja table at the Lake Chapala Society, Monday through Friday, 10 a.m. to 1 p.m.
New tax forms
There is a new information reporting form that United States taxpayers will start using this tax filing season to report specified foreign financial assets for tax year 2011. The Form 8938 (Statement of Specified Foreign Financial Assets) should be filed by taxpayers with specific types and amounts of foreign financial assets or foreign accounts. It is important for taxpayers to determine whether they are subject to this new requirement because the law imposes significant penalties for failing to comply. Form 8938, the instructions, regulations implementing this new foreign asset report and other information to help taxpayers determine if they are required to file Form 8938 is available on line at  www.irs.gov/businesses/corporations/article/0,,id=251217,00.html.
Correction
We've had some phone calls from folks wishing to donate money to the bank account aiding the mission for the indigenous Tarahumara in Chihuahua. Checks should be made out to Complejo Asistencial Clinica Santa Teresita, A.C. and deposited at any Banamex bank, account number 70619 sucursal (branch) 838. Sorry this was left out of last week's article about the Tarahumara.
Good party
The "Hollywood on the Lake" bash held March 15 to benefit Programa pro Niños Incapacitados del Lago was a smashing success, with 380 guests reveling at Hotel Real de Chapala in La Floresta.
Awards postponed
Tod Jonson, head of the Lakeside Community Awards Committee that was to have held an event on March 8 honoring those contributing most to the community, has announced that both the public vote for the awards and the planned event have been postponed.
Bus trips
Cruz Roja (Red Cross) will sponsor bus trips to Galerias Mall in Guadalajara on Wednesday, April 4 and to Tonala and Tlaquepaque on Wednesday, April 25.
Love in Action
The kids at the Love in Action Children's Center were treated to a "Three Kings" party on January 6.
Activities
Adults are going to have their very own "play days" at the Lake Chapala Society (LCS) on coming Saturdays.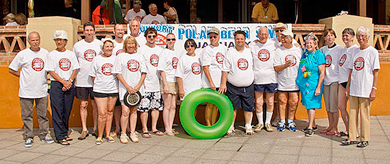 Polar bears
The third annual Polar Bear Swim on the Chapala Malecon on New Year's Day was an astounding success in many ways.
Pet reminder
Snowbirds who are not taking their adopted pets with them when they start for home after Easter (shame on you) really need to make arrangements for another home for the furry friends – and not at one of the already overloaded animal shelters. Start looking for another spot for them NOW. Those of us left behind with your pets are horrified seeing them shell shocked, whining, crying and barking for their families  – and these are the lucky ones that aren't running the streets.
Celebration of life
An informal gathering of friends and acquaintances of Joan Aslin, who died in November, will be held on the front "Blue Umbrella" patio of the Lake Chapala Society on Wednesday, January 4 from 2-4 p.m. Anyone who wishes to do so may bring botanas to share.
Brits meet
There's been a change to the next meeting of the British Society scheduled for Saturday, March 3, beginning at 1 p.m. at Manix Restaurant (Ocampo 57, Ajijic).
Going solar
In the spirit of Christmas, a group of 13 golfers from the Chapala/Ajijic area were invited by Ivan Tamez and Ron Magen of Solar Technology to join them at the beautiful Santa Anita Golf and Country Club on Guadalajara on December 13.
For dinner
Everyone is invited to a fundraising dinner at the Jaltepec Centro Educativo Hospitality University for the benefit of the young ladies studying there.
Busy
Take it easy. Christmas will get here no matter what. Stop to smell the roses (yes, we have them here in December) or at least admire the poinsettias. Remember to take some time for yourself and just enjoy the wonderful gift of living in this beautiful place and time.
Score for Jackson
The Score Sports Bar will host a fundraiser for Ajijic jeweler Daniel Jackson Garcia and his 17-year-old nephew on Thursday, March 1, 3-7 p.m., to raise funds to offset medical and equipment expenses incurred during a recent devastating gas explosion.
The paper
The newest place at Lakeside to buy the Guadalajara Reporter is at Terry's Tianguiz located near Chapala at Hidalgo (carretera) 265B. It's open seven days a week from 9 a.m. to 8 p.m.
Tea Party change
The Lakeside Tea Party has changed its meeting time for Tuesday, February 14 to 1 p.m. to accommodate the schedule of the speaker, Lawrence J. Korb, vice consul at the U.S. Consulate in Guadalajara.
Regalorama
Don't forget that "Granddaddy of all Yard Sales," the St. Andrew's Anglican Church Regalorama, on Saturday, December 3, from 10 a.m. on the Church grounds at San Lucas 19 in Riberas del Pilar. There's food, fun and bargains for everyone. Admission is free and all proceeds go to Lakeside charities. It's a traditional "must" at Lakeside.
Jewish Films
The Third Annual Jewish Film Festival will get underway on Sunday, February 5 with the showing of a short film, "The Wall" and "Infidel," beginning at 2 p.m. (starting early to accommodate Super Bowl fans). Other films will be shown on consecutive Sundays over six weeks, starting at 3 p.m. at the movie theater at Plaza Bugambilias.
Family
The Genealogy Forum will meet Monday, November 28, 2 p.m. in the Sala at the Lake Chapala Society (LCS). This month Phyl Gaskell will talk about how to document sources for your data and why you should do this. Marci Bowman will tell the group about the new developments and techniques using www.familysearch.org. and how to use it. Everyone is welcome to attend. There are no dues and you do not need to be a member of LCS. For more information contact Phyl Gaskell at 766-2722 or Fran Murphy at 766-0067.