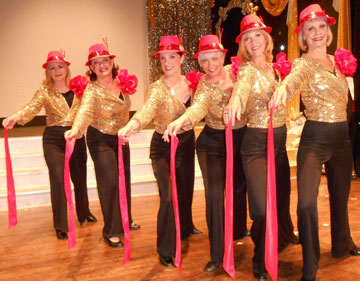 There's still time to buy your tickets for Lakeside Little Theatre's fun and entertaining musical "Hooray For Hollywood!" written and directed by Barbara Clippinger. Alexis Hoff is choreographer and Judy Hendrick is music director.
"Hooray For Hollywood!" is the 19th show Clippinger has directed, written and/or choreographed at LLT. There are four more evening performances, each at 7.30 p.m. on Friday, February 28; Saturday, March 1; Monday, March 3 and Tuesday, March 4. Also, there's a matinee on Sunday, March 2, 3 p.m.    
Tickets for the show are 250 pesos. The box office will be open from 10 a.m. to noon through the run of the show (except for the Sunday matinees), and one hour before curtain time for each performance.
Art openings
Paintings and surrealistic photo portraits by Myrna Shreve will be featured in a new exhibit opening Saturday, March 1, 4 p.m., at the Centro Cultural de Ajijic. Efren Gonzalez will also be on hand to unveil a collection of new oil paintings. Both shows are set to run through March 14.
Met departures
Viva members going to any of the next three Metropolitan Opera broadcasts at the Teatro Diana in Guadalajara are reminded that the bus departs at 9:30 a.m.  The early departures are for the operas on Saturday, March 1 ("Prince Igor"), Saturday, March 15 ("Werther") and Saturday, April 5 ("La Boheme").
The early departures result from the length of the opera or differences in daylight savings time.
For the last two operas on May 3 ("Cosi Fan Tutte") and May 10 ("La Cenicienta"), the bus departs at the regular time of 10:30 a.m.
The following webpage gives the starting times and duration of the Met Operas being shown at the Teatro Diana: www.teatrodiana.com/met2013_14.
Film series
The Lake Chapala Chapter of Democrats Abroad-sponsored eight-week film series, "Sunday Afternoon at the Movies," will run each Sunday through April 20 at at Cinemas del Lago, Bugambilias Plaza, Ajijic.  Tickets are 50 pesos each and may be purchased at the theater box office.
Net proceeds are used to support a voter registration program aimed at helping Lakeside expats vote from abroad.
The series kicks off on Sunday, March 2, 1:30 p.m. with a documentary making a passionate argument on behalf of the middle class in America. "Inequality for All" features Robert Reich, a cabinet member in President Bill Clinton's administration, and demonstrates how the widening income gap in the United States has a devastating impact on the economy and threatens democracy.
Reich uses humor and a wide array of facts to explain how the massive accumulation of wealth by a "precious few" threatens the viability of the American workforce and how economic inequality affects each citizen.
The conservative Wall Street Journal calls the film "engaging and passionate." The liberal Huffington Post says it is a "must see movie, important and entertaining."
Other films in the series are:
March 9: "Mariachi Gringo"
March 16: "The World According to Monsanto"
March 23: "The Contender"
March 30: "Even the Rain"  
April 6: "Fair Game"
April 13: "Salmon fishing in the Yemen"
April 20: "Chasing Ice"
More information may be obtained by calling 766-1658 or emailing This email address is being protected from spambots. You need JavaScript enabled to view it. .
ASA
Ajijic Society of the Arts is holding its monthly meeting on Monday, March 3 at La Bodega Restaurant, starting at 10 a.m. The guest speaker will be Nancy Grey, a practicing artist and teacher for 30 years. She will discuss how to use color and scale to create distance and depth in one's art.
ASA is a group of local, national and international artists of more than 130 members. The meeting is free and open to the public.
Cuarón flicks in Jocotepec
Four feature length movies by Mexico's award-winning film director Alfonso Cuarón will be screened on consecutive Wednesday evenings during March at Jocotopec's Casa de Cultura.   All shows start at 8 p.m. and are open to the public free of charge.
The series opens March 5 with "A Little Princess," an adaptation of the Frances Hodgson Burnett novel, featuring Liesel Matthews in the lead role. The Spanish language hit "Y Tu Mamá También," starring Gael García Bernal, Diego Luna and Maribel Verdú, follows on March 12.
Cuarón's modernized version of the Charles Dickens's classic "Great Expectations," with Ethan Hawke, Gwyneth Paltrow and Robert De Niro, plays on March 19.  Closing the bill on March 26 is "Children of Men,"  a dystopian science fiction flick based on the P. D. James novel, starring Clive Owen, Julianne Moore and Michael Caine. 
Cuarón is ranked as a strong contender to walk away with the Best Picture and Best Director Oscars at Sunday's Academy Awards ceremony for the 2013 outer space drama "Gravity." The movie earned nominations in ten Oscar categories while raking in multiple trophies and accolades on the international film awards circuit.
Cantantes
"Nature's Music" is the title of Los Cantantes del Lago's Spring Concert, which will be held on Tuesday, March 25 at 7 p.m. and Wednesday, March 26 at 4 p.m.  Music Director Timothy G. Ruff Welch has put together an eclectic group of music reflecting the facets of nature ... weather, the earth, animals and of course how we humans react and interact within nature.  The poetry ranges from William Blake to Sara Teasdale and the composers from Eric Whitacre to Cole Porter.  There will be a capella pieces and accompaniment ranging from piano to flute to cello.  Tickets are available at Mia's Boutique, Diane Pearl Colecciones, by emailing This email address is being protected from spambots. You need JavaScript enabled to view it. and from any Los Cantantes member.
Artists reinvent folk art dolls
Mi Muñeca, an offbeat art show featuring highly original interpretations of traditional folk art dolls, opens Friday, March 7, 5 p.m., in the lobby at the Chapala City Hall.
The exhibit derives from an initiative to promote appreciation and preservation of the muñeca de cartón (papier-mâché doll), coordinated by Artemisa Ramírez, a student of Communication Sciences at Guadalajara's ITESO Jesuit university.
Cartonería, the dying art of sculpting rigid objects in papier-mâché, goes back to Mexico's Colonial era. Celaya, Guanajuato stands out for generations of artisans skilled in the production of cartonería toys and masks.
The muñeca de carton, often referred to as a Lupita doll, is made from various molded pieces, crudely tied together with strings to allow movement of the upper and lower limbs. Conventional hand-painted decoration includes detailed facial features with garish maquillage, old-fashioned hairdos, colorful bodysuits with floral designs and slippers.
For the Mi Muñeca project, Ramírez procured a supply of two dozen unpainted dolls from Celaya craftsmen and parceled them out among accomplished artists from Guadalajara and Lakeside. Each was given free rein to adorn the figure in any way imagination might lead. The collection of finished pieces will be displayed in Chapala for two weeks before the show goes on the road for a one year tour of other Jalisco communities.
Local talent participating in the creative challenge includes Conrado Contreras, Ricardo González, Estela Hidalgo, Antonio López Vega, Jesús López Vega, Miguel Mora de la Torre, Juan Navarro, Daniel Palma, Alan Pantoja and Luis Alberto Ríos Márquez, along with resident foreigners Jacqueline Stewart (United States), Carol Nimr (France) and Camille Boeckmans (Belgium). 
Pasión Ecuestre
Last weekend's Pasión Ecuestre packed in a full house at the Chapala charro arena for an action-packed lively variety show that featured gorgeous horses, daring stunt riders and midget singing star impersonators. The spectacle closed with a series of thrilling costumed ethnic dances.
Painting Guild
The Lake Chapala Painting Guild opens its next exhibition, "Artistic Insights," at Sol Mexicano Gallery (Colon 13, Ajijic) with a reception on Friday, March 7, from 4-6 p.m.  The show will remain in place until March 26. Everyone is invited.
Participating members Betty Petersen , Carol Ann Owers,  Geraldine Classen, Lois Schroff, Steve Ache, Varn, Winnie Hunt, Cynthia Du Bois, Ina Gieysztor, Helen Marie Krustev,  Nancy Gray, Anita Lee and  Efren Gonzalez.  
To join the Guild and view examples of paintings by the members, please see the website www.LakeChapalaPaintingGuild.org.
CASA
The February meeting and competition of the Culinary Arts Society of Ajijic (CASA) featured Romantic Dinner Main Dish in Category A and Valentine Desserts in Category B.
After seeing and tasting the competition dishes it appears that the bar has been raised higher than ever!  All of the competition dishes were both beautiful in presentation and delicious.  The speaker was Ruthie Baker, who talked about the history of romantic dishes over the centuries. 
Winners in Category A were Monica Molloy (first place) for her Shrimp and Monkfish with Onion Cilantro Sauce;  Beth Cathcart (second place) for her Stuffed Chateaubriand with Champagne Bernaise Sauce; and Rick Feldmann (third place) with his Smoked Salmon with Honey Remoulade over Cucumber Salad. 
Winners in Category B were Ginger Perkins (first place) for her Fallen Souffle Cake with Marscarpone Cream; Sally Myers (second place) for her Double Truffle Cheesecake; and Mary Ann Waite (third place) for her Chocolate Cappuccino Cheesecake. 
People's choice awards went to Rick Feldmann in Category A and to Ginger Perkins in Category B.  Winners for best presentation were Monica Molloy in Category A and  a tie in Category B to Mary Ann Waite and Donna Milne for her Mocha Cake for Two.
For more information on CASA  email This email address is being protected from spambots. You need JavaScript enabled to view it. or call President  Annie Green at 766-5243.  The next meeting/competition will be at Min Wah Restaurant on Monday,  March 10, 4 p.m.  Visit the CASA website at www.ajijiccasa.org for more information.