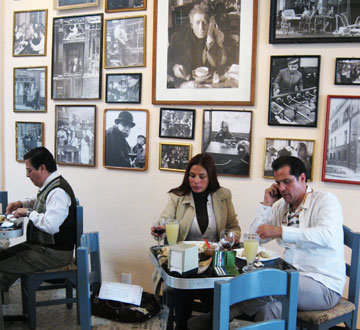 In Guadalajara, a city fairly well endowed with authentic French restaurants, what can the new Frenchman on the block offer patrons — both the legions who flock to myriad establishments at midday to gobble down traditional comida corrida (a complete, fast dinner) for around 50 pesos and the few who patronize the city's handful of French, haute cuisine establishments?
The answer, in a word: a bistro.
I found I didn't really know the meaning of this familiar word. But Parisian chef Bernard Resve explained it to me, along with other restaurant lore, as we sat in his bright, cozy bistro, Clafuti, with Lopez Mateos traffic whizzing by just the other side of a row of cars parked in front, silenced by a pleasant, glass vestibule that Resve constructed at the entrance (located directly across from the much better established eatery Libanes).
Clafuti (the restaurant's name is the Hispanicized version of clafoutis, a dense, flan-like tart) is probably the only French eatery in Guadalajara using the bistro concept, Resve explained.
"It's an authentic Parisian atmosphere, but informal, without tablecloths, and using traditional recipes that are 30, or 50, or 100 years old." (One such recipe is quiche, which, surprisingly, was invented in Germany as Küche, he said. And — another nugget of lore — the word bistro is Russian in origin and means "rapid.")