The Lakeside Progressives will meet on Tuesday, February 11, 4 p.m. at the Peacock Garden restaurant in Ajijic.
Considering data from such sources as the Congressional Progressive Caucus, Progressive Democrats of America, and Bold Progressives, the members will seek to identify the three most pressing issues facing the United States and develop solutions to them that are not being proposed by either the Democratic or Republican parties.  They will also review the status of the group's website.  Following the meeting, members dine together at the restaurant.  All progressives are encouraged to attend.  To ensure adequate seating, please e-mail your intention to attend to Ken Crosby at This email address is being protected from spambots. You need JavaScript enabled to view it. .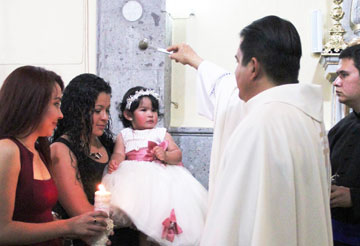 Dia de la Candelaria
Mexico's extended Christmas season came to a close with Dia de la Candelaria (Candlemas) observances held on February 2.  During Sunday services at Chapala's San Francisco church, parishioners lined up with their infant children and cherished figures of the Baby Jesus used in household nativity scenes and religious shrines to receive traditional blessings bestowed by curate Enrique Monteon Curiel.


Democrats
The Lake Chapala Chapter of Democrats Abroad Mexico will hold a general membership meeting at Monday, February 10, 4 p.m., at La Bodega Restaurant in Ajijic.
Plans for a special 4th of July celebration and a voter registration program for expats are among the agenda items to be discussed.
Membership in the organization is free.  Interested parties are invited to attend the meeting.  More information may be acquired by contacting Francis C. Reidelberger, chapter chair, at 376-763-5271 or at This email address is being protected from spambots. You need JavaScript enabled to view it. .   
Birders' treks
On Wednesday February 12, 8. a.m., the Lake Chapala Birders will meet at Donas Donuts to carpool, leaving immediately for the Sierra de Tapalpa. They will stop at various points on the plateau between 9 a.m. and 12.30 p.m. and take lunch in Tapalpa. They will be back in Ajijic at about 5 p.m.
The birders will meet at the same time and place for the trek on Wednesday, February 19 to the Rio Verde. They will then head to the access point where trogons have been spotted. Those going on this trek should take sandwiches and other refreshments for lunch.
Anyone planning to go is asked to email This email address is being protected from spambots. You need JavaScript enabled to view it. and state if they can provide a vehicle.
The birdwalks are open to all those interested in birds, both beginners and experienced birders. Just bring binoculars and show up. There are always knowledgeable birders on hand to identify the species.
Birding update
There were 131 species spotted during the January bird walks. Unusual ones included a Zone-tailed Hawk seen circling with Turkey Vultures on the trip to Rosa Amarilla. An Eared Grebe was sighted again this month, this time at Lake Cajiitlan. And a pair of Monk Parakeets are currently living in the area around the pier in Ajijic.
For additional information about birding around the lake, contact John and Rosemary Keeling, email This email address is being protected from spambots. You need JavaScript enabled to view it. , or explore website ChapalaBirders.org.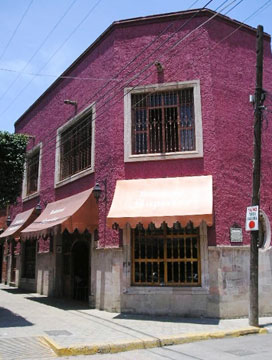 Restaurant Superior closes
Restaurant Superior, the iconic eatery situated at Chapala's main intersection, closed its doors on Tuesday, February  4, after more than 50 years of uninterrupted service. Proprietor Josefina Munguía says her decision to go out of business was motivated by the desire to retire and take it easy in her golden years, as well as avoid heeding newly implemented tax regulations that she qualifies as a huge hassle for small operators like herself. She intends to lease out the building, but is uncertain at this point what sort of enterprise will take over this prime piece of downtown real estate.
LCS Seminar
The Tuesday, February 11 seminar (noon–1:15 p.m.), available for Lake Chapala Society (LCS) members, will be chaired by Ron Mullenaux.  It features (via TED Internet podcast) Philosopher Dan Dennett talking on "The Illusion of Consciousness."   Dennett, the author of "Freedom Evolves," makes a compelling argument that not only don't we understand our own consciousness, but that half the time our brains are actively fooling us. He argues that human consciousness and free will are the result of physical processes.
The Tuesday, February 11 Neill James lecture, "Darwinism as a Way of Life," is presented by Roger Heath and begins at 2 p.m. The lecture draws heavily on Daniel C. Dennett's fascinating book Darwin's "Dangerous Idea: Evolution and the Meanings of Life."  The presentation will get into Darwin in connection to language, religion and morality.
Edible gardens
The newly formed and burgeoning Veggie Growers Group will hold its second meeting on Wednesday, February 12, 10 a.m. at Azul Frida Restaurant, Carretera 162, located on the service road bordering the south side of the highway opposite Villa Nova. The topic for this session will be composting. For more information contact John McWilliams at This email address is being protected from spambots. You need JavaScript enabled to view it. .
Have Hammer
Have Hammer ... Will Travel students, teachers and volunteers invite the public to join them for an evening of good food, great dancing music by The Tall Boys Band, expansive silent auction and student carving demonstrations, on Wednesday, February 12, from 6-10 p.m. 
This 5th annual fundraiser will happen at Club Exotica in Ajijic Plaza (enter through El Jardin Restaurant).  The ticket price of 350 pesos includes a choice of chicken or BBQ ribs and of seating on the main floor or in the mezzanine. 
This program teaches local children, teens, and adults valuable life skills through woodworking and carpentry.  Students will be on hand to share their skills, as well as show finished products for sale or order.  For tickets, call the workshop at (376) 766-4830. For more information or to request delivery of tickets for a table of ten, contact Eloy Gonzalez at 766-4663 or This email address is being protected from spambots. You need JavaScript enabled to view it. .
Conservatives
The Lakeside Conservatives Group will hold their regular monthly meeting on Wednesday, February 12, 4 p.m. at Rio Bravo 10A, Ajijic. This month's speaker is Marita Noon, the executive director for Energy Makes America Great Inc., who will address the topic of "Energy Politics and its Economic Impact."  
Major corporations, along with some print and television networks, recognize Noon as "America's Voice For Energy."  Incisive, articulate and witty, her views are sharp, smart, outspoken and cover a myriad of issues.
Noon is committed to providing the public with solid information on relevant issues – from oil production and energy independence to EPA corruption and global warming.  
The goal of the Lakeside Conservatives Group is to inform, educate, and entertain its membership.  For more information on the group call 387-761-0484 or email This email address is being protected from spambots. You need JavaScript enabled to view it. .
Luncheon & auction
Lakeside Friends of the Animals is sponsoring a Valentine's Day luncheon and auction at Roberto's Restaurant in Ajijic on Friday, February 14. This is something new for the group.
Longtime supporter Lila Kawananakoa has donated ten new Mary Francis bags to be auctioned off. Each bag is uniquely decorated with beads, sequins, crystals, pearls and semi-precious stones.
The proceeds from this luncheon will help Lakeside Friends of the Animals continue its work helping Mexicans with limited means spay and neuter their pets, and help with emergency medical care. The group also teaches children how to care for their house pets. This school year they have been to 21 schools.  A 50/50 raffle will also offered to help fund this worthy cause.
Presbyterian auction
Lakeside Presbyterian Church (LPC) is in the midst of their new church building project.  Founded just five years ago, the congregation has grown to such an extent that larger premises are required.  In aid of this, LPC is holding an auction on Saturday, February 22, 2 p.m. at Strom White Movers on the Carretera. 
All sorts of desirable items will be offered: dinner certificates at Lakeside's better restaurants, complete dinners hosted at Lakeside homes, all-inclusive trips, Bed & Breakfast stays, and (possibly) free rounds of golf at Chula Vista and Vista del Lago.  There will be a silent auction of jewelry, china, pottery, gift certificates, and a quilt, to name just a few items.  There will also be furniture for sale.
There will be a cash bar for wine, beer and soft drinks, and a bake sale table will offer home-made goodies.
Cooking workshop
Jaltepec Centro Educativo holds its Second Master Chef "Hands On" Cooking Workshop on Thursday, February 20.
This workshop, which is limited to 24 guests, is led by one of the "master chefs" from Number Four Restaurant and takes places in the facility's mini kitchen laboratory.  Refreshments will be served at 9.30 a.m. and the presentation will start at 10 a.m., finishing around 2:30 p.m.
The price, inclusive of all ingredients used is 800 pesos per person.  You can bring your own wine, or purchase a glass with lunch.
For further information, or to make reservations, contact Stacey Hewitt at This email address is being protected from spambots. You need JavaScript enabled to view it. .
This presentation is made possible by the generous contribution by Kim Everest of Number Four Restaurant. The net profits will benefit the students of Jaltepec Centro Educativo.
Shriner Ribfest
The 8th Annual Lake Chapala Shrine Club Ribfest takes place on Wednesday, March 5, from 1-5 p.m. at the Villa Encantada, on the curve past the park on the way into Chapala from Ajijic.
And again this year there will be servings of both ribs and chicken with all the trimmings. Food service will start at 2 p.m.
Tickets cost 350 pesos. The purchase of ten tickets entitles the buyer to reserve a table. Tickets are available from Noble Tom (event chairman) at 106-2089, Noble Perry at 765-5126, or any Shriner.
Two cash bars will be in operation throughout the event. Entertainment will be ongoing and dancers are encouraged to show their talents. Door prizes will be drawn throughout the afternoon and winners' names will be posted on a board near the entrance.
Parking will be available in the lot just west of Villa Encantada and disabled parking in front of the entrance. Additional parking will be available at the Monte Carlo Hotel and near the Maskaras Clinic, where the Hope House tourist bus will pick up diners and take them to and from the event.
The Ribfest fundraising event is the largest source of revenue for the Lake Chapala Shrine Club. The club assists children with medical problems residing in the local area with payments for treatment and transportation to clinics in Guadalajara and the Shriners' Hospital in Mexico City.
From 2006 to 2013, the club assisted 1,039 children to the tune of 1,930,392.42 pesos.
Brit Bands Rock America!
Rolling Stone magazine called The Beatles' arrival in the United States in 1964 "the biggest explosion in rock & roll history." 
Niños Incapacitados is celebrating the 50th anniversary of the "British Invasion" with a gala dinner-dance on Thursday, March 13 at the Hotel Real de Chapala, starting at 5:30 p.m. Live music will be provided by "Let it Beat," a Beatles tribute band from Guadalajara. They will also be playing numbers from other famous "invaders" such as The Rolling Stones, The Who, The Animals, The Kinks, Herman's Hermits and Gerry & The Pacemakers. There'll be a delicious buffet dinner and live and silent auctions with a wide range of excellent items, such as week-long stays in condos in exotic places and mouthwatering dinners in some of Lakesides most beautiful houses.
Tickets are 450 pesos. Call Linda Hendy at (376) 106-1281, This email address is being protected from spambots. You need JavaScript enabled to view it. , to reserve tickets, tables for ten, or seats at an open table. Tickets are also available at The Bagel Place, Mostly Chocolate, Century 21 and Opus Boutique. All proceeds go to the children in the Niños Incapacitados program.
HU Son
Looking for a happier, more contented life?  Need to lift a grieving heart?  Join us in a HU Song held on the third Saturday of every month from 10:30 to 11 a.m., followed by a fellowship time.  The HU Song is a contemplative spiritual exercise.   It is held at the Spiritual Center on Nicolas Bravo 17B, Ajijic.  People of all faiths are welcome.  The February HU Song is scheduled for Saturday, February 15.  The door is monitored and closed at 10:30 a.m., so be sure to arrive no later than 10:20 a.m.   Contact Penny White at 766-1230 for further information.  The event is hosted by Eckankar Mexico.
Open Circle
Loretta Downs will give an uplifting and inspiring talk that brings peace and meaning to end-of-life issues at the Open Circle meeting on Sunday, February 9, 10:30 a.m. at the Lake Chapala Society.
In her talk, "Oh, Just Bury Me in the Backyard!", Downs will discuss the current worldwide social movement that is changing the ways we conclude our lives.  She will share her beliefs on the miracle of transformation that is ours to embrace and support and provide suggestions for approaching our finale with grace and serenity.
Downs is a nationally recognized speaker and writer on the subject of supporting the end of life. She has been a companion to the dying for more than 25 years and is past-president of the Chicago End-of-Life Care Coalition and a member of the American Society on Aging. She raises Monarch butterflies in her award-winning garden. She blogs at www.LifeMattersMedia.org.
Weekly Open Circle gatherings start with coffee, tea and sandwich bites for socializing at 10 a.m., followed by the program at 10:30 a.m. sharp.
St. Andrew's Anglican
"Evangelism? Oh, no! I'm staying home!"  Yes, like it or not (and most Anglicans are firmly in the "not" camp), the emphasis of this week's sermon at St. Andrew's is on "Evangelism in Action."  Fr. Winston Welty's focus is on the "action" part of that title, without which all our holy words are empty and powerless.  Both Jesus and St. Paul are examples of how authentic evangelism can be an invitation rather than an irritation, and models for every Christian to emulate in our own efforts at winning people to faith.  So why not take a chance and show up for worship this week at St. Andrew's? Remember, it's just a sermon; what could it hurt to listen? 
There are refreshments and fellowship in the garden during the interval between the 9 a.m. and 11 a.m. services. Children's Sunday School starts at 10:45 a.m. St. Andrew's is located at Calle San Lucas 19, just a block south of the Carretera in Riberas del Pilar. 
Presbyterians
How many well-loved Biblical texts do we think we fully understand, especially those we know by heart?   Pastor Ross Arnold of Lakeside Presbyterian Church is beginning a new series of six sermons, based on The Lord's Prayer.  Week One, Sunday February 9, he will speak on "Our Father."   Certainly, Our Father is the most important statement of relationship possible for any person.  What of the recognition that God is in heaven, and what is the meaning of "hallowed be thy name?"
Sunday worship begins at 10 a.m.  Following the service, there is fellowship and refreshments.  Lakeside Presbyterian Church is in Riberas del Pilar, on the mountain side of the carretera, between S&S Auto and Vigolari.
Unitarians
The Lake Chapala Unitarian Universalist Fellowship meets every Sunday at 10:30 a.m. at the Plaza de la Ribera, Rio Bravo 10A, Ajijic.  This Sunday, Susan and David Miller will give the talk, "What Geezers Can Teach the Young."  A coffee hour follows. 
Christ Church
Christ Church Anglican Fellowship will celebrate the Fifth Sunday after the Epiphany with Holy Communion from the Presanctified Elements at 9:30 a.m. at the Little Chapel by the Lake in Chula Vista. 
Dr. Inez Dayer, who is authorized to lead services when the clergy are absent, will preside and preach.  Fr. Danny Borkowski and Deacon Rob Wells will be away at the Diocesan Synod in Hermosillo. The topic of Dr. Dayer's message is "Light," based on Matthew 5:13-20.
Christ Church and The Little Chapel by the Lake share a joint coffee fellowship between their two services from about 10:35 a.m. until 11:15 a.m. 
Deacon Wells is leading a Bible Study from Matthew's Gospel on Tuesdays from 10-11 a.m.  It is not necessary to have attended before to participate.  Wells is using the Jerusalem Bible for the source text because of its copious notes and commentary. 
Little Chapel
Following the refreshment period shared with Christ Church, the Little Chapel by the Lake's regular worship service will begin at 11:15 a.m. on Sunday, February 9.  The Rev. Gene Raymer will speak on the topic "Long Term Love Affair" based on Jeremiah Chapter 31.   Following the worship service many of the attendees join for a fellowship lunch at a local restaurant.
The Little Chapel is located on the mountain side of the Carretera in Chula Vista, just east of the golf course. 
Center for Spiritual Living
The Reverend Tim Schubert continues with the theme of love by presenting "Unconditional Love" at the Center for Spiritual Living (Nicolas Bravo 17, Ajijic) on Friday, February 14, from 5-6 p.m. A social hour follows.
Wednesday classes (10:30 a.m.-noon) continue with "This Thing Called You" by Ernest Holmes. The Thursday discussion group carries on using the book "A Thousand Names for Joy" by Byron Katie. The program begins with an optional meditation from 10 to 10:20 a.m., followed by the group from 10:30 a.m.-noon. The Spanish Group that is discussing "The Ten Concepts of Science of Mind" will meet on Thursdays at Calle 16 de Septiembre 30 from 7-9:30 p.m.
For information contact This email address is being protected from spambots. You need JavaScript enabled to view it. , call 766-0920,  or see www.cslchapala.com.