A pancake supper prepared by the men of St. Mark's Anglican Church in Guadalajara will mark Shrove Tuesday, Tuesday, March 4, 4:30 to 6 p.m. Tickets will be sold at the door.
Two Ash Wednesday services will be held the following day, March 4, one in English at 12:30 p.m. and one in Spanish at 6 p.m.
St. Mark's is a two-minute drive north of Plaza Mexico, on the corner of Aztecas and Chichimecas in Colonia Monraz near the westernmost end of bus route 33A. www.stmarksanglican.org,  (33) 3641-6620.
Mexican Flag Day
Schoolchildren and their teachers roll up their flags after participating in Mexican Flag Day ceremonies in Guadalajara's Plaza de la Liberacion on February 24.
Amsoc
The American Society (Amsoc) hosts "Oscar Awards Night" on Sunday, March 2.
Doors open at 5 p.m. The show starts at 7:30 p.m.  The donation is 60 pesos and includes snacks and chicken dogs.
There will be a "Guess the Winners Contest" and "Appetizers" contest, plus prizes.
Amsoc will host a joint lunch celebration on Thursday, March 13 to mark both St. Patrick's Day and the Society's 69th birthday.
The meal will consist of filet Mignon, carrots, baked potato, salad and birthday cake. Admission is 145 pesos,  the bar will be open.
Tickets are available at Amsoc, Av. San Francisco 3332, Colonia Chapalita, telephone 3121-2395.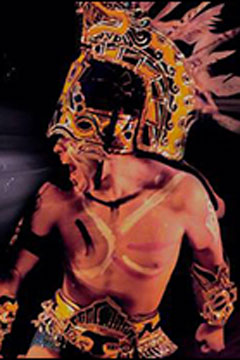 Aztec Spirit
Aztec Spirit, a multi-media show that provides a contemporary retelling of the encounter between conquistador Hernan Cortes and Aztec Emperor Moctezuma, is running throughout the month at the Teatro Experimental de Jalisco, next to the Agua Azul Park.
Although it has narration in Spanish by the historical character of Malinche (the Indian woman who acted as interpreter, advisor, lover and intermediary for Cortes), the performance features predominantly contemporary music, dance and audio-visual effects.  Twenty-five artists take part in the show, created in 2011 and described by some critics as "innovative."
The show runs every Tuesday and Wednesday, at 8 p.m., from March 5 through April 3.
Bullfight
The final bullfight of the current "Temporada Grande" season takes place at the Plaza de Toros Nuevo Progeso on Sunday, March 2, 4:30 p.m.  Three of the nation's top matadors will be in action, pitting their wits against six bulls from the Barralva ranch.   Tickets cost from 110 to 1,490 pesos.
While bullfighting is unpopular with many people, the tradition is a long one in Mexico and has many supporters.
Installation
French conceptual artist Daniel Buren has been invited to create an installation at the historic Cabañas Cultural Institute later this month.
Buren is known best for using regular, contrasting colored stripes in an effort to integrate visual surface and architectural space, notably on historical, landmark architecture.
Often referred to as "the stripe guy," Buren also expresses his theme in paint, laser cut fabric, light boxes, transparent fabrics and ceramic cup sets. His stripes are displayed in private homes, public places, and museums worldwide.
Buren has designed a number of site-specific installations in the United States, Belgium, France and Germany.  His 3,000-square-meter sculpture in the great courtyard of the Palais Royal sparked an intense debate over the integration of contemporary art and historic buildings.
At the Cabañas, Buren is expected to use the majority of the UNESCO world heritage site's 13 patios for his installation.
The work will be inaugurated on March 12.