Wind in their sails
The cravings of La Manzanilla sailing aficianados were sated last week with two lively regattas launched off our beach in Tenacatita Bay.
The Big Chill
A cold front from the north and a few days of rain put a chill on activities in La Manzanilla last weekend.  Baseball, soccer, and polo games were cancelled.  The flea market extravaganza in the plaza was rescheduled for this Sunday, the 19th.  Wind gusts as the front moved in toppled trees and sent unsecured roofs flying, yet our electricity never so much as flickered, a miracle unto itself.  Our usual "clear blue and 82" February temperatures plummeted to the 60s and low 70s, sending us year-'round-resident weather wimps scrambling for hoodies and long pants, much to the amusement of vacationers who still found the weather balmy and better than what they'd left behind.
Galeria season kicks off
La Manzanilla's favorite out-of-town artist, Efren Gonzalez opened the Galeria's Meet the Artist series with a packed house on December 2. His work, as always, was as delightful to view as he and his beautiful wife Reina were to chat with, and he does excel at the art of meet-and-greet.
Seniors Rock!
Two music events in La Manzanilla recently brought out the gray-hairs in force, and they rocked.  I love watching members of my generation dance to cover songs that were originals back in the day.  The moves may not be as elaborate, but we still have 'em.  With the right amount of tequila at these moments, I can see a crowd of sixty-somethings looking just as good as they did in the 60s.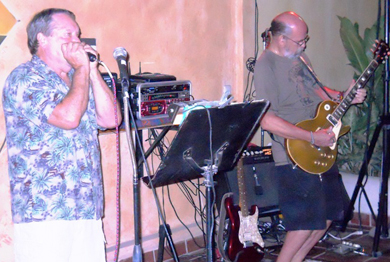 Full speed ahead!
Despite the number of roads that are still trashed a month and a half after the Jova-ian deluge, La Manzanillans from all ends of town have managed to make their way to main street to party.  And there's plenty going on.
Security Demands
Carlos Ramirez, President of our municipality of La Huerta, made a special appearance in La Manzanilla to respond to residents´concerns about crime in the village. An estimated 300 to 400 locals and expats, about a 50/50 mix, filled the plaza for the January 12 evening meeting.
It's Show Time!
The Galeria has posted this year's artist line-up.  Dates for annual fundraisers have been set. There's talk of turkey dinner and the holiday tree fiesta.  The bookstore is open seven days a week, and it's rodeo season.  Not that you'd know it from our feels-like-August temperatures, but The Season seems to be upon us, ready or not.
Happy 2012! (the end of the world, or a new beginning?)
Back to business as usual
Except for dozens of trees down and most of our roads getting impassably trashed, La Manzanilla came through Hurricane Jova relatively unscathed compared to other places on the Costalegre.  Once power was restored and clean up was underway, the biggest discussion point became not how we weathered the storm, but when the Manzanillo airport would open.
Happy Holidays, etc.
Whatever you celebrate – Yule/Solstice, Christmas, Hanukkah, Kwanza or Bah Humbug! – I hope your obligations don't exceed your stamina and you are coping well with the ubiquitous merriment.
While most of us slept through summer – or tried to, despite oppressive heat and frequent power outages – a handful of La Manzanillans were busy developing projects that can benefit our community for generations.