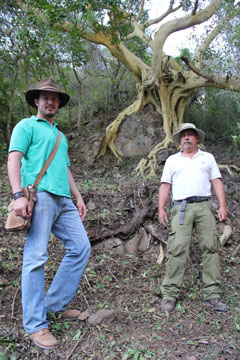 Since time immemorial, humans have traced rustic pathways into the mountain range overlooking Lake Chapala's north shore. One of the trails that has become a popular route among hikers and mountain runners, as well as generations of highland farmers and hunters, leads out from upper Ajijic to El Tepalo, the first of three waterfalls located in the Cerro de la Chupinaya.
With an 84,000-peso advance from Jalisco's environmental protection agency Semadet, the Chapala Department of Ecology is now in the process of gently improving the landscape to develop the Sendero El Tepalo, a more user-friendly hiking trail aimed at attracting local residents and outside visitors and boost appreciation and conservation of native flora and fauna.
According to ecology chief Moctezuma Medina and technical advisor Rodrigo Quiroz, the Tepalo Natural Treasure project entails minimal removal of wild brush and rocks and the addition of several footbridges to rehabilitate and facilitate access to the trail. Plans also call for construction of a rustic adobe entry station situated just off the top end of Calle Galeana and the installation of a series of informational signposts and viewpoint rest stops as the path runs into higher elevations.
It is one three hiking trail projects now under development within the confines of the Cerro Viejo-Chupinaya-Los Sabinos Protected Natural Area spanning the municipalities of Tlajolumco de Zuñiga, Jocotepec, Ixtlahuacan de los Membrillos and Chapala. The other trails are located in the communities of San Miguel Cuyutlan (Tlajomulco) and La Cañada (Ixtlahuacan).