The boats are running with the wind in Banderas Bay during January 2014. The 10th Annual Vallarta Cup Race Series organized by the Vallarta Yacht Club runs every Saturday through the end of the month.
The competition was designed for the simple love of sailing and getting to show off a bit. Even though there is a winner, most compete just for the fun of it. It is a beautiful site watching the boats from the shore.
The boats can depart from the Paradise Village Marina, Marina Riviera Nayarit in La Cruz and Marina Vallarta with First Class boats taking off at 12:35 p.m. The start/finish lines will be in front of the marina entrances and distances will be 10 to 20 miles based on the wind. If you would like to enter, please fill out the entrance form at www.vallartayachtclub.org/index.php/en/on-the-water/vyc-yacht-racing/vallarta-cup. Participants can register on any given Saturday, even though the series has started. Over 30 boats participated in last year's competition.
The winner's name will be etched on the Vallarta Cup Perpetual Trophy and displayed at the Vallarta Yacht Club, Paseo Cocoteros No. 1-20 in Nuevo Vallarta, just before you reach Paradise Village. January 25 will be awards night with an evening of Latin music by Rossy and Roberto. The dinner includes three courses for 150 pesos. For more details visit VallartaYachtClub.org.
Fire Up The Grill
A down home barbecue takes place on Sunday, January 26 from 1 to 4 p.m. at La Cuiza Galería Concepto on the Cuale Island 4 just under the bridge on Ignacio Vallarta.  There will be entertainment by The Texas Embassy Blues Band. This is a fund-raiser which benefits the Banderas Bay Women's Shelter.
For only 200 pesos enjoy a welcome margarita, BBQ dinner, jello shots and a silent auction. Tickets are available from "Fast Eddie" at La Cuiza's Thursday night karaoke, at Carol's Boutique on Basilio Badillo 250 or by contacting David Zude at  This email address is being protected from spambots. You need JavaScript enabled to view it. .
The shelter is scheduled to be completed this year and the team is working with Vida Reavivida/Compassion for the Family, Inc. and Mexican Social Services to provide a temporary and safe living environment for women and children who are the victims of domestic violence and assisting them to be financially independent through jobs, education and non-interest small business loans.
The Cat's Meow
Fabulous food, an elegant setting and stunning style can be found at Daiquiri Dick's restaurant in Puerto Vallarta, Mexico on Tuesday, January 28 starting at 10:30 a.m. An elegant brunch will be served along with a fashion show to benefit PuRR Project.
There's a three-course brunch including mimosas, beautiful original fashions and jewelry by Selene Soucy, Chak-Ra, Angela Lovett and Yesa. PV's popular musician Jorge Acosta will provide background music. You can also take your chances in the raffle with fabulous prizes.
Tickets are 250 pesos in advance or 300 pesos at the door. They can be purchased at Daiquiri Dick's, Olas Altas 314, at the PuRR Project booth at the Paradise Community Center's Saturday Market, Pulpito 127 between 10am and 2 p.m., at PuRR Project Bingo at Margarita Grill, Pino Suárez 321 on Wednesday, January 22 or by emailing event organizer Marilyn Khan at  This email address is being protected from spambots. You need JavaScript enabled to view it. .
Monies raised at the Brunch Fashion Show fund raiser will help cover PuRR Project's operating expenses which includes vet care, spaying and neutering, food, kitty litter, and facility maintenance. "I find the number of cats living on the streets appalling," says Marilyn. "I just cannot walk by and leave them suffering, especially the kittens that are thrown out like trash." She believes a healthy animal population will facilitate a healthy human population. There are over 130 cats living at PuRR Project, a no-kill feline sanctuary just north of Puerto Vallarta.
Art Walk
Puerto Vallarta is a haven for artists of all kinds and every Wednesday night  through May 28 you can check out ten different galleries during the Art Walk from 6 to 10 p.m. All of them are located in Centro Histórico, just a couple of blocks east of Our Lady of Guadalupe Church, the one with the famous dome/clock tower. Many offer free refreshments.
This is a self-guided tour and you can spend as much time as you wish at any gallery. Many restaurants in the area also offer specials on Wednesday nights. A great way to spend an evening strolling through downtown and admiring interesting paintings, exceptional sculptures, fine ceramics and other works of art in many diverse forms. There's a great map on their website. VallartaArtWalk.com
Education First
Start your day by helping some kids make the grade. The annual Becas (scholars) Breakfasts are underway at some of Puerto Vallarta's wonderful restaurants. You can join them at 9:30 a.m on February 19 at River Café, Isla Río Cuale 4, under the bridge on Ignacio Vallarta street and on April 9 at Coco's Kitchen Púlpito 122 in Zona Romantica. Tickets are only 150 pesos and must be purchased or reserved in advance by emailing Polly, event organizer, at  This email address is being protected from spambots. You need JavaScript enabled to view it. .
The breakfast features a raffle with fantastic prizes. The raffle tickets can be purchased for 50 pesos for one ticket or 100 pesos for three tickets. Vallarta's generous business owners never fail to help the city's young people by donating to the every event almost every year. There will also be great items to bid on in a silent auction.
Money raised helps to fund almost 400 scholarship students. Becas Vallarta, A.C. is a foundation dedicated to providing funding for Puerto Vallarta's young people from the 8th grade through college. The students qualify for the program because of their great grades, come from a Puerto Vallarta family of limited economic resources and must be a good citizen in school and at home. The scholarships continue as long as the student keeps up the good work.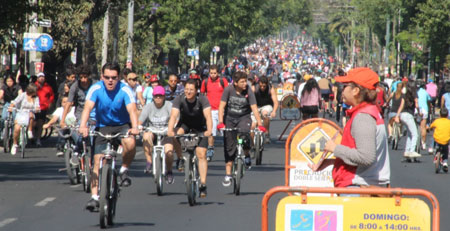 Take To The Streets
Every Sunday is Via Recreactiva (bike, walking and jogging recreation route) from 8 a.m. to 2 p.m. in Puerto Vallarta's Hotel Zone. On Highway 200 the main portion is closed but the laterals are open for vehicular traffic. The route runs from the Sport's Stadium, across the street from the Sheraton to the Holiday Inn. Get on your bike and ride or walk or run. A great start to the day.