The speaker at the meeting of the Lakeside British Society on Saturday, February 1, 2 p.m. will be Patricia González from DIM (Diaonostico, Imagenologia, Mopecular), who will talk about PET scans, which use radiation, or nuclear medicine imaging, to produce 3-dimensional, color images of the functional processes within the human body.
The meal costs 120 pesos, including tip, and is a choice of stuffed pork chop with potatoes and vegetables, or sea bass with mushroom sauce and vegetables. Both selections include a small salad. A large salad is available for 80 pesos. Dessert is chocolate cake.
Contact Alicia McNiff at 765-4786 or Ceri Dando at This email address is being protected from spambots. You need JavaScript enabled to view it. if you plan to attend. Visitors are always welcome. Manix has parking available on an adjacent lot. 
Seminars
The January 21 seminar (noon to 1:15 p.m.), available for Lake Chapala Society (LCS) members, will be chaired by Bill Frayer.  It features (via TED Internet podcast) Sheena Iyengar talking on "the Art of Choosing."  Iyengar, an expert in business and consumer-goods marketing at the Columbia Business School, studies how we make choices – and how we feel about the choices we make. At TEDGlobal, she talks about both trivial choices (Coke vs. Pepsi) and profound ones, and shares her groundbreaking research that has uncovered some surprising attitudes about our decisions. 
The 2 p.m. lecture is "Religion, Mythology and Reality" by Bob Miller. He will discuss several events commonly thought of as religious doctrine or mythology and try to position them as real historical events.  If they are not possibly real historical events, where do they belong, remembering that one person's religious events may be another's mythology and vice versa. 
Joco Horse Fest
A week-long equestrian festival programmed in conjunction with Jocotepec's fiestas patronales will wrap up this weekend.  On Saturday, January 18 there will be a horsemen's parade through town, starting at 2 p.m., to be followed by the Pasión Ecuestre spectacle, from 4 p.m., at the Lienzo Charro bullring, located on Calle Degollado between Matamoros and Pedro Moreno.
The price of admission is 40 pesos per person, free for kids accompanied by an adult. The awards ceremony for dancing horse competitions held earlier in the week will take place Sunday, noon to 2 p.m., at the waterfront Malecón.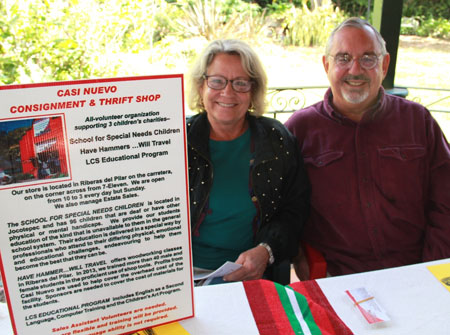 Volunteer fair well attended
Several local charities exhibited at the Lake Chapala Society Volunteer Fair on January 10. Susan Strane and Michael McQueen (right) say helping out at Casi Nuevo Thrift Shop has been a great way to meet people while raising funds for the Lakeside School for Children with Special Needs, the Lake Chapala Society Education Program and Have Hammer … Will Travel.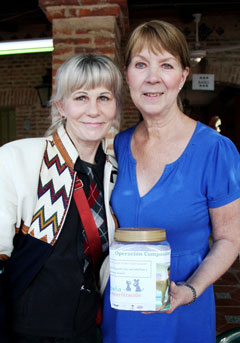 Linda Hines and Mina Powers (right) are committed to getting the new pet sterilization program Operación Compasión off the ground with the first spay and neuter clinic scheduled for February 7-9 in San Juan Cosalá.
History Club
The next meeting of the Lake Chapala Society History Club will be Monday January 20 at 2 p.m. on the grounds of the society.  The lecturer will be Arnold Smith and the subject will be Harry S. Truman, the 33d president of the United States.
The film "Truman," adapted from the Pulitzer Prize winning biography by the America historian David McCullough, will be shown at the meeting.
All are welcome.  Membership in the LCS is not required for admission.
Robbie Burns Night
Celebrate Scotland's greatest bard on Robbie Burns Night on Saturday, January 25, 5 p.m.  at the Hotel Real de Chapala. 
For 350 pesos you get a delicious dinner, complete with a bite of haggis, a piper, traditional tributes and toasts, Scottish country dancing and a no-host bar.
To book tickets or reserve a table for 10, or seats at an open table, contact Phyl Gaskell at 766-2722, This email address is being protected from spambots. You need JavaScript enabled to view it. .  Tickets are also available at Charter Club Tours in Plaza Montaña in Ajijic.  Proceeds go to the children of Niños Incapacitados del Lago.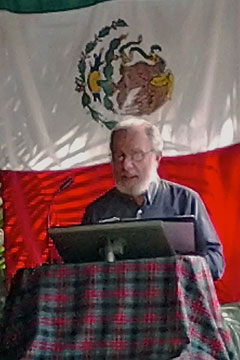 Dems discuss Eugene Debs
Well known Lakeside writer Mel Goldberg (pictured right) addresses members of the Lake Chapala Chapter of Democrats Abroad Mexico during a meeting at La Bodega Restaurant in Ajijic last Monday.  Goldberg's topic was the life and times of Eugene V. Debs, America's best known socialist in the early part of the 20th century.  The next meeting for Democrats Abroad will be on Monday, February 10, 4 p.m. at La Bodega Restaurant.


Trivia in the afternoon
Niños Incapacitados del Lago are once again hosting their popular trivia quizzes on Tuesday, February 4 at the Hotel Real de Chapala.  Tickets for the 2 p.m. quiz cost 250 pesos and are available from Dawn McGinnis at 766-3408, This email address is being protected from spambots. You need JavaScript enabled to view it. .  Make up a team of eight or join a partial team.  Bring your own munchies and have a great time!  The evening quiz sold out at breathtaking speed; the afternoon event is just as much fun!
LCS bus trips
The Lake Chapala Society has three bus trips planned for February.  On Thursday, February 6, they head to Guadalajara's Galerias mall, with its fine stores, restaurants and adjoining Walmart, Sams and Costco.  The bus leaves at 9:30 a.m. and returns from the Costco area at 4 p.m.  On Wednesday, February 19, the bus goes stops at the Idea store in La Ciudadela mall for a few hours before heading to the plush Andares mall. The bus leaves at 9 a.m. and returns at 4 p.m.  On Tuesday, February 25, the destinations are the crafts centers of Tonala and Tlaquepaque.  The bus leaves at 9 a.m. and returns from Tlaquepaque at 4 p.m. Those who do not want to stay around the plaza in Tlaquepaque may go to the nearby Forum Mall, which has Home Depot and Liverpool stores.  
Due to an increase in the cost of gas in Mexico, the new cost of each trip is 250 pesos. 
Open Circle
Astrologer Barbara Schermer presents her fifth annual "Cosmic Trends" discussion at the Open Circle meeting on Sunday, January 19, 10:30 a.m. at the Lake Chapala Society.
Schermer has been a lover of the stars since age 10, an astrological consultant since 1974, author of Astrology Alive and is an internationally respected speaker. She shows how the principles of in-depth astrology (not to be confused with superficial online horoscopes) may be immensely useful in understanding our lives. She is warm, fun and offers her perceptive, often stunning insights in an affirming and down-to-earth style.
Bring a notebook and pen if you want to take note of special dates.
Weekly Open Circle gatherings start with coffee, tea and sandwich bites for socializing at 10 a.m., followed by the program at 10:30 a.m. sharp.
Little Chapel
Following the refreshment period shared with Christ Church Anglican Fellowship, the Little Chapel by the Lake's regular worship service will begin at 11:15 a.m. on Sunday, January 19.  The title of the message is "Heart Transplants Done Here."  Following the worship service many of the attendees join for a fellowship lunch at a local restaurant.
The Little Chapel is an interdenominational congregation and welcomes all Christian believers.  The church is located on the mountain side of the Carretera in Chula Vista, just east of the golf course. 
Center for Spiritual Living
The Reverend Tim Schubert presents Gettin' A Little Help from Your Friends" at the Center for Spiritual Living (Nicolas Bravo 17, Ajijic) on Friday, January 24, from 5-6 p.m. A social hour follows.   
Wednesday classes (10:30-noon) continue with "This Thing Called You" by Ernest Holmes. The Thursday discussion group carries on using the book "A Thousand Names for Joy" by Byron Katie. The program begins with an optional meditation from 10 to 10:20 a.m. followed by the group from 10:30-noon. The Spanish Group that is discussing "The Ten Concepts of Science of Mind" will now meet on Wednesdays at at Calle 16 de septiembre 30 from 6:30-9:30 p.m. 
The Sacred Cinema on Sunday, January 19 will screen the movie "The Doctor" with William Hurt.  The film begins at 4 p.m. with popcorn provided.  Bring your own drink.
For information contact This email address is being protected from spambots. You need JavaScript enabled to view it. , call 766-0920,  or see www.cslchapala.com.
Presbyterians
On Sunday January 19, at Lakeside Presbyterian Church, Pastor Ross Arnold will deliver his sermon on "Behold, the Lamb of God," based on John 1: 29-42.  John the Baptist acknowledges Jesus as the long-awaited Messiah, and directs his followers to Jesus.
Sunday worship begins at 10 a.m.  Following the service, there is a meeting for fellowship and refreshments.  Lakeside Presbyterian Church is in Riberas del Pilar, on the mountain side of the Carretera, between S&S Auto and Vigolari.
St. Andrew's Anglican
When can failure get you a promotion?  Apparently, only when dealing with God!  When our labors are in vain, when we fall on our faces, when all our efforts come up empty, we would normally expect to get fired, excused, or forcibly retired.  That's what the Prophet Isaiah expected when he ran out of gas after laboring ceaselessly but to no avail on God's behalf.  But God's response to Isaiah's complaints has something to say to all of us when our perpetual busy-ness brings us to frustration and exhaustion.  That divine response is the theme of "Vain Labor," Fr. Winston Welty's sermon this week at St. Andrew's Anglican Church. 
Sunday worship services take place at 9 and 11 a.m., with a time of fellowship, refreshment, and welcome in the garden between the two services, and children's Sunday School at 10:45 a.m.  St. Andrew's is located at Calle San Lucas 19, a block south of the Carretera in Riberas del Pilar.