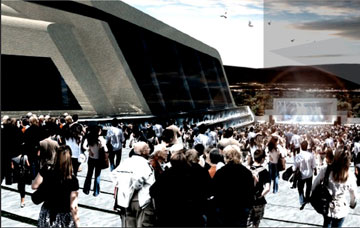 Chris Wilshere, founder and artistic director of the Scotiabank Northern Lights Music Festival, will take up his new position as Director of the Conservatory of Music of Guadalajara's brand new Palacio de la Cultura y la Comunicación (PALCCO), on April 1.
An acclaimed violinist and recipient of the Canadian Governor General's award for strengthening relations between Canada and Mexico, Wilshere's many significant roles include three years as music director of the Orquesta Juvenile de Jalisco. Most recently, he and Professor of piano Gabriella Flores of the University of Guadalajara performed at the Canadian Embassy in Mexico City — a program being reprised at two recitals in St. Andrew's Anglican Church in Riberas del Pilar on January 31.
Wilshere's enthusiasm and admiration for this 50-million dollar, world-class cultural project, led by Jose Perez Ramirez, the President of PALCCO, is contagious. The first complex of this type ever built in Mexico is nearing completion and it is state-of-the-art.