With the championship games done and dusted, Super Bowl XLVIII will see the Denver Broncos come up against the Seattle Seahawks at the Met Life Stadium in East Rutherford, New Jersey.
You can see every throw, tackle and punt live in the big screen at the American Society (Amsoc) on Sunday, February 2.
Doors open at 3:30 p.m. and the game begins at 5:30 p.m. Of course, you can catch all the  build-up as the clock winds down to kick-off time.
A donation of 70 pesos is required. No reservations are necessary. Chili and assorted snacks will be served.  The bar will be open for refreshments of all kinds.
The game promises to be a thriller. Las Vegas oddsmakers believe this Super Bowl is one of the most evenly matched ever. According to the  AP, some sports books made the Seattle Seahawks favorites while others put up lines favoring the Broncos. This could be the most betted on Super Bowl in history, insiders are saying.
Amsoc is at Avenida San Francisco 3332, Colonia Chapalita. Call (33) 3121-2395 for more information.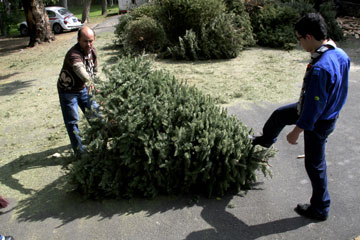 Christmas tree dropoff
If you haven't yet taken down your Christmas tree and are still looking for an ecological way of disposing of it, there's still time to drop it in Guadalajara or Zapopan this weekend. On Saturday, from 10 a.m. to 5 p.m., collection centers are at the city's Dirección de Parques y Jardines downtown office near Parque Alcalde or their Zone 3 office near the entrance of the Guadalajara Zoo. On Sunday from 10 a.m. to 5 p.m., the dropoff points are at Bosque los Colomos and Parque Agua Azul. In Zapopan this weekend, collection points are open the same hours at Unidad Administrativa Las Aguilas and Parque Hundido at avenidas Novelistas and Juan Palomar y Arias.
Tonala evenings
Visitors to the crafts center of Tonala are advised that entertainment is provided in the central plaza each Friday and Sunday at 7 p.m. Band music, folk dance, choirs and other kinds of music are featured in these regular performances. The main square is known as the Plaza Cihualpilli, named after the indigenous female leader who governed Tonallan around 1530, when the Spanish conquistadores first arrived in the area.
Beer, beer, beer
The website descubrecentrogdl.com has published a "walking" tour of downtown Guadalajara bars – there's been an explosion in recent years – where you can purchase Mexican-made artisanal beers. All the bars are within a 12-block area. (The suggested beer to buy is in parenthesis.)
1 El Teu Lloc, Lopez Cotilla 570. (Minerva Viena)
2 Escarabajo Scratch, Andador Coronilla 28, between Av. Hidalgo & Morelos. (Delerium Tremens)
3 Primer Piso Bar, Pedro Moreno 947, corner of Escorza. (Perro Negro)
4 El Cardenal Cervecería, Prisciliano Sánchez 847, corner of Escorza. (Baja Black)
5 El Sonidero, 8 de Julio 162, between Lopez Cotilla & Madero. (Lola)
6 Centro Cultural Bretón, Juan Manuel 175. (Duvel)
7 Panta Rei, Prisciliano Sánchez 837, between Camarena & Escorza. (Lágrimas negras).
Salud!
Cafe & Gourmet
Another expo that will interest all coffee lovers and foodies is Expo Cafe & Gourmet at Expo Guadalajara from February 27 through March 1.
As well as exhibitor booths, there will be workshops, conferences and demonstrations. Some of the conferences' titles include: "New tendencies in cafes" and "I want to open a cafe? What must I do?" There will also be tea and cheese tastings, and workshops in the art of latte making, the "marriage" of chocolate and tequila and the preparation of tea infusions.
For more information about this expo call Raquel Lopez at (55) 5604-4900.
Adoptions
A dog adoption event will be held on Sunday, January 26, from 11 a.m. to 5 p.m. outside the Soriana store at Cordilleras and Patria.
The event is organized by the group Patitas de Ayuda.