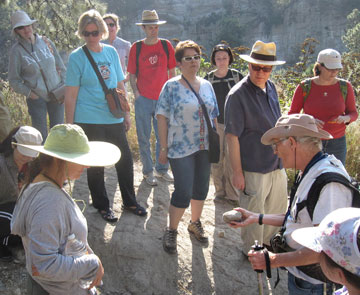 Twenty-three members of the U.S. Consulate community in Guadalajara ventured into the Primavera Forest last Saturday to visit a small perennial spring hidden at the end of a long, winding slot canyon.
Guided by the Reporter's own John Pint, they read the history of the Primavera Caldera in the strata of sheer, high walls which tell the story of a massive explosion 100,000 years ago and the creation of a lake which lasted for 20,000 years.
Wednesday dance
The Jalisco secretary of culture is offering free dance performances at the Foro de Arte y Cultura on a permanent basis beginning next week. A brief introduction to each program will be given before the performance. All presentations are at 8 p.m. are limited to teens and adults.
The first performance on February 5 is an experimental dance "From polychrome to grey" directed by Meztli Robles, in charge of El Cruu dance company. The rest of the month is lent to contemporary dance. February 12 Cecilia Gomez directs "De Arena" (Of Sand) by the Doca Contemporary Dance company. February 19 Nayeli Santos directs the Experimental Machina dance company in "Les Enfants." Paloma Martinez directs "Espacios del Viento" February 26.
The Foro is located at Fray Antonio Alcalde 1451, Col. La Guadalupana, near the Normal traffic circle in Guadalajara. Tel. (33)3818-2397.
Devils and Sirens
"Devils and mermaids are the seduction and temptation of men in the social imagination of Mexico. Mermaids are also in some way magical, the enchanting and playful." So says TV show host Yolanda Zamora about show up at the Museo de Artes Populares. The exhibit is part of a collection of 600 pieces donated to the state Secretary of Culture by Zamora and visual artist Pancho Madrigal. Zamora has collected mermaid art from throughout Mexico since she was a child and Madrigal has collected devils.
The museum is located at San Felipe 211, on the corner of Pino Suarez in Colonia Centro in Guadalajara.
Tamal Festival
Tlajomulco de Zuñiga is bursting with tamales this weekend at its festival in San Juabn Evangelista on the south side of Lake Cajititlan. The action begins Saturday at 2 p.m. with the inauguration of the event on the Plaza de los Artisanos Sixto Ibarra Galindo.  A choral group from Ixtlahuacan de los Membrillos entertains at 3 p.m and Danzon Jalisco presents at 6 p.m. Sunday tamales by 10 different kitchens in dozens of ways are sold beginning 10 a.m. The UNIVA Choir entertains at 1 p.m. and Singer-songwriter Pancho Madrigal presents a program entitled Corridos Pendencieras at 5:30 p.m.