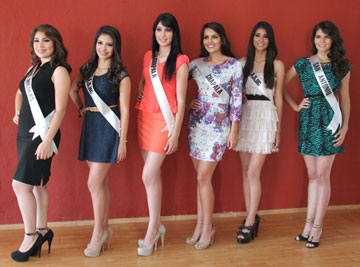 Chapala's 2014 beauty pageant circuit gets under way Saturday, February 8 with the Nuestra Belleza (Our Beauty) competition to be held at the Auditorio de la Ribera. The event is open to the public, scheduled to start at 8:30 p.m. A nominal admission fee of 50 pesos per person to cover production costs is payable at the door.
The six local knockouts vying for the title are Chapala representatives Diana Pantoja, age 20, and Ana Pérez, also 20; Eva Flores, 18, and Marcela López, 19, both hailing from Ajijic; Itzel Martínez, 18, of San Nicolas de Ibarra; and Mariana Macías, 18, from San Antonio Tlayacapan.
A panel of experienced pageant judges from Guadalajara will score each of the candidates on her looks, poise and verbal expression. The program will start with an introduction of the contestants, followed by segments in which they will parade on stage in bathing suits and evening gowns and finally stand before the judges for the question and answer period.
The young ladies will have a chance to rack up extra points during the costume-change intermission when booster teams for each one will takes turns on stage for a short cheering routine. The better the act, the greater the accumulation of plus points.
A coronation ceremony will take place once total scores are tabulated. The first place winner will be crowned as Nuestra Belleza Chapala 2014, gaining automatic entry to this year's Nuestra Belleza Jalisco contest, coming up in August. The girl taking second place will earn a pass to represent Chapala at the Miss Earth pageant, to be held next summer in Puerto Vallarta. Third place standing qualifies that candidate for Guadalajara's Reina de Fiestas de Octubre competition in the fall. Winners of all three of those contests gain opportunities to move up to national and international level competitions.
The consolation prize for the bottom three contestants will be qualification to compete in the Reina de Carnaval (Mardi Gras Queen) pageant coming up on February 26. That event is also open to candidates from Chapala and its outlying communities who did not sign up for the Nuestra Belleza event.