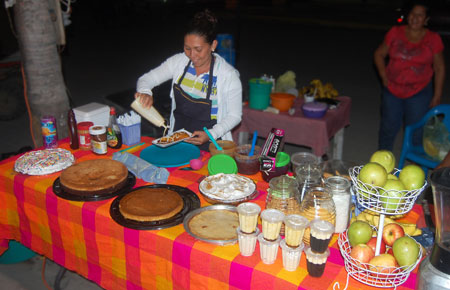 The concept of a "pop-up" restaurant – a temporary restaurant that operates out of a non-traditional location or perhaps out of a private home, on a transient schedule – is not new to those of us who live in Mexico.
Honestly, what's your favorite nightly taco stand if not a pop-up of sorts? Along with our traditional taco stands here are a few unique Mexican-style pop-ups you should be on the lookout for during your next visit.
Mi Juan, aka 'The Kinder'
Nicknamed for its location across the street from a kindergarten, Mi Juan is worth setting your schedule to for a weekend visit.  Drive by during the day and you'll see a nondescript tienda between two small houses.  Cruise by on Saturday or Sunday evening around 7 p.m. and you'll find five or six tables full of people enjoying what is arguably the best pozole in town.  Those that can't wait for a seat bring large containers to be filled with the savory soup to enjoy at home.  A second house specialty is the tamales, which feature a smooth custard-like texture to the masa and are generously full of meat.  If you like it spicy don't miss the fiery red salsa.  If your palate is delicate try the pickled carrots, onions and peppers.
Mar y Sol
Located on Boca del Rio at Playa Dorado this little gem opens only on Monday and Wednesday nights under an airy second floor palapa.  Mar y Sol started with the house specialty of chili rellenos stuffed with shrimp and cheese or vegetables and cheese.  They have expanded the menu to include a Puerto Rican Sandwich, honey and soy chicken wings and traditional margaritas.  The house specialty drink, not to be missed, is a refreshingly cool cucumber and lime water. The charmingly decorated palapa enhances the dining experience and offers a pleasant location out of the town's center for an evening meal where you are guaranteed to never dine alone.
La Chona Ricas Carnitas
Located on María Asunción, the main road paralleling the beach, La Chona is a small tienda/carniceria owned by the busy familia Sanchez Lopez.  Only on Saturday and Sunday mornings, from 8 a.m. until about noon, you can enjoy fabulous carnitas, braised and then fried pork, wrapped in a handmade tortilla.  The over-the-top salsa Mexicana provides the perfect blend of spicy, fresh, deliciousness.  This is to say nothing of the limes, basil, oregano and onions to add as you see fit.  Traditional carnitas are served with fried pork rind or chicharron.  I prefer to order mine "puro carne" which translates to "pure meat" thus avoiding the pork rind.  The meat is always juicy, flavorful, tender and never greasy or gristly.  You don't often you see foreign tourists at La Chona, maybe the idea of fried pork tacos for breakfast is just too out of the ordinary.  Too bad, they are missing a true La Manzanilla culinary delight.  To boot, sitting on the main street in town, on a weekend, gives you a front row seat to the comings and goings of weekend revelers.
Desserts by Chagua
This stand is run by a diminutive and annoyingly thin woman who obviously does not partake in her desserts.  Find her on the corner of the town's main square, in front of the church, on Friday, Saturday and Sunday evenings.  She has traditional Mexican sweets such as chocoflan, pie de queso, flan Napolitano and fried plantains topped with sweet cream and strawberry jam.  In addition to all these treats she also prepares wonderful crepes filled with your choice of Nutella, cream cheese and/or fresh fruit.  If you want something on the low calorie side try the fresh fruit mix topped with yogurt.  She estimates during the Easter holiday last year she did 150 crepes per night during the week-long celebration!  That should tell you something.
La Manzanilla is full of dining options.  At last count we hosted just over 40 traditional restaurants.  However, visitors would be remiss not mix in a few pop-ups while here on holiday. 
Natural Language School
Along with its offerings of week to multi-month Spanish immersion courses, La Catalina also has ongoing drop-in Spanish conversation classes.  Intermediate speakers can join in on Tuesdays, noon-1:30 p.m.  Thursdays from noon-1:30 p.m. is set aside for advanced students.  Classes include reading a short article followed by conversation led by the instructor.  All instructors are native speakers. Cost 120 pesos.  For more information contact This email address is being protected from spambots. You need JavaScript enabled to view it.
Bare Bones Theatre
This ensemble presents an evening of short plays, "Four Holiday Sweets," directed by local talent Arleen Pace. The cast includes a dozen local winter residents.  Catch the show on Sunday, December 22, 7 p.m. at Las Cabanas Restaurante on María Asunción. Suggested donation is 100 pesos. All proceeds go to benefit La Manzanilla's ambulance fund.
Cisco's Amigos
Cisco's Amigos 11th annual music night to benefit Cisco's Amigos Free Spay and Neuter Clinic in La Manzanilla is on Monday, December 23, 6 p.m. at Rusty and Julie's house in La Manzanilla.  The not-to-be-missed event includes live performances by The Lounge Lizards, Simone and Mike and special guests from Northern California, Dave and Shelly.  Tickets are 200 pesos per person and available at Marisco's Deli, Palapa Joe's and Helping Hands bookstore. Beer and wine will be sold.  Please bring an appetizer to share.  Contact This email address is being protected from spambots. You need JavaScript enabled to view it. for information about the event or to donate to or volunteer for the clinic.
Polo Season
Costa Careyes resort, located just 45 minutes north of La Manzanilla, will once again be hosting polo all season.  Catch the Copa de Careyes December 27, 28, 30 and 31 with match times at 4 p.m. each day. Teams are from Mexico, the United States, Brazil, Italy, Portugal and Germany.   The field is located between Km. 49 and 50 on Highway 200.   Take part in the traditional half-time divot stomp usually accompanied by free tequila from a local sponsor.  Other refreshments are available field side.  Attendance is free of charge.  For more information call 315-351-0320.
For a calendar of La Manzanilla events see www.visitlamanzanilla.com/events-calendar.html.