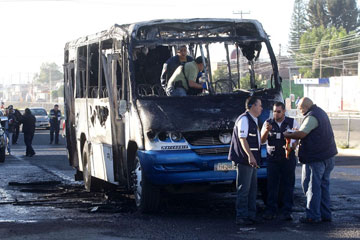 Residents of Zapopan's affluent Patria Universidad neighborhood awoke early Thursday morning to the sound of military helicopters buzzing overhead and the sight of troops rumbling by in jeeps and armored vehicles.
Criminals responded to the military operation – in which the second-in-command of the Cartel Jalisco Nueva Generacion (CJNG) was detained – by setting three vehicles alight in the south of the Guadalajara metropolitan area.
Ruben Oseguera Gonzalez, alias "El Menchito," the son of CJNG leader Nemesio Oseguera Cervantes, alias "El Mencho," was captured alongside four accomplices in the raid on a property on William Shakespeare street, the federal government confirmed.
No shots were fired in the joint operation conducted by the Mexican Army and the Navy at around 5 a.m. Scores of soldiers closed off the surrounding streets while helicopters circled above but by 9:30 a.m. virtually all of the military personnel had departed.
The suspects, who were caught in of possession of firearms and large amounts of cash, were taken for questioning at the federal attorney general's organized crime division (SEIDO).
The most prominent drug-trafficking organization in Guadalajara and the state of Jalisco, the CJNG has close links to the powerful Sinaloa Cartel and is at war with rival gangs Los Zetas and the Knights Templar. Oseguera was responsible for coordinating CJNG operations and served as his father's right-hand man, according to the federal government.
Jalisco Attorney General Luis Carlos Najera confirmed that criminals reacted by setting three buses on fire in the aftermath of the operation in a bid to "affect the people and government of Jalisco." The aim of burning buses is to create enough chaos to disrupt traffic and buy time for related criminals to evade capture. The CJNG employed the same tactics in Guadalajara in March 2012 after the arrest of founding member Erick Valencia Salazar, alias "El 85."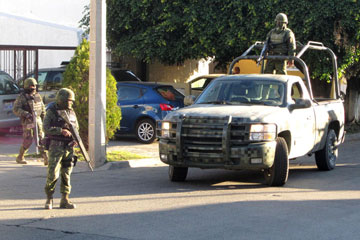 The vehicles targeted included a milk truck on Avenida El Colli and the Periferico ringroad; a 640 bus on Avenida Las Torres and Calle Cedro; and a 625e bus on Rosas street in Los Cajetes de Zapopan, which only suffered minor damage after a Molotov cocktail that was thrown at it failed to properly ignite. No injuries were reported in any of the incidents.
The U.S. Consulate in Guadalajara issued a warning on Thursday morning noting that it had "received reports of criminal roadblockades in the Guadalajara metropolitan area. At least three busses and cars were hijacked, left in the middle of roads and set on fire to disrupt traffic."
The Consulate added that it "advises against travel on the periferico highway and to the airport. Please exercise caution on all roads and stay alert to public announcements from Mexican police and authorities."