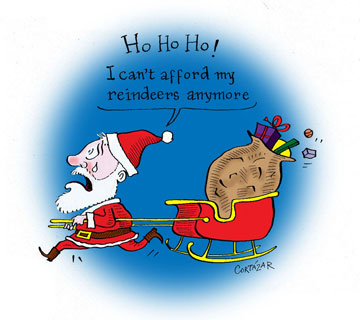 New taxes approved last year on high calorific food – defined as products with 275 calories or more per 100 grams – will kick in January 1, as the federal government seeks to combat Mexico's growing obesity problem.  In late October Mexico's legislators also agreed to a one peso  per liter surcharge on all sugary soft drinks. 
From January 1 dog and cat owners in Mexico will pay more to feed their animals, as all pet food will subject to 16 percent IVA (VAT or sales tax). Animal rights advocates fear that thousands of pets may be abandoned as a result of the higher costs.
Other changes include IVA rising from 11 to 16 percent in border areas. High earners in Mexico will pay more tax next year. The maximum income tax rate will rise from 30 percent to 35 percent for those earning three million pesos (230,000 dollars) or more per year. In addition, capital gains derived from sales through the Mexican Stock Market will be taxed for the first time.
The Mexican government hopes to raise revenue by 1.4 percent of gross domestic product through these new taxes.