Expat Living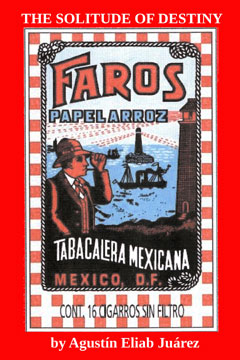 An engaging new novel in English follows the ethical downfall and eventual redemption of a handsome, young, Mexican-American writer originally from an inaccessible mountain pueblo in Oaxaca.
"The Solitude of Destiny" was written by a highly educated and totally bilingual author, Agustín Eliab (who has a few similarities to his main character), and will pique the interest of readers with an interest in the current transcultural milieu and an affection for magical realism.
The novel, Eliab's first (he has also written plays produced in New York City, screenplays and more), delivers fast, almost dizzying, changes from the POVs of various flawed characters: the handsome writer Jaguar (found at times in various parts of Mexico, New York and Europe), his equally handsome father (in touch with a past life as an Aztec), a Spanish-born priest determined to convert the village to Jesus, and even the long lost, conscience-free, semi-fictionalized son of Nelson Rockefeller, who drags in an account of the depraved lives of the rich and powerful.
"Solitude" sprinkles in cameo appearances by the author (who wrote himself — or a cousin — directly into the book) and includes flawed, female characters with improbable names such as Puta Madre (whore mother), Mary Magdalene, Violent Violet, Katarina and Norwegian Helga.
The novel has a wide focus, even touching on the Beatles bringing their drug culture to Mexico and Cortéz of conquista infamy. In a conscience-stricken moment, Jaguar recounts that, "He'd become a conqueror [of women] himself … But, why, when he held so much scorn for destruction?"
Eliab was born in Corpus Christi, Texas but raised in Guadalajara where he now lives. He earned a BA in Spanish at Stanford University and a masters' in Cultural and Social Anthropology at the Colegio de Mexico, which he calls Mexico's most selective and prestigious institute of higher learning. Eliab's passion, besides writing, has been mentoring Native American youth in an education and retention program he founded and funded. Eliab says that "The Solitude of Destiny" was spurred by a vision he had of Aztec times from on top of the Pyramid of the Sun in Teotihuacán.
The novel doesn't paint a rosy picture of human nature or institutions such as church and government. But in the final analysis it reaches for salvation by holding up the twin standards of rejecting greed and respecting the Earth.
"The Solitude of Destiny," by Agustín Eliab Juárez ( This email address is being protected from spambots. You need JavaScript enabled to view it. ), is slated for release this year by Flower Press. Electronic versions now available for 9.99 dollars on www.amazon.com or www.smashwords.com.